Wondering how you're going to survive a long road trip with toddlers?! Preparation, preparation, preparation!
This simple guide will help you have a smooth and even enjoyable trip with your small children.
Road trips can be so much fun, but planning them with a toddler can be tricky!
Traveling long distances with your toddler in a car might seem like a bit of a nightmare, but if you prepare and have the right items, you can make the road trip enjoyable for everyone.
Before hitting the road with your family, make a checklist of all the things you need to pack, including the list of below items, to make it a trip to remember – where you can easily see to your toddler's needs and keep them entertained while driving!
How To Survive a Road Trip With Toddlers
(What To Pack and Do)
Cooler Bag
Sometimes, the easiest way to make your toddler happy is to give them some snacks. Toddlers love snacking, and it really helps to pack some snacks for the trip!
Choose an appropriately sized cooler bag and pack some healthy snacks.
Avoid snacks and treats with too much sugar, as you don't want your toddler hyped up in the back seat. These are some ideas:
Crackers
Sliced vegetables such as carrots and cucumbers
Sliced fruit such as apples, pineapple, berries, and melon
Hard-boiled eggs
String cheese
Granola bars
Remember to pack some wet wipes and bibs to clean up and prevent any mess.
Toddler Essentials
Don't forget to pack all the essential items you usually would when leaving the house with your toddler.
This includes diapers if they are still wearing them. If you are potty training, you will need to stop often for them to use the restroom.
Always keep a change of clothes handy, you don't want to have to search through bags in the trunk to find a clean shirt.
A blanket is also a really handy item to keep, as it can offer your little one comfort when they are tired.
Changing pads, wet wipes, and any other items your toddler might need should be packed in a small bag and be easily accessible.
Check out this post for all the essentials I keep in my diaper bag.
First Aid Kit
Instead of lugging around a heavy first aid kit, you should keep a compact to-go kit in your car. This can be kept in your car at all times, so you don't have to worry about forgetting it when going on road trips.
This should include all basic first aid items, such as band-aids, antibiotic cream, burn treatment, gauze, etc. Accidents happen so easily, and being prepared makes such a difference.
It also does not hurt to pack cough syrup, a probiotic, paracetamol, or an electrolyte supplement, just in case your child does feel under the weather when traveling.
Entertainment
Long drives can be boring, even for adults. Your little one will not want to sit in the backseat doing absolutely nothing for hours on end, and if you want to make the drive even slightly enjoyable for yourself, you need to keep your toddler entertained.
Your toddler will have their own preference of what they enjoy playing with most, so try to pack their favorite toys that you know will keep them busy.
The trick to keeping them interested in their toys when on a trip is to not offer them all at once. If they are confronted with all of their toys in one go, they might become overstimulated and not even end up playing with any.
Offer them one toy at a time, let them play with the toy until they lose interest, and then give them another one.
Do A Scavenger Hunt
There's nothing my girls love more than a scavenger hunt! We try to do them for almost all holidays, especially Easter, but it can be a little trickier in a car.
Since your little one isn't able to run around, you have to be more creative with what items will be on the scavenger hunt.
Things like buses, red cars, gas stations, etc. are all great options.
I actually made you a completely FREE scavenger hunt printable for long road trips!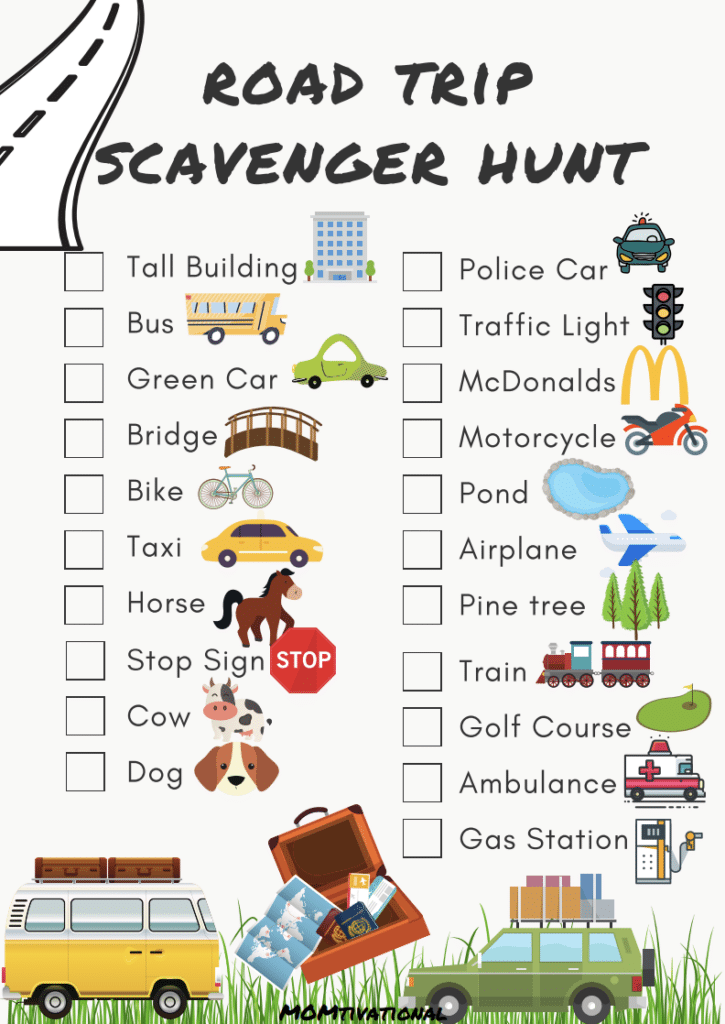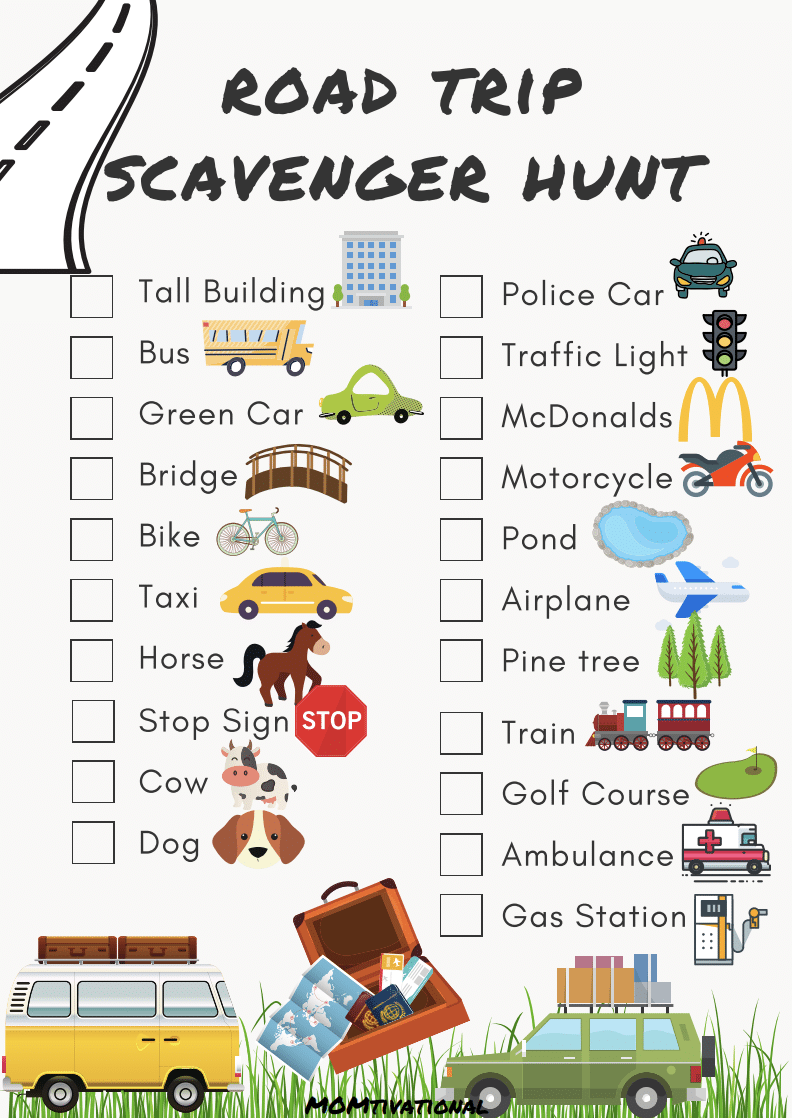 Download FREE Road Trip Scavenger Hunt
Being prepared is absolutely essential for long car trips with little kids, whether it's a scavenger hunt or card games.
And you have to be prepared for them to get bored quickly, so have some backups ready to go!
Snack Tray
Check to see if the car seat your child uses comes with a suitable snack tray. The snack tray will make it easier for them to eat when driving, and also gives them a place to play with their toys.
With a snack tray, you could also pack a coloring book and crayons, as your toddler will have a smooth surface to color on.
Pillow
Chances are your toddler will nap during your road trip, and you need to make sure they are as comfortable as possible so that they can nap as long as they need to and not wake up grumpy!
Pack an extra pillow from home for them to use in the car. You can prop it up between them and the car seat, and they can lean on it for some extra comfort when napping.
You can pack an older pillowcase that you don't mind getting dirty, as they might mess their snacks and drinks on the pillow while in the back seat.
If you travel a lot, this pillow is a godsend! It folds down to almost nothing so it fits in your purse, diaper bag, or luggage.
Plastic Bags
You never know when you might land up with dirty clothes or a soiled diaper, and it is difficult to find space to store these in a car. Pack a few plastic bags before heading out on your road trip. These can be used to store dirty clothes until you get home.
The plastic bags can also be used to hold any rubbish your family accumulates during your trip – it's much better than having it scattered around the floor of your car!
Bring A Book Basket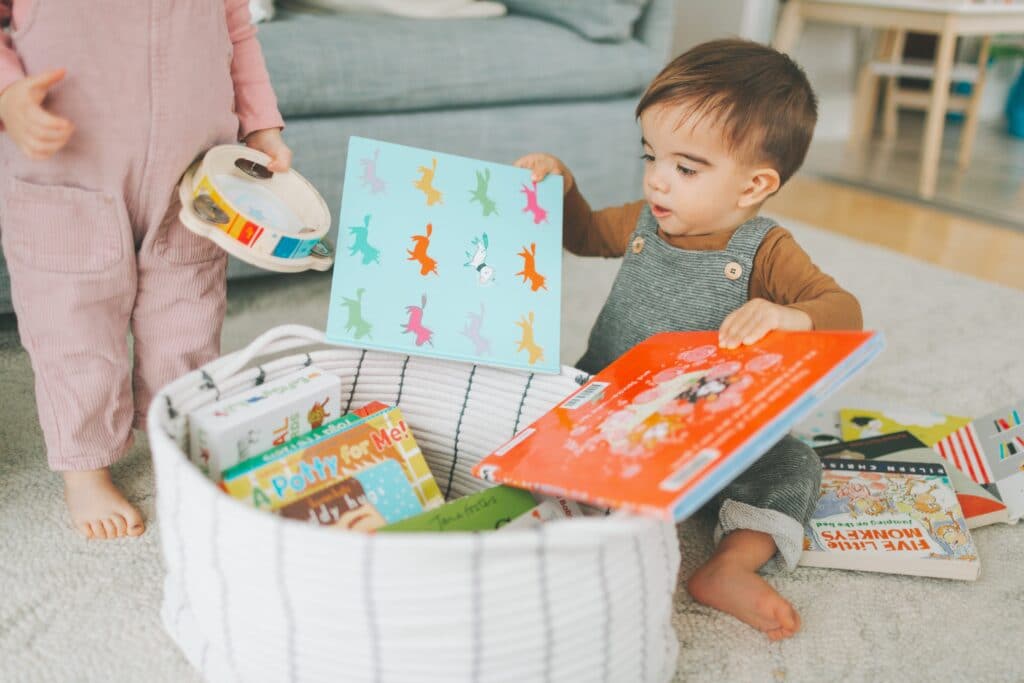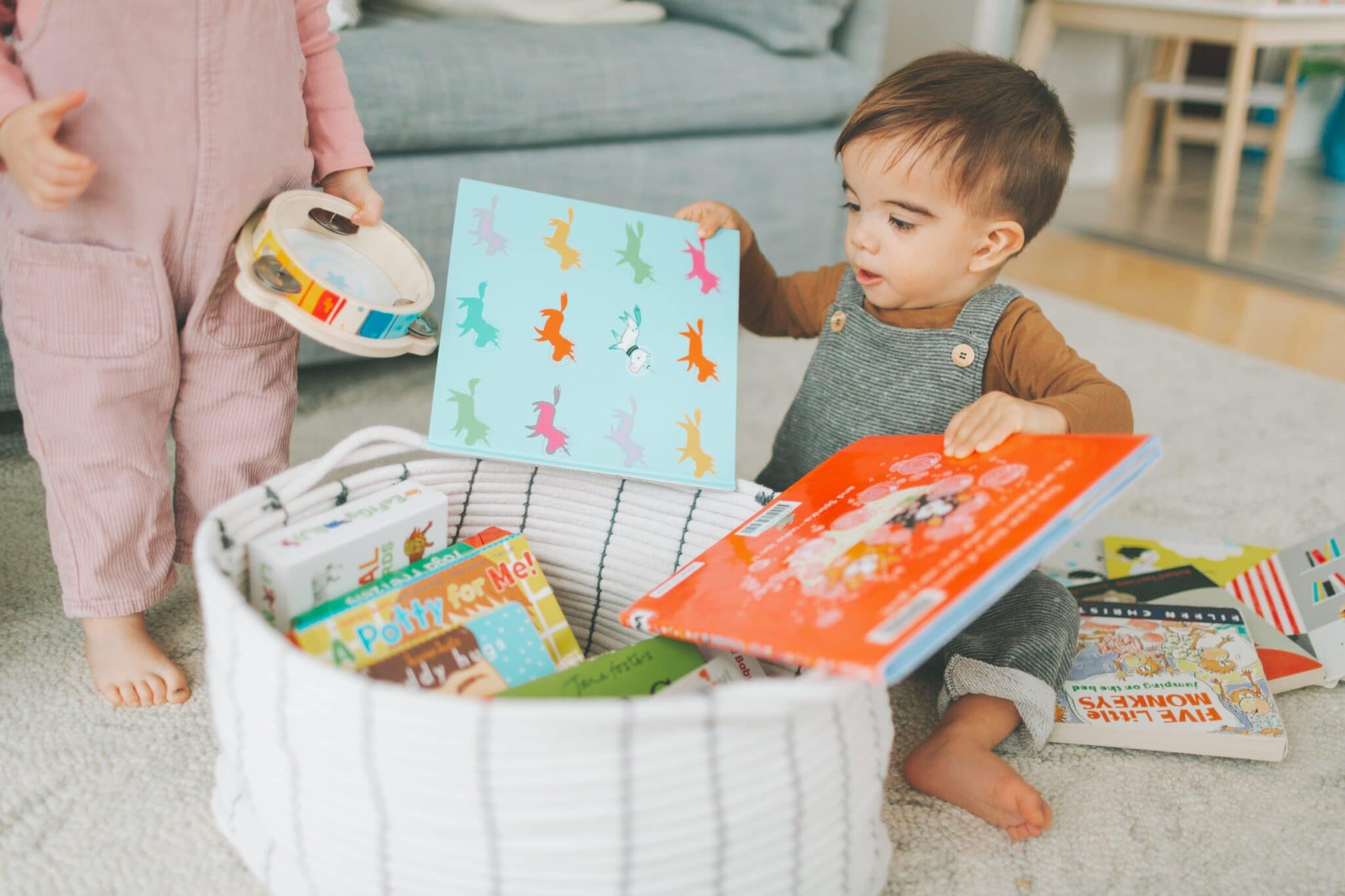 You don't have to bring every single book you own, but packing anywhere between five and ten books is a good idea.
Children under 2 tend to love repeating books, so make sure their favorites are within reach.
If your partner is going on the road trip with you, you can alternate sitting in the back and reading to your kids.
But even if you are taking the road trip solo, the beautiful images in books like The Wonderful Things You Will Be is enough to captivate them.
A couple of my favorites are:
Audio Books
If you don't have one already, open up an Audible account (Audible offers a FREE 30-day trial here) and play children's books when on the road.
This is a great way to keep the little ones entertained, and you might also enjoy listening to Dr. Seuss stories while on the road!
I found The House At Pooh Corner to be absolutely delightful and perfect for a long trip. You also can't go wrong with Mary Poppins!
Tablet (and Tablet Holder)
One of the best purchases I've ever made is this travel desk with a tablet holder.
I can't tell you the amount of times my kids would drop the tablet and couldn't reach it. It caused me to pull over on numerous occassions.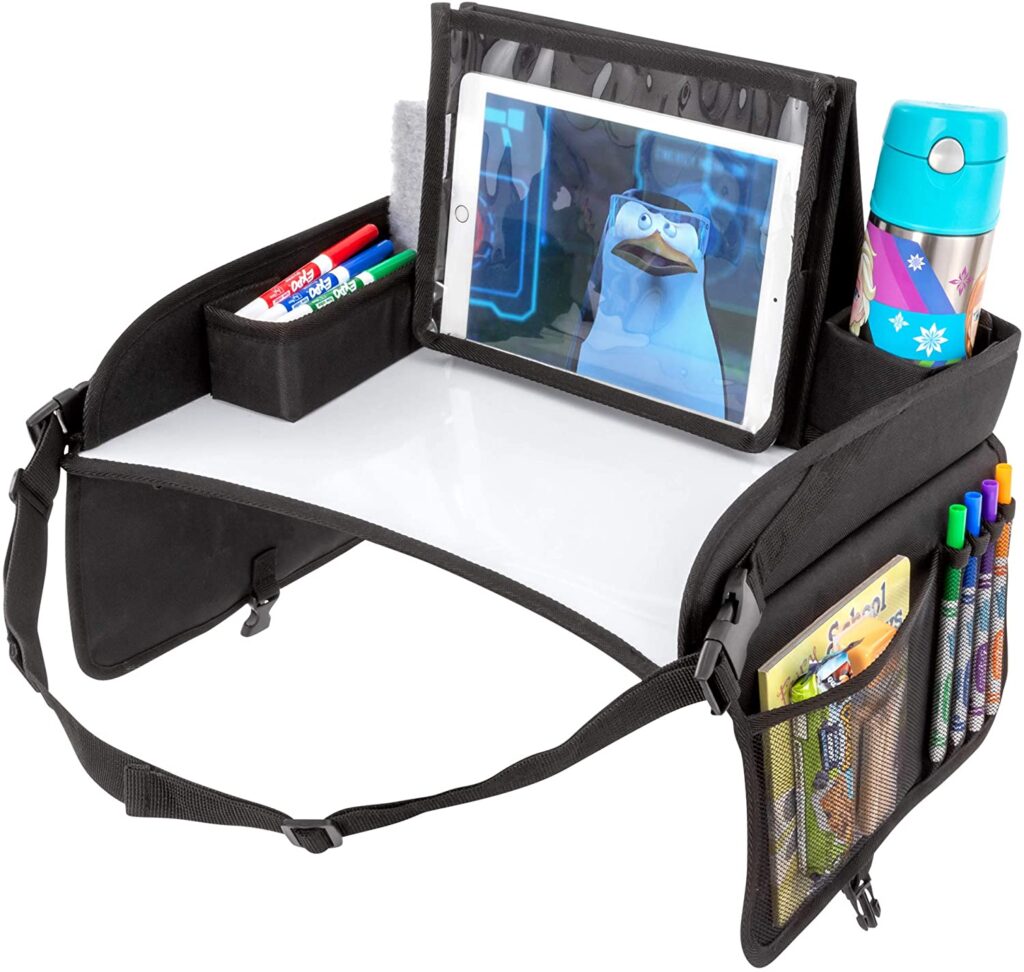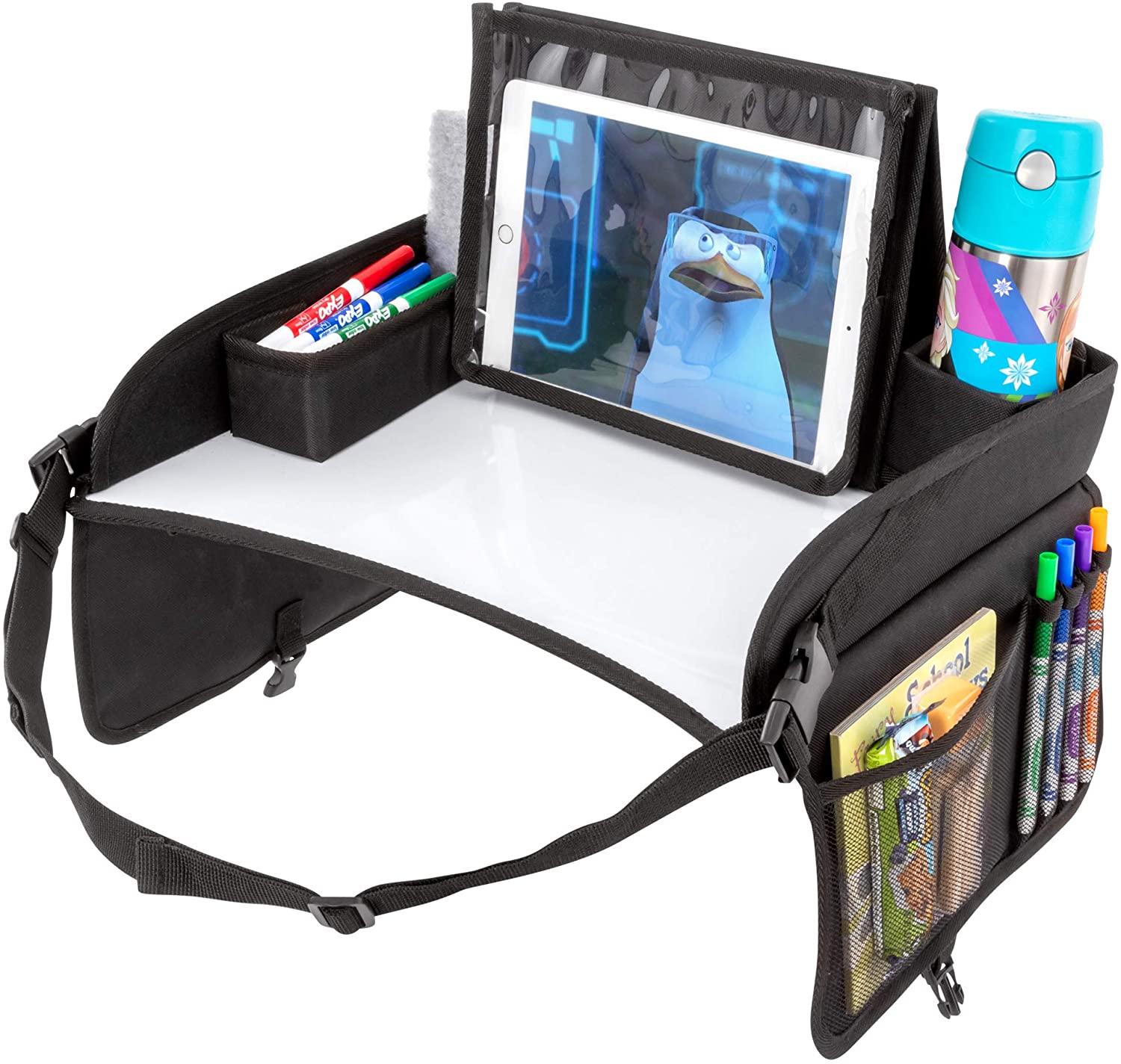 This way, you can preload some movies and shows onto your tablet and place it in the holder for your toddler to watch in the backseat.
The holder keeps the tablet safe and keeps your toddler entertained for hours!
Also , the side pockets for markers and their water bottle is a great bonus. Everything about that desk is gold.
Disposable Changing Pads
For toddlers who are still in diapers, it is a good idea to pack a few disposable changing pads.
Sometimes you might not be able to make it to the next stop, and you will need to change a diaper in the backseat of your van.
A disposable changing pad will make this much easier, and prevent any mess.
It is also more hygienic to use a disposable changing pad when changing your toddler's diaper in the bathroom of a rest stop in the middle of nowhere!
Patience
You absolutely cannot forget to pack some patience! (LOL)
Traveling with small children is hard. Whether it's an hour or twenty-four, it's stressful and your patience will be tested.
Go into the trip with a positive mindset and try to make the best of the situation.
Whenever I feel my patience running thin, I remind myself what a blessing it is to be able to spend time with my children and they won't be this age for long, so I'd be wise to enjoy them while I can.
How Often Should You Stop For Toddlers On A Road Trip?
You should plan your stops strategically along the way to make the long trip more enjoyable for your little ones.
Check to see if there are any parks or stops that your kids will enjoy visiting, even if for just 15 minutes.
When going on a long road trip with kids, I typically like to stop every hour and a half, at most.
I know this can make a long road trip even longer, but if you force a toddler to sit for four hours straight they will get very cranky. Plus, they need to get their diaper changed!
Taking frequent stops is a good way to get some fresh air and stretch the legs. Most children (at least mine) can't stand sitting for too long, so we have to plan for frequent stops in order to remain sane 🤣
Take advantage of when your baby falls asleep to get some distance under your belt.
It's important to have road trip strategies with toddlers so you don't feel completely overwhelmed and stressed the entire trip. Make a mental plan, pack the essentials, and try to enjoy the ride!
Don't forget to pin, like, and share me!