If you are looking for a chair to put in your nursery, I'm certain you've come across gliders and rockers.
Both seem quite similar at first, but there are a few differences between them, and understanding what sets them apart can help you choose the right one for your nursery at home.
Setting up your nursery, eagerly awaiting the arrival of your baby, is such an exciting time! You want to make sure you have all the right gear to ensure both you and your baby are comfortable.
A nursery chair is one item that helps keep you and your baby comfy during those long nights.
To help take the stress out of this process, and make it more enjoyable for you, here is everything you need to know about rockers and gliders, to make your choice even easier!
What Is The Difference Between A Rocker And A Glider?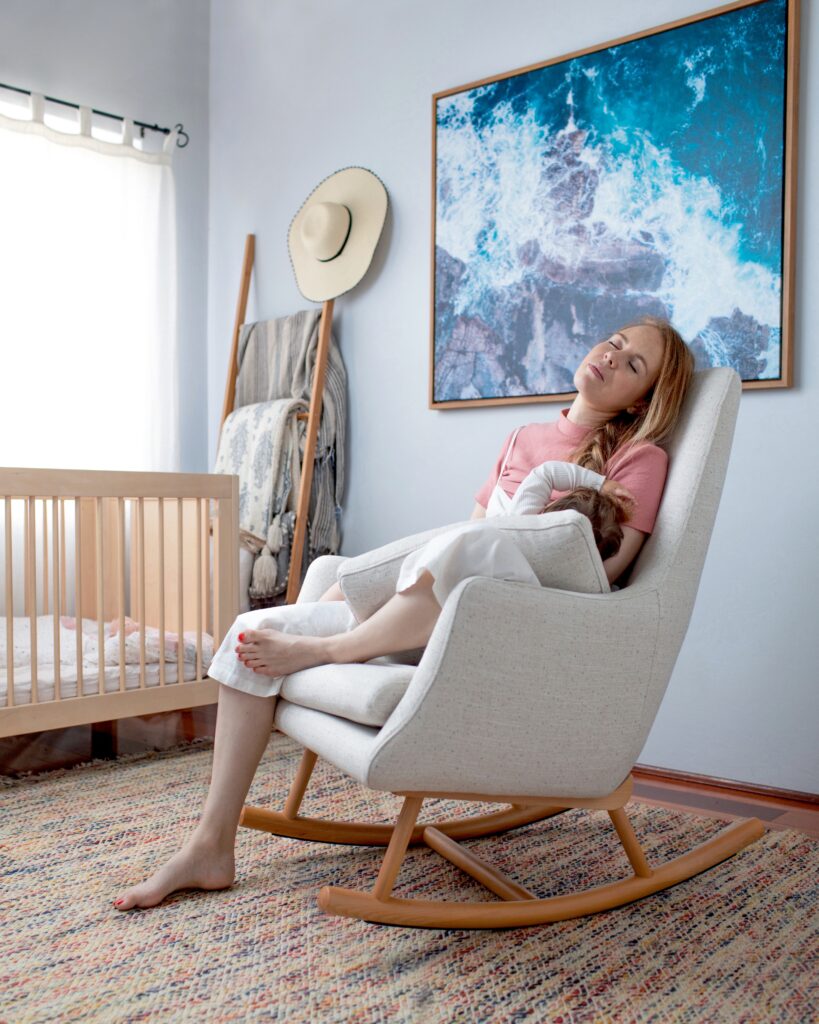 The biggest difference between a glider and a rocker is the way that the chairs move, their range of motion.
A rocker, or a rocking chair, moves backward and forwards. The legs are in an arc and sway from front to back. You can enjoy a gentle rock on the chair, or move all the way forward on the arc, and back again, for a more intense movement.
A glider is a little more stable than a rocker. It is set on a fixed rack, where the chair moves smoothly forwards and backward. Most modern gliders have many more features than a rocker, such as being able to swivel, recline, or lock in place.
The other difference between the two is that gliders are usually upholstered, and can come with an ottoman, whereas rockers are usually made from wood, with added pillows and cushions.
Rockers
Rocking chairs have been around for much longer than gliders. While they have modernized greatly, they still work on the same arc function.
There are also many designs of rocking chairs to choose from, whether it has built-in padding or not, or something more traditional, or more modern.
Many moms find that gently moving back and forth in a rocking chair helps to soothe their baby during a feed, or soothe their baby back to sleep. It is a method that has been used for many years and is still so effective today.
Pros Of Rockers:
Can offer both a gentle rock or a more intense motion
Rocking chairs have a traditional look, and can finish off a nursery beautifully
Cons Of Rockers
The arc of rockers need quite a bit of space, which could take up more room in the nursery than you would want
With the intense motion, the rocker might not be so safe in the nursery once your baby can move about on their own
Our Favorite Rockers
Gliders
Gliders are more modern than rockers, and instead of moving forward on an arc, a glider moves backward and forwards along a fixed track.
The movement a glider offers is more subtle than that of a rocker, but sometimes this is all you need.
In a nursery, a glider offers the perfect spot to sit back comfortably and feed your baby. You are also usually able to get a matching footrest to go with the glider, so you can have your feet up while gliding backward and forwards with your baby.
Gliders can take up quite a bit of space in the nursery, but they do not have arched legs like a rocker does, and there are smaller models you can choose if your nursery is smaller.
Pros Of Gliders:
Gliders offer a smooth movement, which is quiet as well
They are often upholstered and very comfortable
Some gliders can recline, swivel, or lock in place
Gliders have a smaller range of motion, so need less floor space in the nursery
Cons Of Gliders
There is a safety concern that little fingers might be caught in the gliding feature, but if the glider is locked in place, this is reduced
You can only glide back and forth in a glider, and at a limited pace
Our Favorite Gliders
Why Do Nurseries Use Gliders?
There are a few reasons why nurseries use gliders. They are a more modern form of rocking chairs and often come with some added features.
Firstly, gliders are made to look really great in a nursery. They are usually upholstered well, and come in a range of colors and patterns that can complement different nurseries.
They are also super comfortable, and offer moms support during breastfeeding, reducing any pain or discomfort she might feel. It is also a great space for moms or dads to bond with their baby.
The gentle gliding back and forth also works well to soothe your baby. They will not get used to the more intense rocking motion of a rocking chair, and will therefore not need as much motion to fall asleep.
Gliders also last for years and do not have to stay in the nursery.
As your child grows, it offers a great space for story reading at night, and eventually, it can land up in the living room as an extra comfy chair to watch TV from.
This is especially helpful if there is a matching ottoman to go with the chair.
You will find so much use out of a glider in your nursery.
Do You Really Need A Glider In The Nursery?
Parents who have had a glider while raising a baby will tell you that you do need a glider in the nursery!
It is such a helpful bit of baby gear to keep, especially during the night when you are feeding your baby in the nursery and need somewhere to sit.
Not only will it give you somewhere to sit while you feed your baby, but you can gently glide backward and forwards and rock them to sleep as you go.
A glider will also last for many years and can transition from the nursery to a toddler room, and then to any other room in the house.
The comfort and soothing movement that a glider offers really are unrivaled in a nursery.
Is A Rocker Good For Newborn?
Rocking chairs are handy to keep in a nursery, and they can be good for your newborn. Straight out of the womb, your baby will find it easy to fall asleep and be soothed with a gentle rocking motion, which a rocking chair can provide.
A rocking chair also provides a space for moms and dads to bond with their baby. It is soothing for the baby but also helps to relieve some stress for mom and dad too, which is definitely a help in the first few weeks.
Rocking chairs are very helpful at getting your newborn to settle down and feed or sleep, and can even help with colic, as the gentle rocking motion calms them and might even help with any built-up gas they may have.
Choosing Between A Rocker And A Glider
Both rockers and gliders are great choices for a nursery. You just need to decide which one would work best in your baby's nursery, and what type of motion you would prefer when soothing your baby to sleep in the middle of the night!
What Is The Best Rocker Or Glider For Nursery?
In my humble opinion, you can't go wrong with the Million Dollar Baby Rocker!
It's both water-repellent and stain-resistant and also Greenguard Gold Certified, which means it's been tested for over 10,000 chemicals that could be potentially harmful to your baby.
Beyond the safety standards, it rocks gently and makes absolutely no noise. This rocker is amazing and I absolutely loved every thing about it.
Enjoyed this article? make sure to read these next:
Is The SNOO Bassinet Worth It?! SNOO REVIEW (NOT-SPONSORED)
What Is Similar To The SNOO? (3 Budget-Friendly Alternatives!)