Looking For Some Creative Activities this Summer? These Crafts For 2 Year Olds Are PERFECT
With summer on the way, it is time to start stocking up on ideas on how to keep your 2-year-old busy!
Instead of having them sit inside watching television and wasting the day, why not get your supplies ready for these fun summer crafts for 2-year-olds, which will keep the notoriously busy-bodies entertained and doing something fun!
Summer Crafts for Two-Year-Olds
DIY Wind Chimes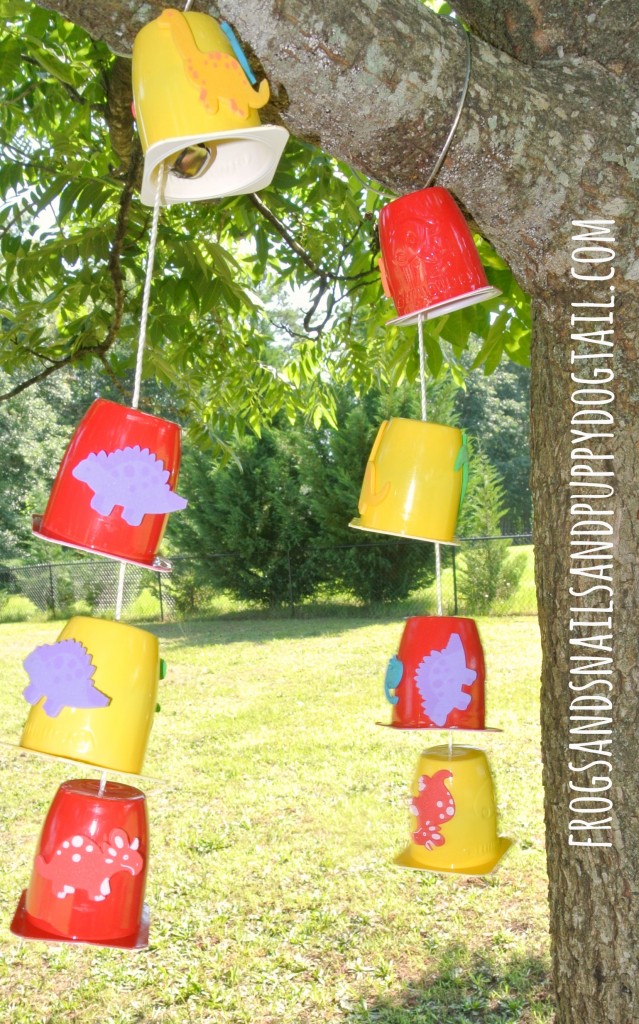 This is a great craft for you if your little one goes through tons of small yogurt cups! Keep the cups aside for a week or two until you have enough to make wind chimes.
For this you will need:
Yogurt cups
String
Stickers
Make small holes at the bottom of the yogurt cups, and help your little one string through one cup at a time, tying a knot on the string to hold the yogurt cup in place. Make two wind chimes with around 4 or 5 yogurt cups each, and decorate them with stickers.
Hang these on a tree and get your little one to listen to them knock together in the wind. You could tie some bells on for some extra noise!
Print With Flowers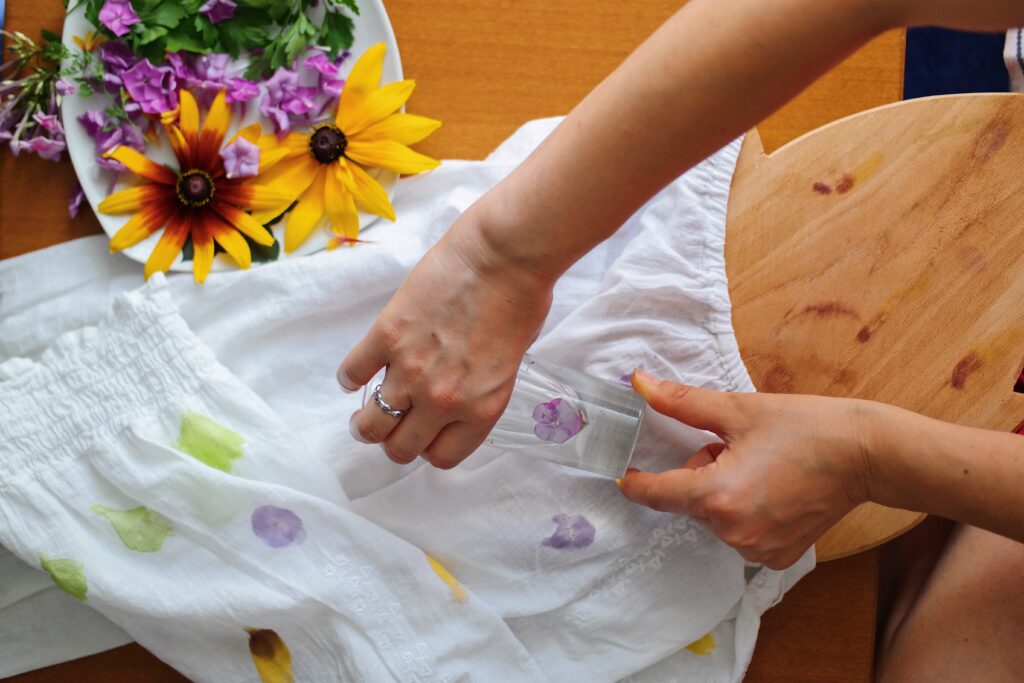 There should be some beautiful flowers and leaves in the garden during the summer, and your 2-year-old can use these for flower printing.
What you need:
Flowers
Leaves
Paint (Or Fabric)
Paper
Get them to pick a couple of flowers and a few interesting-looking leaves. Layout paints in a paint palette, and show them how to dip a flower or leaf into the paint, and then stamp it onto the paper.
This is ideal for summer for two reasons – there should be an abundance of flowers in the garden, and it is warm enough for your little one to paint and mess outdoors!
Make Bubble Blowers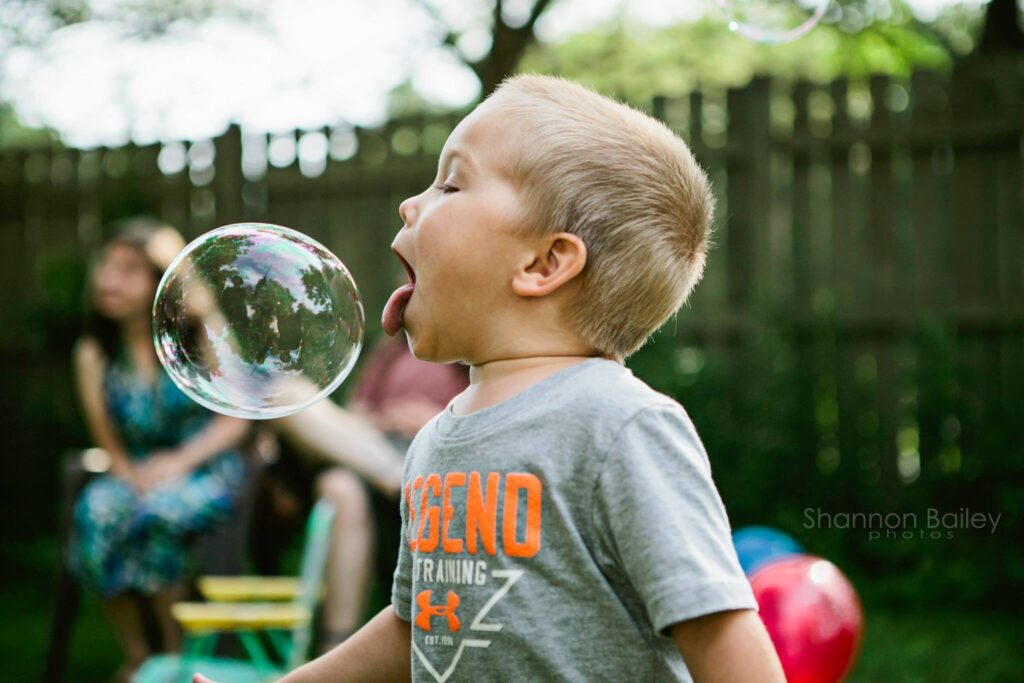 Bubbles and summer go hand in hand, and you and your 2-year-old can create your own bubble blower to play with in the garden!
You more than likely have everything you need to make a bubble blower at home already:
Dishwashing liquid
Washcloth
Rubber band
Empty water bottle
Small bowl
First, cut off the bottom of the water bottle, and place the washcloth over the cut bottom, holding it in place with the rubber band. In the small bowl, mix around ¼ cup of dishwashing liquid and ½ cup of water.
Dip the washcloth into the mixture, and let your little one blow into the bottle from the side you would drink from, with the cap removed.
As they blow into the bottle, the dish soap and water will make bubbles on the washcloth, which should grow and grow into a huge amount of bubbles!
Make Flower Crowns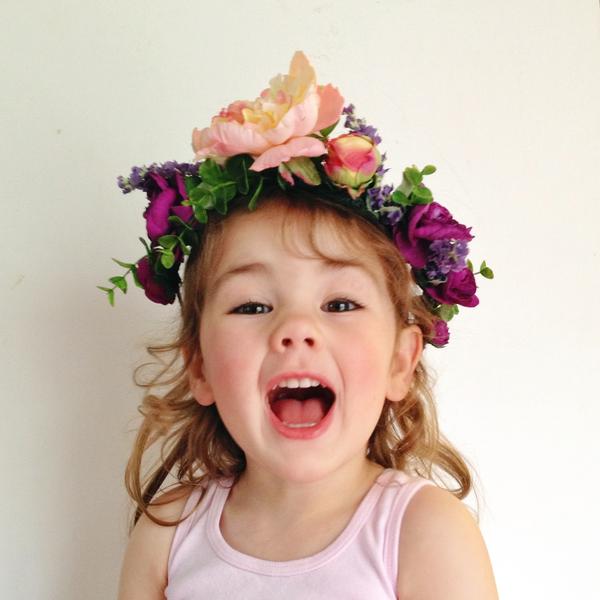 Both boys and girls will love being crowned king or queen of the summer, and making their own crown to show off!
For this you will need:
Brown kraft paper
Scissors
Stapler
Glue
Flowers
Markers glitter, and stickers
Measure your child's head, and cut a length of kraft paper to match. Then cut out triangles from the top, giving it a crown-like appearance.
Get your 2-year-old to collect flowers and leaves from the garden that they would like to use to decorate the crown. Get them to put some glue down on the kraft paper, and stick their flowers and leaves down.
Once dry, they can then decorate the crown with markers, glitter, and stickers. Once everything else has dried, measure the crown on their head once more and staple it together so it will sit comfortably on their head.
Paper Plate Sun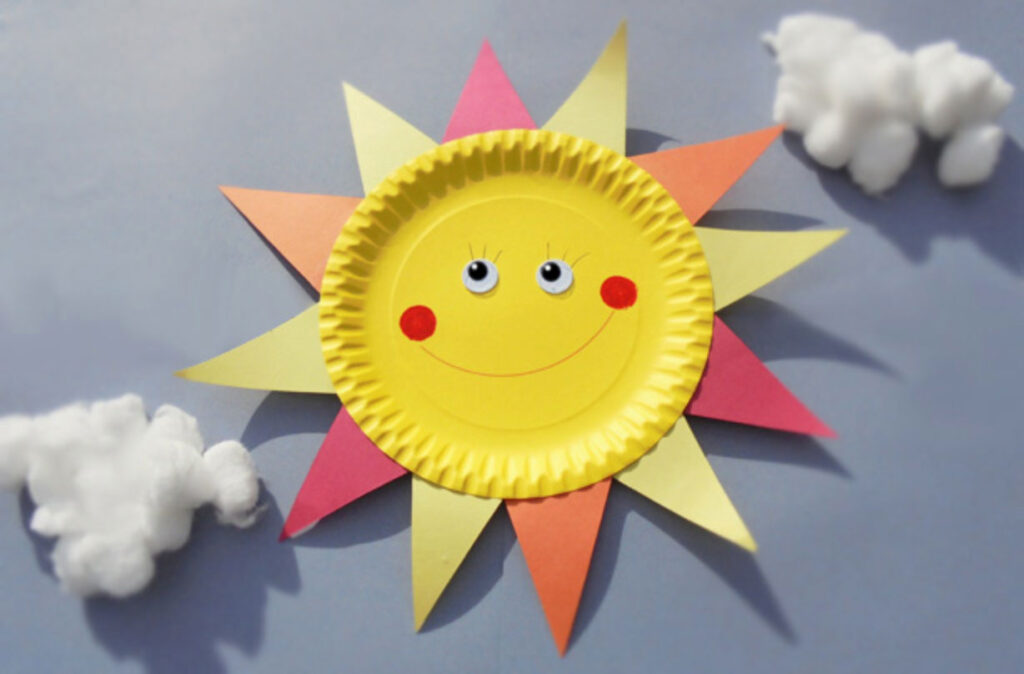 Summer is the sunny season, and what better craft for summer than making your very own sun! This is a great craft to get your 2-year-old involved in, and it helps them learn about the seasons better.
For this you will need:
Paper plate
Yellow paper
Yellow paint
Marker
Get your child to paint the paper plate using the yellow paint. They can use their fingers, a sponge, or a paintbrush, whichever would be best for them. Put the plate aside to dry.
While the plate is drying, trace your 2-year-olds hands on the yellow paper, around 8 times. Cut around these tracings.
When the plate is dry, help your child draw a smiley face on the front. Then, help them stick the hands around the back of the paper plate, with the fingers pointing outwards.
This creates a smiling sun with some beautiful hand-print sun rays!
Make Pasta Necklaces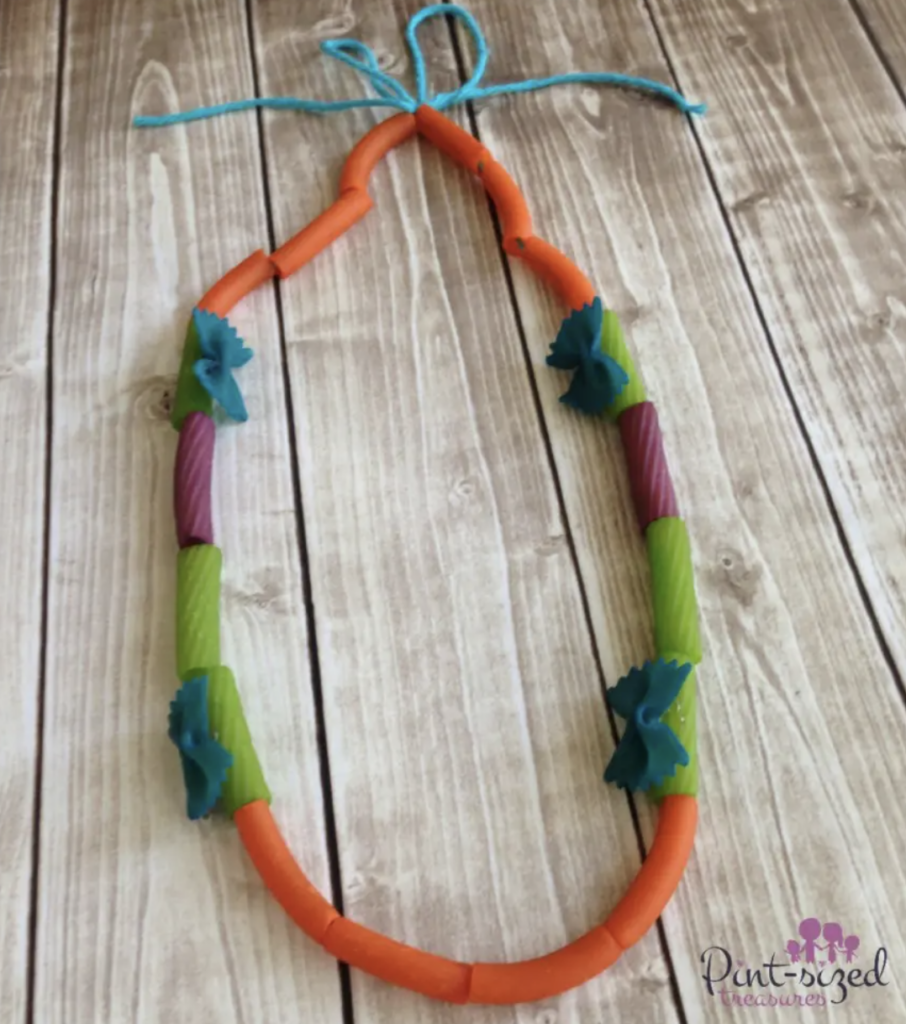 Pasta necklaces are such fine to make, and the activity helps your 2-year-old develop fine motor skills too!
For this you will need:
Pasta such as penne or straight macaroni (any type that string can be thread through)
String
Paints
Paintbrushes
This is a great craft for the outdoors, as it can get messy! Lay the pasta out for your 2-year-old, along with the paint and paintbrushes. Let them get creative and paint the pasta in different colors and with some different designs.
Leave the painted pasta out in the sun to dry. Once dry, tie a knot in a piece of string to stop the pasta from falling through, and help them string the painted pasta onto the string. Tie the two ends of the string together at the end to make a circle.
This will create a beautiful pasta necklace that they can boast they made themselves!
Make Cardboard Butterfly Wings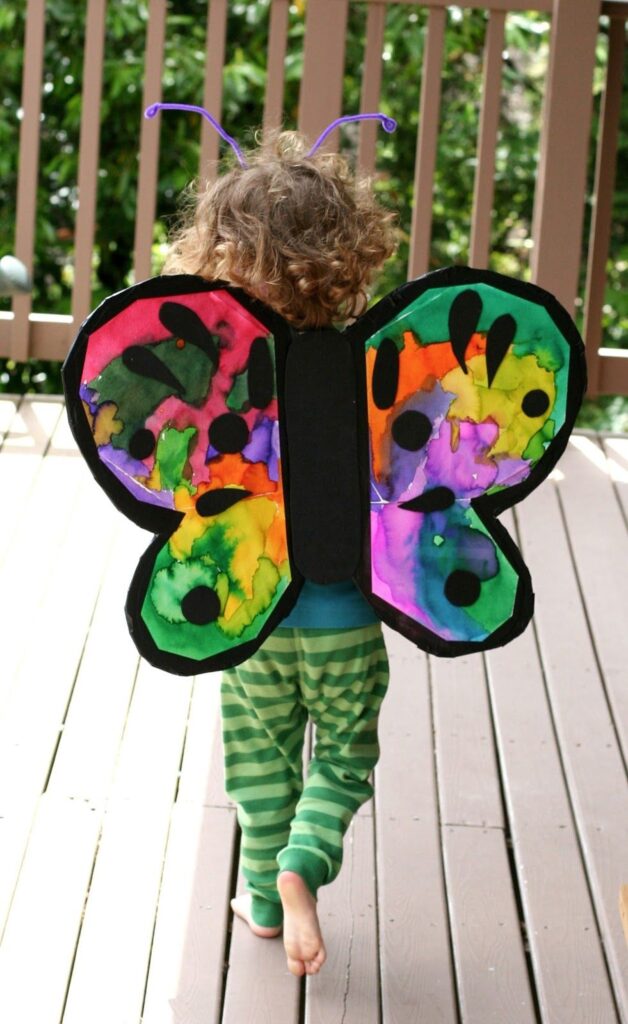 Your 2-year-old will love to be able to run around the garden flapping their very own butterfly wings!
To make the cardboard butterfly wings, you will need:
Big cardboard box
String
Packing tape
Paint
Paintbrush
First, open up the cardboard box flat and get your child to lay down on top of it. Trace out butterfly wings and get them to stand up. Cut out the wings, and smooth down the edges by taping them with packing tape.
Cut out the butterfly body using more cardboard, or packing foam, and use packing tape to stick this between the two wings.
Lay the wings down with the paint and let your child paint and decorate the wings however they want.
Once dry, punch two holes on the inside of either wing and thread the string through.
You can then tie this onto your child from the back, and they can run around and flap their gorgeous new butterfly wings!
Enjoyed these fun summer crafts for 2 year olds? Check these posts next:
13 Ridiculously Fun Games To Play Sitting Down
FREE Polar Bear Coloring Page Printables That Are Super COOL
19 Extremely Fun Games To Play At A Sleepover For Teens