Babies need to feed often, as much as every 2 hours when they first arrive home. Ensuring that you stay comfortable, and have a way to easily breastfeed without getting undressed each time, is so important to help you stick to, and enjoy, your breastfeeding journey.
Feeding at night can also be so difficult if you are sleep deprived and don't have the right pajamas. You want to be able to feed easily, and have you both fall back to sleep in no time.
To help you breastfeed easier at night, and to ensure you don't spend too much fussing over clothing, here are the 8 best nursing pajamas for new moms.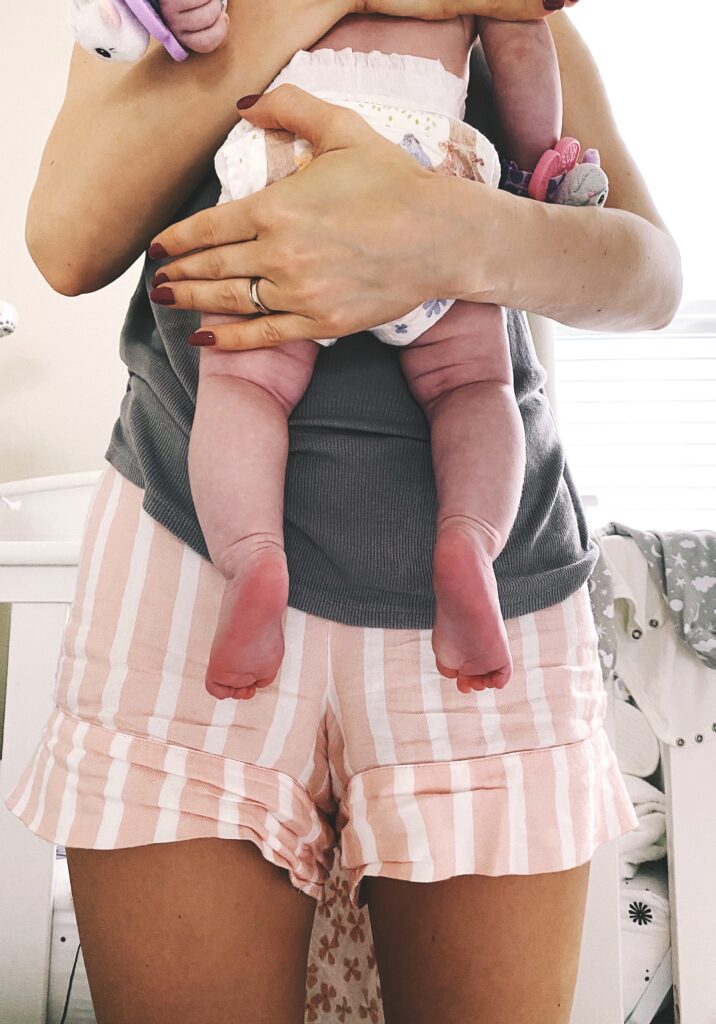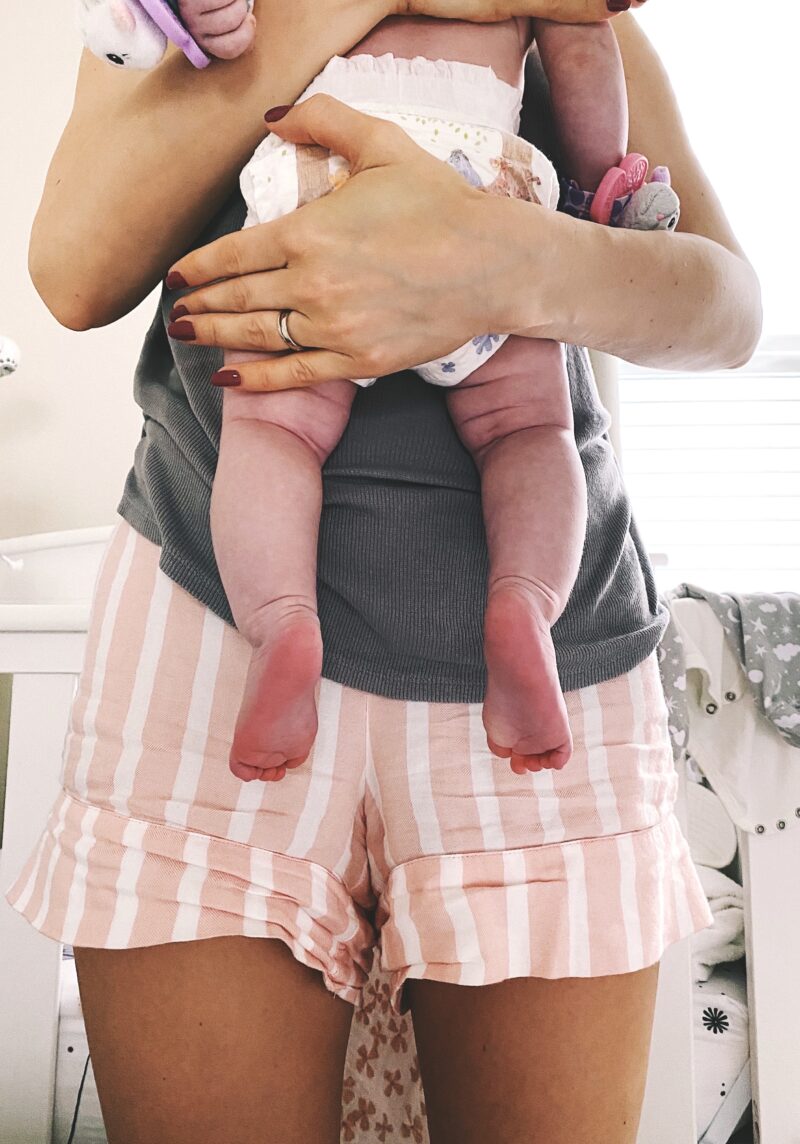 The Kindred Bravely Nursing Pajama Set is made with ultra-soft fabric, for the best comfort for mom, and to be gentle on baby's skin as well.
Designed for summer months, the nursing set includes a sleeveless top and capri pants that are ridiculously comfortable. The nursing top features a sleek silhouette that has a discreet nursing panel to allow for easy breastfeeding.
The top can be worn under other clothing as well, to allow for breastfeeding when out. You can choose between dusty mauve or black – or keep both for non-stop comfort!
2. Baby Be Mine Nursing Pajama Set
Baby Be Mine has created a stunning nursing pajama set that has been designed to make new moms feel absolutely gorgeous and to help them feel comfortable through easy nursing as well.
The set can be used during pregnancy and keeps you comfortable as your belly grows. Once your baby arrives, you can make use of the easy front-snap breastfeeding access. The elasticated waistline gives a comfortable fit, and the contrast piping on the pants and top adds a feminine touch.
It is a must-have set for all pregnant moms and will be your favorite set of pajamas during pregnancy and breastfeeding.
3. Jchiup Maternity ¾ Sleeve Nursing Nightgown
Simple and incredibly comfortable, this ¾ sleeve nursing nightgown is great for breastfeeding your newborn.
It features front double layers with a ruched elastic design which can be used easily for breastfeeding, and with the double layers, breastfeeding is kept discreet as well.
The contrast color top works well with the striped bottom, and the raglan sleeve design makes the nursing gown relaxed and comfortable.
It is great to use during pregnancy and for nursing and is definitely worth keeping in your cupboard.
Made from stretchy, soft fabric, it offers enough space for a growing belly, and for comfortable recovery and breastfeeding after birth.
4. Maxmoda Cotton Nursing Maternity Pajamas
Sometimes the basic choice is the best, and this Cotton Nursing Pajama Set really proves it.
The set is a basic nursing set and has simple features for easy access during breastfeeding. However, while it is a basic top and pants set, it is so incredibly comfortable.
The nursing top has a double layer around the neck and is ruched to allow for breastfeeding.
The pants are full length, and have an elastic waistband to accommodate for a growing belly, and then for a recovering mom after childbirth.

Adjustable drawstrings help the pants fit at all times.
There are different colors available, and you might find yourself buying a few sets of these nursing pajamas, they are just so efficient and comfortable for breastfeeding!
5. Ivory Nursing Pajama Set With Lace
If you are wanting something elegant and pretty, instead of plain maternity pajamas, this is the set for you!
The super-soft top is finished with lace detailing and features pearl buttons on the front opening which allow for easy and discreet nursing.
It comes with a matching long sleeve robe which also has lace details, and pants that have an adjustable waistband.
The nursing pajama set can be used during pregnancy and then for nursing once your baby has arrived. Drawstring pants help the pajamas fit whether you are pregnant or breastfeeding.
It is a versatile set – it can be worn with the robe in winter, or without the robe in summer. It will see you through your breastfeeding journey, and through the different seasons in the year!
6. Lamaze Nursing full Coverage Sleep Chemise
The softest material is used to make the sleeveless sleepwear chemise. It is wonderfully comfortable and features a pull-down lace-trimmed neckline which is suited for easy nursing.
Available in stripes, solid or polka dot, you can choose the one you like best, or keep all three to wear each night during the week.
The trimmed neckline makes breastfeeding during the night so comfortable and makes waking up to feed a breeze. It is ideal for the summer months when you want to wear something light and airy, but still, have something soft and fitting.
7. Ekouaer 3 in 1 Nursing Pajamas
High stretch material makes this pajama set ideal to wear during pregnancy, and after for breastfeeding as well.
The sleeveless patchwork tank has a V-neck, and front detail décor. It pulls apart in the front for breastfeeding and allows for discreet nursing as well.
Stripe pattern shorts have an adjustable elastic waistband that comes with button extenders, to ensure that the pants fit during pregnancy and after.
Soft and light fabric makes the set comfortable and breathable, and you can wear it when lounging around with your new baby at home during the day, and at night for easy breastfeeding when you don't want to fuss with complicated clips.
8. iLoveSia Women's Maternity Sleeveless Nightgown
Made with super-stretchy and comfortable material, this maternity nightgown is a must-have for all expectant moms.
It gives more room for easy moving and feeding and offers the best wearing experience.
It has a built-in nursing bra that features one-handed clasps for easy feeding, and adjustable shoulder straps for a better fit.
There are removable foam inserts to help with leaks and spills, which can be machine washed easily.
It is ideal to use as a nightgown for nursing moms, as a pajama when pregnant, or even as a birthing gown, being versatile to be used throughout your entire journey.
Don't forget to pin, like, and share me!