There are many things to get done and prepared when you are pregnant, but possibly the most exciting bit for new parents is setting up their baby's new nursery! Which begs the question, which room should be the nursery?
Typically the spare second or third bedroom is transformed into a nursery. A lot of new parents also like having their baby in their bedroom, creating a half bedroom, half nursery. It's all up to personal preference and your current living situation.
In a dream world, we would all have the perfect room set aside waiting to be turned into a nursery, but unfortunately, this isn't true for most of us, and we have to work with what we have!
If you have a few rooms that could be converted from their normal use to be used as a nursery, or if your situation is slightly more complicated than that, there are still options for you.
Each family has a different living situation and to help you find the perfect room to use for your baby's nursery, keep reading for our best tips and help you find the best solution for you!
Converting A Room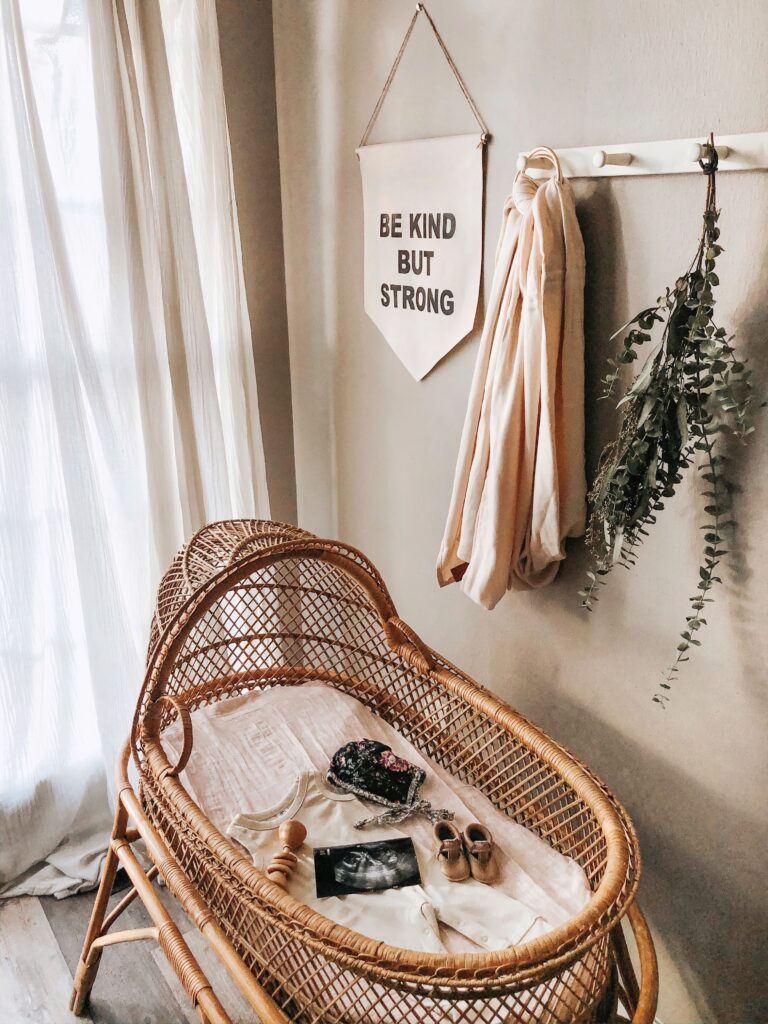 A nursery does not have to be huge. It needs to fit in your baby's crib and later on a bigger cot if needed, a small cupboard to keep their clothes, and maybe even a changing table if possible. You could even save some space and have the cupboard and changing table be one unit!
This small space needed for a nursery can be found in your home if you are willing to get a little creative.
The first option would be converting an existing office or guest room into your baby's nursery. This is really quite an obvious option and is the easiest one to do. You can either place the existing items from the room in storage or sell them to make extra money to furnish your baby's nursery.
One thing to consider when doing this is how far away your baby's nursery will be from your room. Even if you choose to keep your baby in your room for the first few months, you will most likely still have to get up and go to their room to feed or soothe them in the night when they do eventually make the move to their own nursery.
If you have the luxury of choosing, choose a room that is closest to yours. This saves quite a lot of hassle when you are exhausted in the middle of the night!
Another thing to keep in mind is that you will be losing out on a home office or guest room if you choose to go down this route. Decide if it is worth losing out on this space – especially if you work from home and use your office often, or if you regularly have guests over.
You could always set up a small corner office in your bedroom or buy a sleeper couch for guests, you will just have to find what works best for your family and your situation!
How To Make A Nursery In Your Bedroom?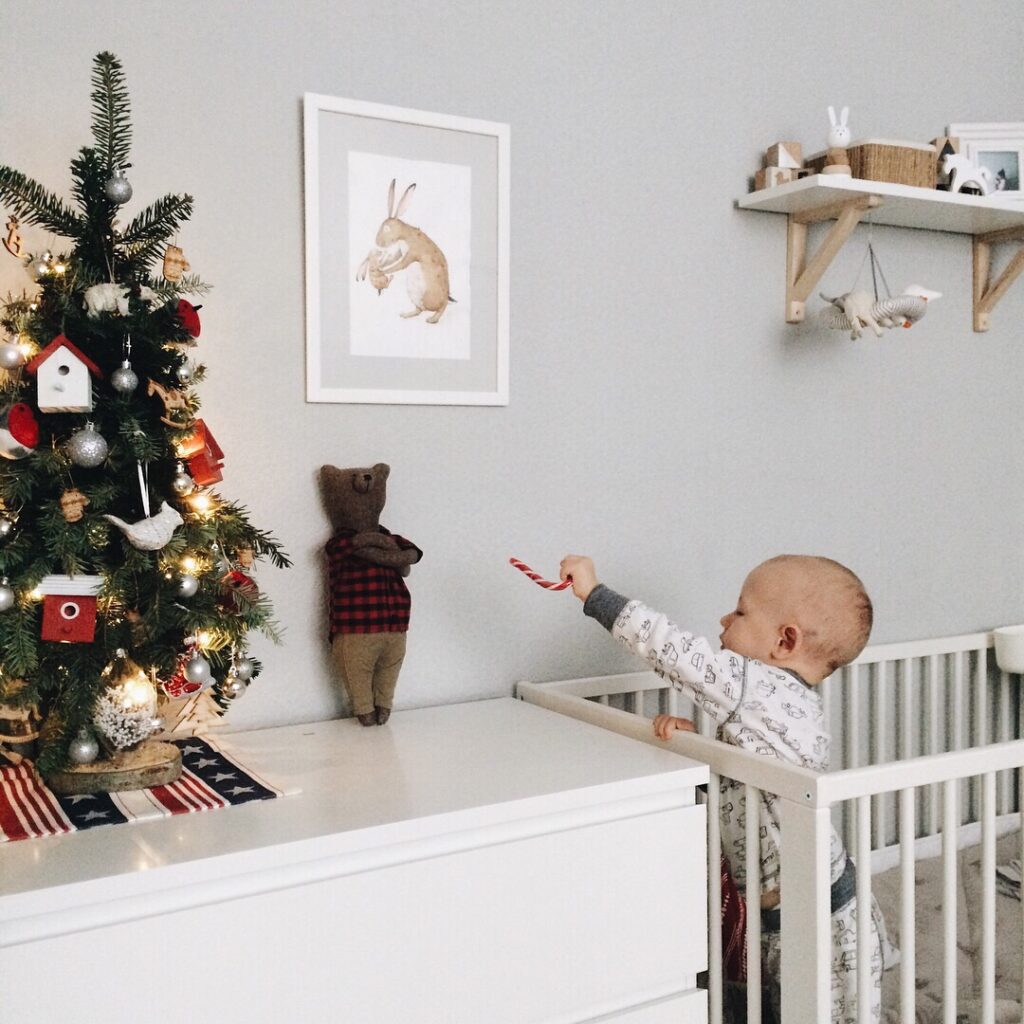 If you really do not have a spare room in your home or a room that you can convert to a nursery, the next option is to share your room with your baby and set up a mini-nursery in your bedroom.
This might not be how you imagined your baby's nursery to be, tucked away into a corner in your bedroom, but it could be the right choice for your family and your space.
You can still create a gorgeous space for your baby in your bedroom, and still, feel as though they have their own little area that you can decorate.
There are many small nursery furniture options and organization tools that are available for parents to use who are tight on space, and these might be the perfect choice for when setting up your baby's nursery in your room.
The best way to set up a nursery in your bedroom is to have a dedicated side of the room, or a corner, for the nursery.
This is where you can set up a small cupboard or drawers for their clothes, a changing table, and their cot. You can put some pictures on the wall and even paint your room a more neutral color.
You can also get quite creative with how you set things out, and instead, use a co-sleeper next to your bed instead of a crib which takes up a bit more space!
Shared Bedrooms
Another option for parents tight on space is to have a shared nursery with another child's bedroom.
This would be a sibling and the baby sharing a room, with the sibling's bed on one side, and the crib on the other.
If possible, you could fit the changing table in this room, or it could be placed in yours.
The one downside to this is that if your baby frequently wakes up at night, it could really disrupt the older siblings' sleep, and this could affect their day-to-day life.
To solve this, you could keep your baby in your room until they are sleeping through fairly well, and only then place them into their sibling's room where you know they won't be waking up too often and waking their sibling up along with them.
Shared sibling spaces can also work beautifully to bond siblings together, and to make the older sibling feel more involved too.
Remember to speak to the older sibling about any changes that may be happening to their room, and let them help decide on décor to feel more involved!
Nursery Decorating Tips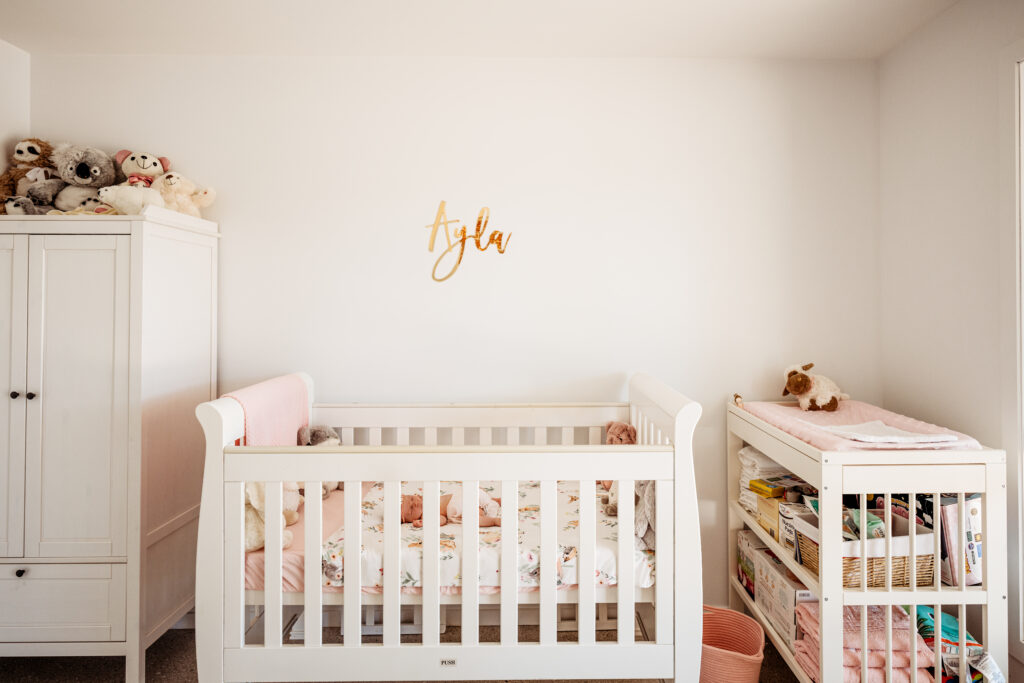 No matter if you are decorating a spare room to be a nursery or you are merging your room and your baby's room as one, here are some great nursery decorating tips that many parents wish they had known….
Keep Everything Close By
When planning out where to place items in the nursery, make sure that everything you need to change and feed your baby is well within reach.
You don't want to have to leave your baby on the changing table (which is incredibly unsafe) to go grab the wipes from across the room.
Think about everything you could need during changing and make sure it is close within reach!
If you have a dedicated feeding area, make sure that burp cloths, blankets, and pacifiers are close by as well.
Create A Good Sleep Environment
Your baby will not be scared of the dark, so make sure to get them used to sleeping in the dark from young. Being able to mimic nighttime really helps to get them into a good sleep routine, and they won't have their night and days mixed up.
Black-out curtains or a window shade can help to create a dark, comfortable sleeping environment for your baby.
Don't Clutter The Nursery
It can be so tempting to buy all the cute baby items you can find, but the truth is that with a baby, you don't have much cleaning time to spare, and the last thing you want is a nursery that is cluttered with unnecessary items.
Just the essentials and a few special items are enough.
You do not want to be tripping over excess teddies and having to clear their crib of blankets and bumpers when trying to put a sleeping baby down.
Have a well-organized nursery where everything has its place and which can be tidied up easily!
Choose A Portable Crib
If you are limited on space, it might be worthwhile choosing a portable crib that can easily be moved around the house.
This makes it much more effortless to move the crib from one room to the next if needed, and it means you can move the crib around the house with you during the day so your little one can nap close by.
Consider The Decor
Not all the décor in a nursery needs to be babyish, especially if your baby is sharing a room with you.
There are some really great prints that work in both a parent's room and a nursery, and still, allow you to feel like you are decorating a nursery for your baby without taking away the 'adult' feel of your room.
Choose A Theme
Picking a theme from early on really helps to plan out a room a little better. The theme doesn't have to be so specific, but it could be a mix of colors that you like.
This helps you better coordinate everything in the room, and once done, the nursery would look neat and just how you want it!
Make A List Of Essentials
It is such a good idea to make a list of nursery essentials before actually planning the nursery.
Make sure that you stick to the list when choosing everything to purchase for the nursery, to save on unnecessary clutter and to save on money!
Deciding On A Room For The Nursery
There are lots of different options that parents have when deciding on a room for their baby's nursery.
Whether you have a spare room to convert to a beautiful nursery, or your little one has to share a room with you for a while, you can make the nursery fit your lifestyle best and give your baby a comfortable and beautiful place to sleep!
Enjoyed this? Make sure to check these out next:
Is The SNOO Bassinet Worth It?! SNOO REVIEW (NOT-SPONSORED)
What Is Similar To The SNOO? (3 Budget-Friendly Alternatives!)