Finding a stroller for toddlers over 40 lbs was very very important to me. I knew I wanted a stroller for big kids so my baby can grow into it and save me money down the road, instead of buying a new stroller every year or so…
A stroller is a necessity for a baby, being such help for when you leave the house, run errands, or just go for a walk.
As your child gets older, you will probably find you use the stroller less and less. It might not be as comfortable as it used to for your growing kid, and their new weight can make the stroller difficult to push.
If you still love the benefits of having a stroller – you should look at getting a stroller for bigger kids! There are some great strollers available for toddlers over 40lbs, you just have to know what to look for.
To help you choose the best stroller for your growing child, one that has great features, is comfortable, and that you and your toddler will love using, here is what to consider before buying one, and the best ones on the market for you to choose!
Buyer's Guide – What To Look For In A Big Stroller
Before choosing a stroller for a toddler, you need to consider what you will need the stroller for, to determine what type of stroller you will need. There are a few different types of strollers to choose from.
Jogging Strollers
Jogging strollers most often have a three-wheel design. One large tire sits in the front, and two larger tires sit at the back. These tires are usually bicycle-style and are filled with air, allowing them to travel fast, and over uneven surfaces.
Umbrella Strollers
Umbrella strollers are made to be lightweight and easy to travel with. They pack away easily and in no time. These types of strollers can be kept in the trunk of your car for when you need to run a quick errand.
While convenient, umbrella strollers often lack storage space and don't have the best wheels, meaning they often aren't very easy to maneuver.
Double Strollers
Double strollers work great if you need to push around more than one child at a time. Typically, double strollers come in two different ways – with the chairs sitting one next to each other, or one behind the other.
You will be able to find double strollers that are able to take infant carriers, but which have high weight limits as well.
Travel Stroller
Travel strollers are what you would expect – lightweight, simple, and easy to set up and pack away. Many of the travel strollers are made to fit into the overhead bins on an airplane.
Note that these are not made for everyday use, and rather when you are in a crowded airport or shopping center.
Choosing The Best Stroller For You
Now that you know the different types of strollers, here is what to keep in mind when choosing one which is right for you.
Frequent Use
If you are planning on using the stroller often, you will need to choose one that is suited for daily use. Look for good storage space and comfort for your child.
Your Child's Age
Always look at the manufacturer's recommendation for the age limit on the stroller. Know how long you plan on using the stroller so that you can make the most out of the stroller before your child outgrows it.
Where You Will Use It
Different strollers are made to be used in different environments. Not all types of wheels work well for everyday use. Oversized wheels on jogging strollers are perfect for rough terrain outdoors, but not for pushing around the mall.
Storage
You need to make sure that you have space to store the stroller, especially if it is oversized. It is also important to make sure that it fits into your trunk!
Features
Make sure to look for the features you find important – such as storage space, snack trays, or reclining chairs. Use this to find a stroller that suits your needs best.
Know Your Budget
Before rushing out to purchase a stroller, understand your budget and what you are willing to spend. There are strollers for all different budgets, so stick to yours and find the stroller that is right for you.
The 7 Best Strollers For Big Kids / Toddlers Over 40lbs
These are the best strollers on the market for big kids and toddlers over 40lbs.
Baby Trend Expedition Jogger Stroller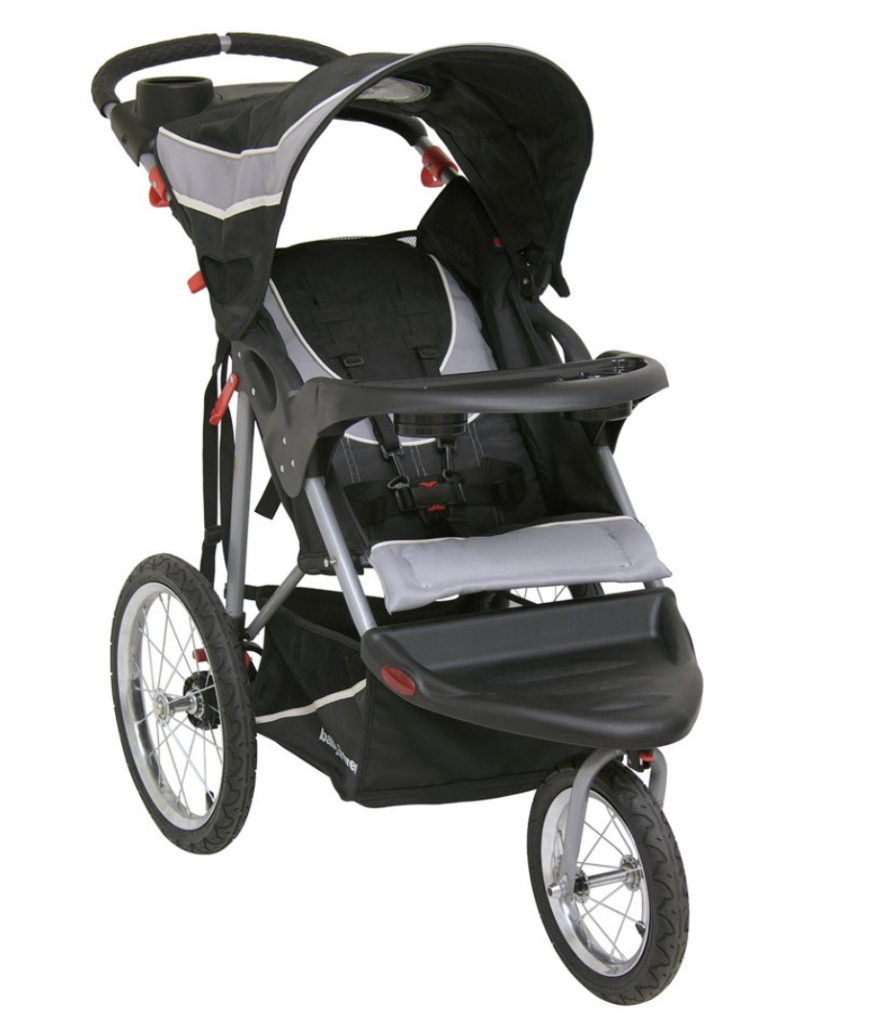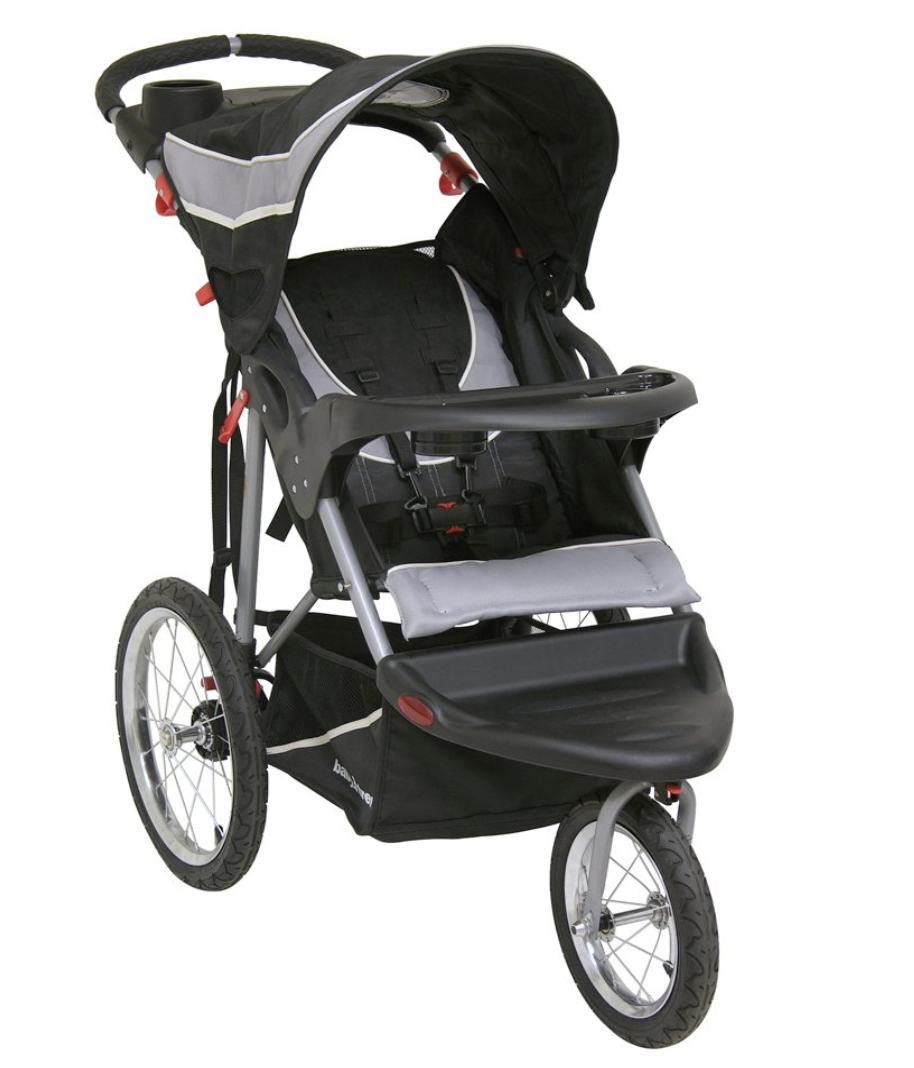 The Baby Trend Expedition Jogger Stroller is great value for money, and is great if you are wanting to take your adventures outdoors!
With large bicycle tires, the jogging stroller rolls over all surfaces effortlessly, whether you are going for a walk in the park, or a jog on the boardwalk. The front swivel wheel is lockable, making it ideal for jogging.
The stroller accepts Baby Trend Infant Car Seats, so you can use the stroller from birth onwards until your child reaches 50lbs. The seat is padded and has a 5-point harness for increased safety.
Convenient features include the parent console which has two cup holders, a covered storage compartment, a large, ergonomically shaped rubber handle, and a shade cover. All of these help to make the jogging stroller ideal for outdoor use.
The Expedition Jogger Stroller even has footrest reflectors, for better visibility in low-light settings. The lightweight frame is made from rugged steel and is durable and reliable to keep your little one safe.
Benefits:
Large bicycle wheels for all terrains
Padded seat with a 5-point harness
Large canopy for sun protection
Child and parent trays with 2 cup holders
Summer 3dLite Convenience Stroller, Gray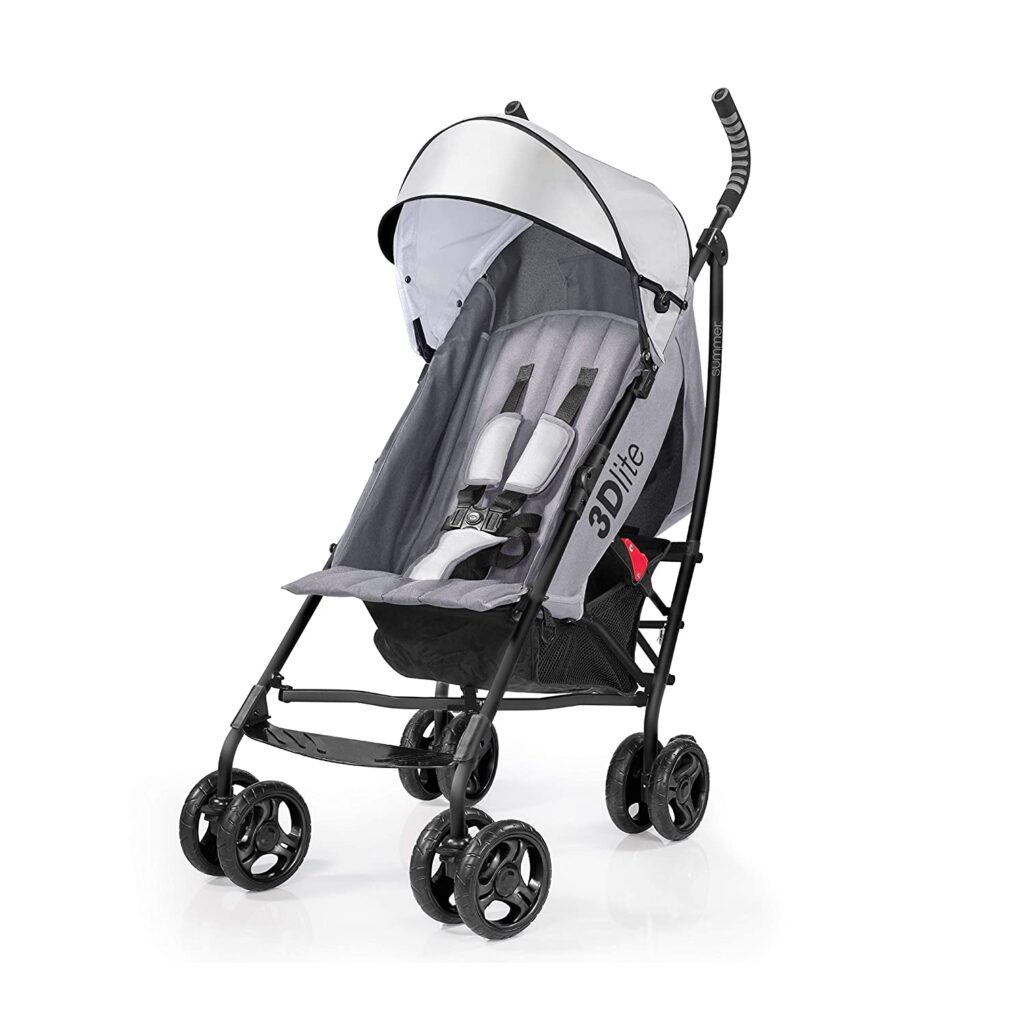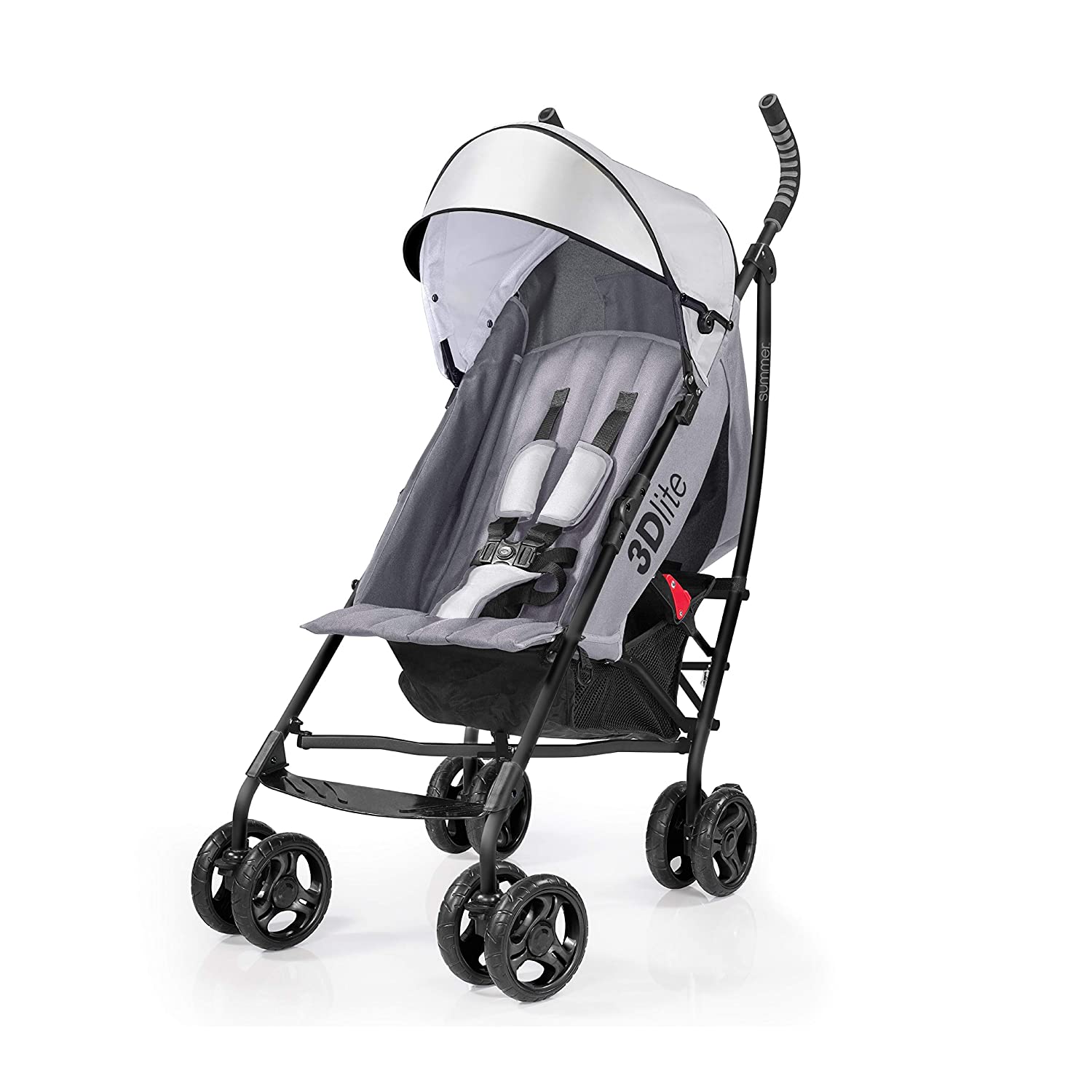 This lightweight stroller is ideal for outings and running errands when you need something compact, but comfortable, and lightweight to take around wherever you go.
The durable aluminum frame only weighs 13 pounds, making it a breeze to travel with. It has a large seat area, and anti-shock front wheels to make the ride more comfortable for your child. The back wheels are lockable, for when you need it to stay in place.
It is the ideal stroller for bigger children whether you are on the go running errands or traveling around. The seat can recline to 4-positions, and there is a 5-point safety harness to keep your child safe on the go. The maximum weight for the stroller is 50 pounds.
Once folded, there is a convenient carry strap for you to use, and auto-lock to keep the stroller packed away.
When out, you can use the adjustable and removable canopy to protect your child from the sun, wind, or rain, or remove it if the weather is good.
While lightweight, there is plenty of storage room in this basket – with an extra-large storage basket, a rear storage pocket, and a cup holder!
Benefits:
Lightweight aluminum frame
Carry strap when the stroller is folded up
Adjustable and removable sun canopy
Large storage basket
You may also be interested in this review of the best lightweight strollers on the market.
Graco Roomfor2 Stand and Ride Stroller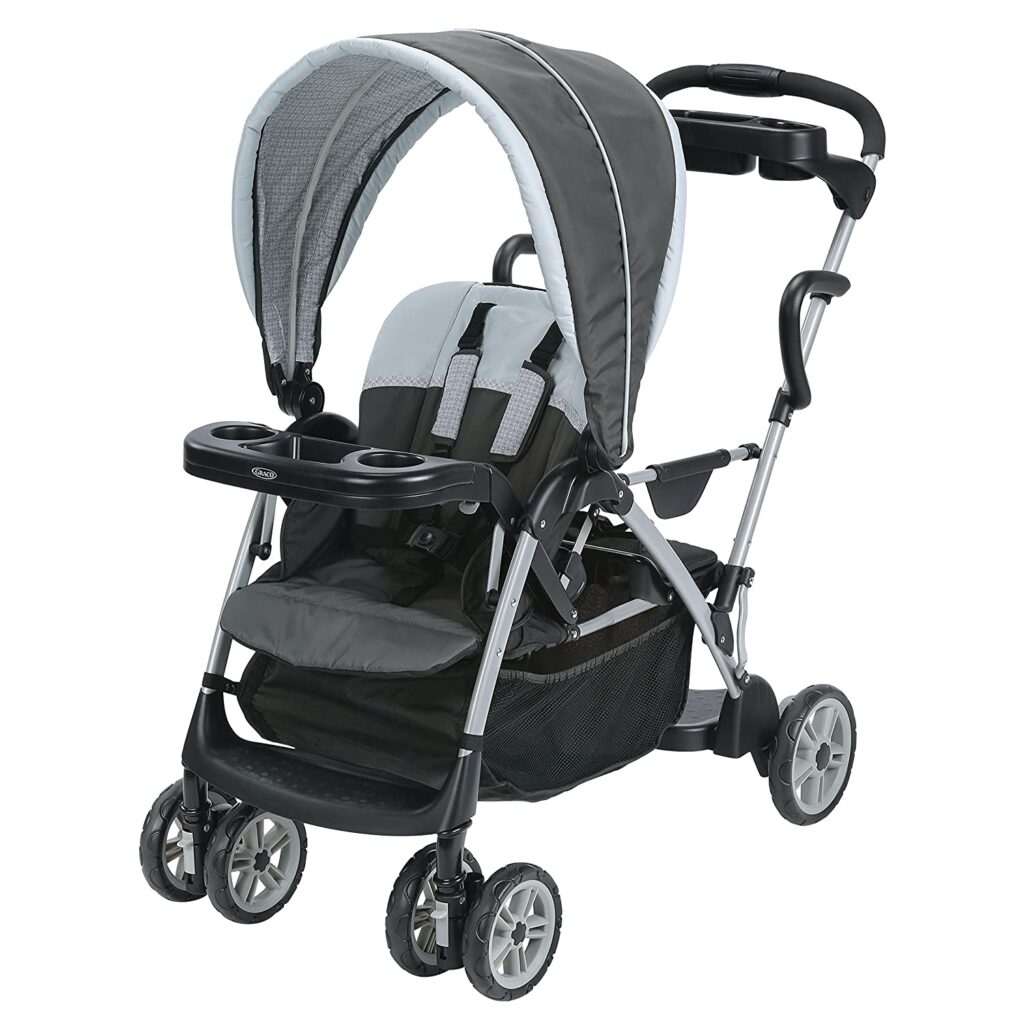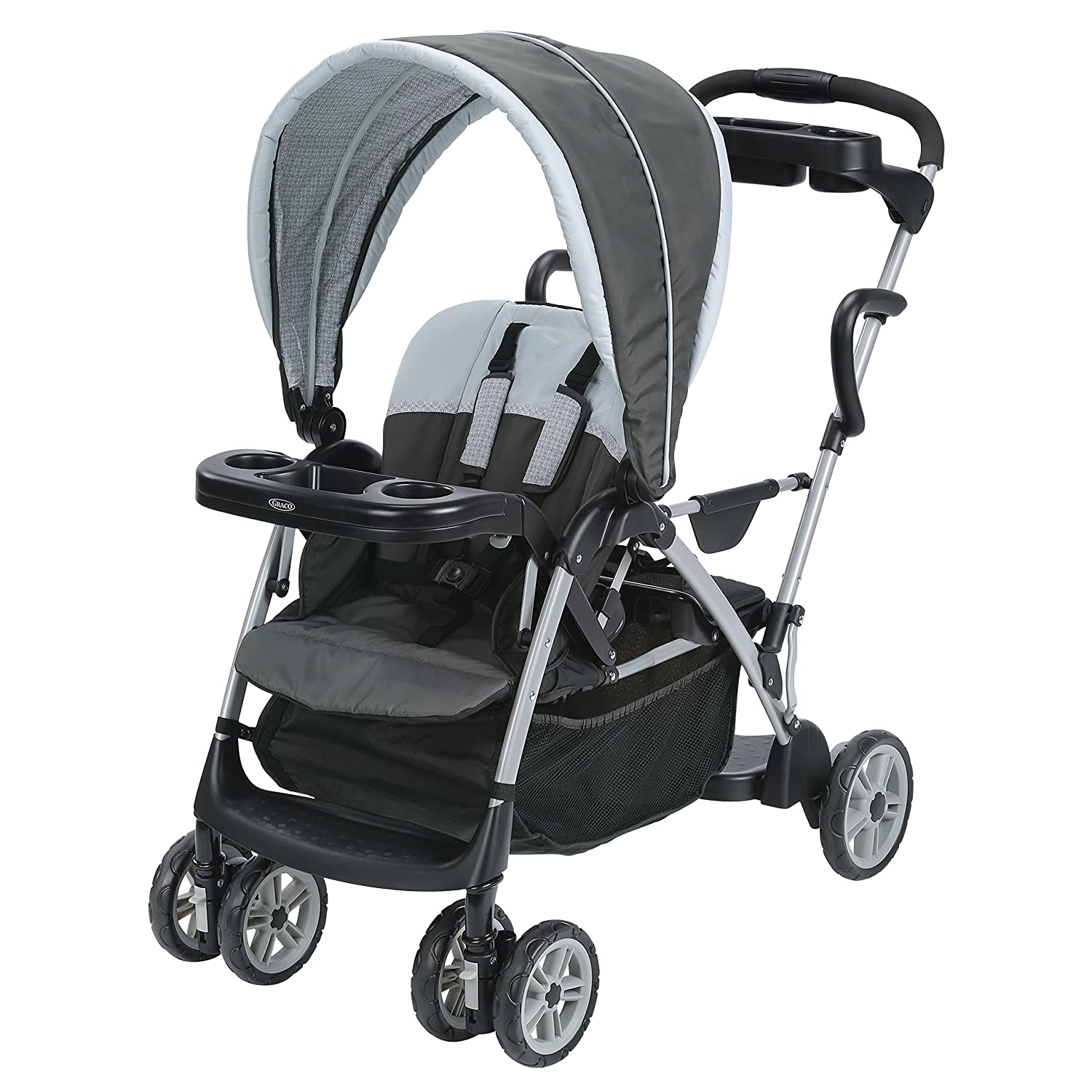 If you are wanting a stroller to travel with two kids, the Graco Roomfor2 Stand and Ride Stroller is a great option.
The stroller can hold two children, who are up to 50 pounds each. The stroller has larger back wheels, and two smaller front wheels, providing a smooth ride.
You can fit all Graco SnugRide Classic Connect & Click Connect Infant Car Seats to the front seat of the stroller for younger children.
The back of the stroller features a padded bench seat, for the older child to either sit or stand on while you are on the move. The front seat is multi-position and can recline to lying flat.
A child's tray in the front pivots, allowing your child to get into the stroller with no fuss. Simply use the one-handed fold system to pack the stroller away!
Benefits:
Padded bench for an older child to sit or stand on
Reclining front seat for a younger child
Child's tray in front and back of the pram
Holds two children at once
Lightweight Compact Foldable Travel Stroller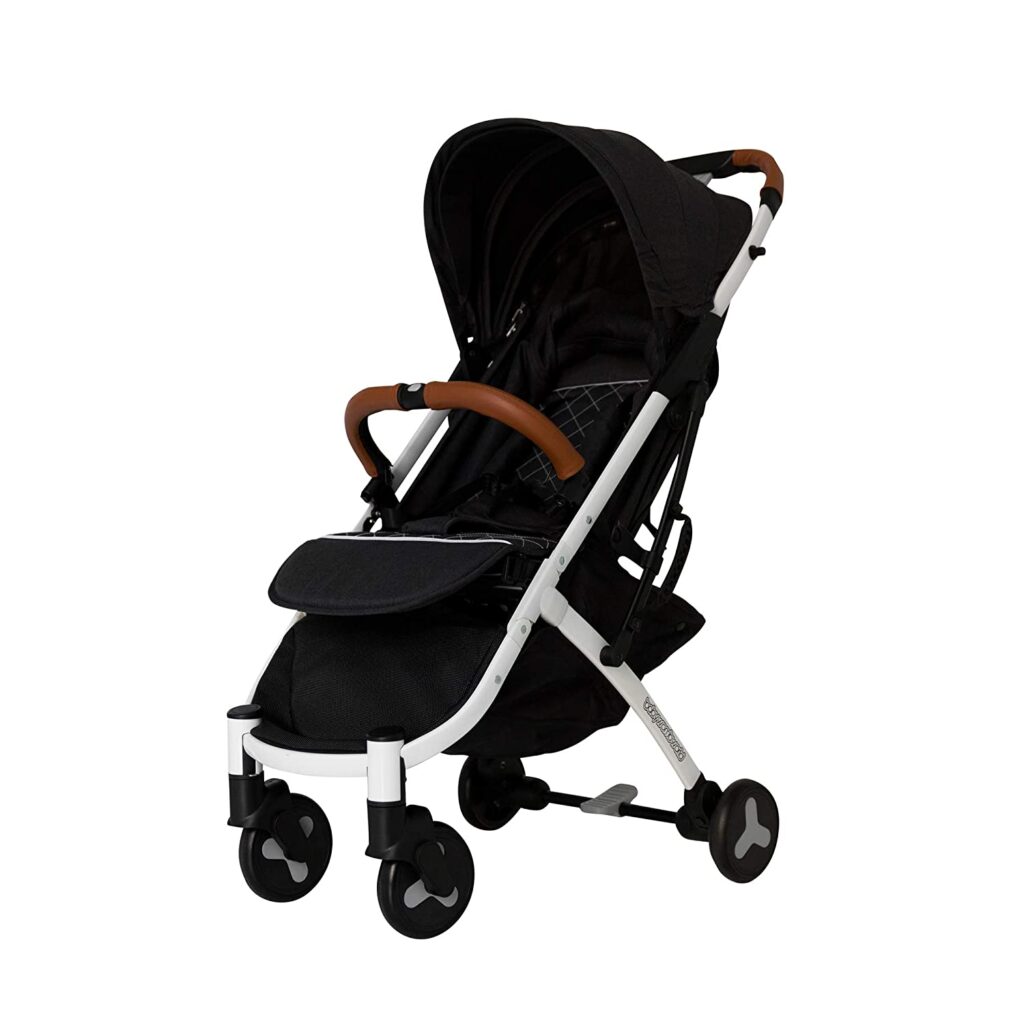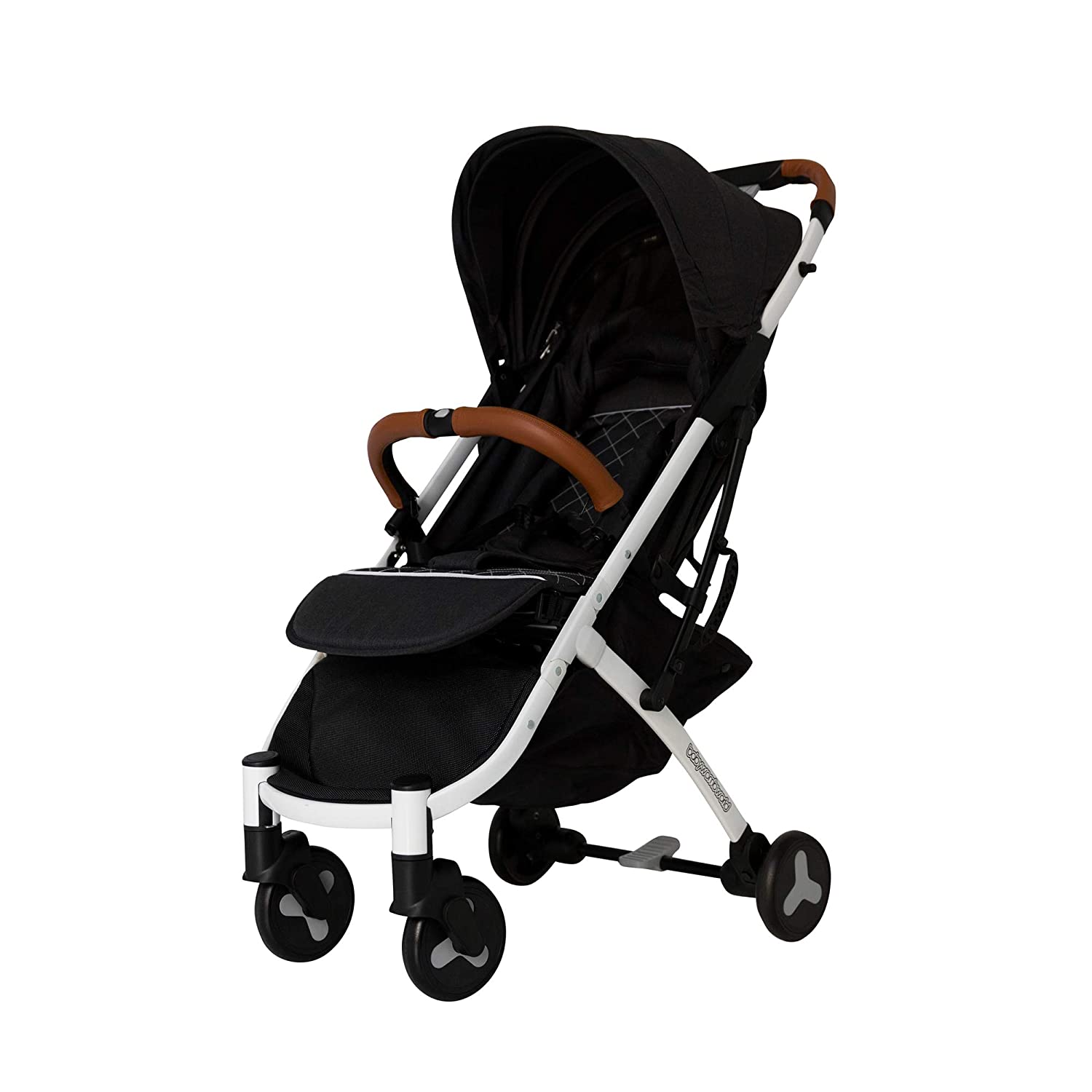 For traveling, the Lightweight Compact Foldable Travel Stroller will be your go-to item. It is a lightweight stroller, but not flimsy like so many other travel strollers ten to be.
The stroller is safe and sturdy while being nimble, versatile, and very easy to use. It is made with an aluminum frame and features an internal suspension system. It is reliable and robust and will easily carry your child around airports or when out traveling.
With the ability to fold up, you can take the stroller onto the plane with you, and fit it into the overhead compartment. The stroller has the ability to grow with your baby and can convert from a baby stroller to a toddler pram, allowing the right seat recline to suit their age.
The flexible canopy keeps your child protected, while still allowing them to see the world around them.
Take the stress out of traveling by using this incredibly handy, portable, and reliable stroller for your child!
Benefits:
Lightweight and folds up small
Internal suspension system for comfort
Transforms from baby stroller to toddler pram
Easy to pack away and set up
Thule Chariot Cross Sport Stroller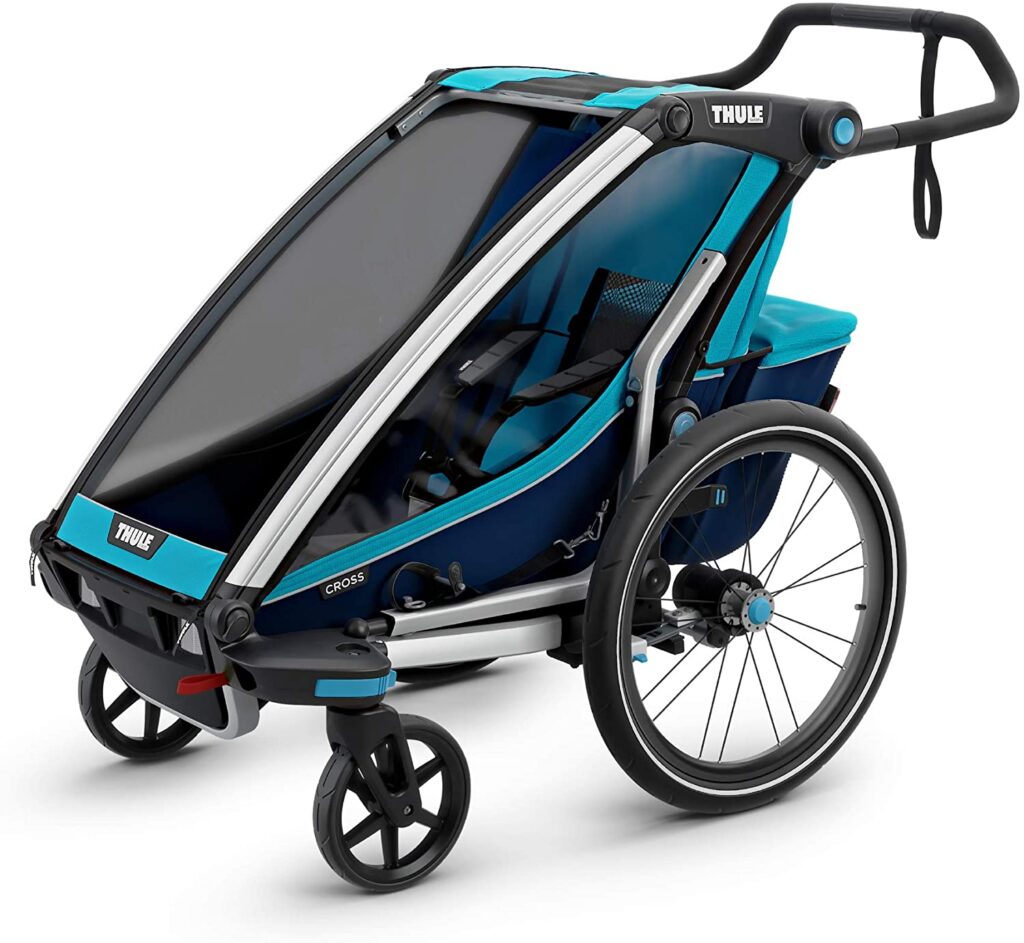 This is the ultimate stroller for the active family and will have you enjoying the outdoors all year long. It is an all-in-one stroller, jogger, bike trailer, and even a ski pulk.
It can adapt to all your outdoor adventures. The stroller comes with the stroller and biking kits.
The compact fold makes the stroller easy to transport and store away when it is not in use. It has a one-handed recline system, so you can put your child down to rest without having to stop what you are doing.
Adjustable suspension ensures that your child has a smooth ride, no matter the terrain. A comfortable padded seat also offers the best comfort, and is removable, making it easy to clean.
To top it off, the Cross Sport Stroller comes with an XL storage space, but this can also be taken away to increase kick stride while jogging.
It is a stroller that will see to all of your active needs, and it keeps your child protected and comfortable, but still allows them to see the world outside!

This is definitely on the more expensive side and an investment piece, but it is one of the best stroller for toddlers over 40 lbs on the market. If you or your partner lead an active lifestyle, you won't regret this purchase.
Benefits:
All-in-one stroller, jogger, bike trailer, and ski pulk
Adjustable suspension for different terrains
Comfortable padded seats
Jeep Unlimited Reversible Handle Stroller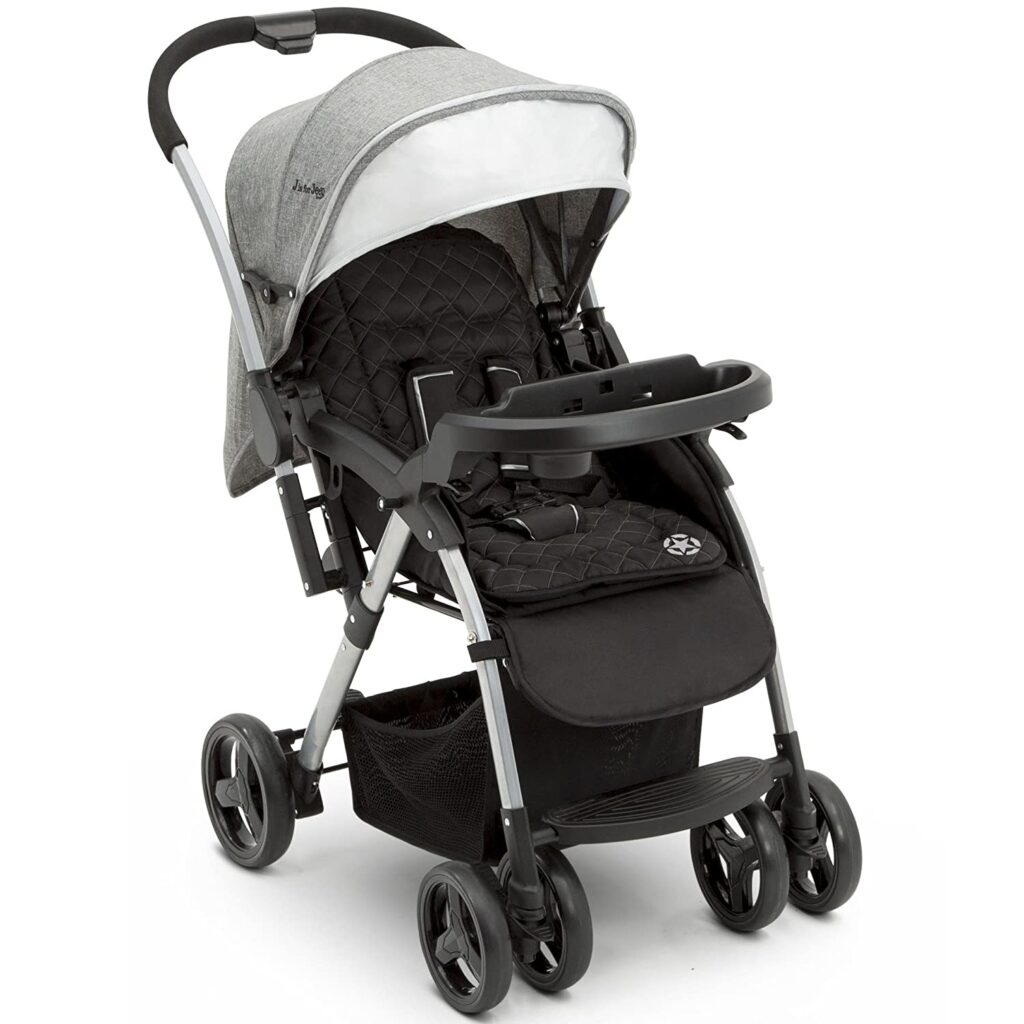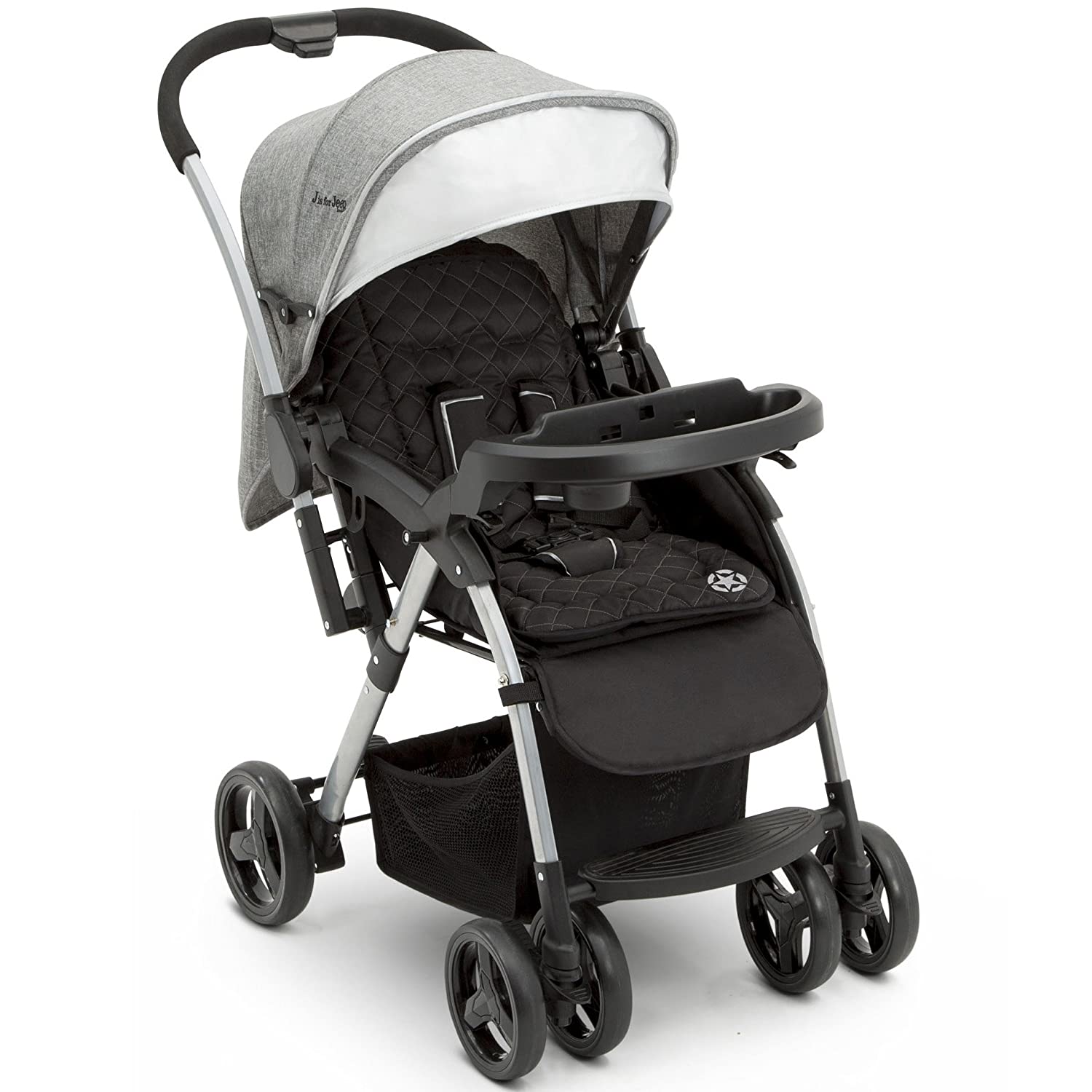 If you are looking for durability and comfort, the Jeep Unlimited Reversible Handle Stroller should be one of your top options.
It is suited for infants and toddlers who can sit unassisted up to 50 pounds. The reversible handle allows your child to ride parent-facing or forward-facing. It has an extendable European-style canopy that has a pop-out UPF 50+ sun visor for those hot days.
The seat reclines into three positions, and the footrest is adjustable, to suit the needs of your child. The child tray swings in and out easily for your child to enter and exit the stroller.
A larger storage bag is found under the frame, and the stroller is so easy to fold and pack away! Front 7'' swivel lock tires make for a comfortable ride, along with the 8'' shock-absorbing back wheels.
Benefits:
Strong, durable frame
Adjustable handle for front or back-facing seat
Pop-out UPF 50+ sun visor
Large shock absorbing wheels
Chicco Viaro Quick-Fold Stroller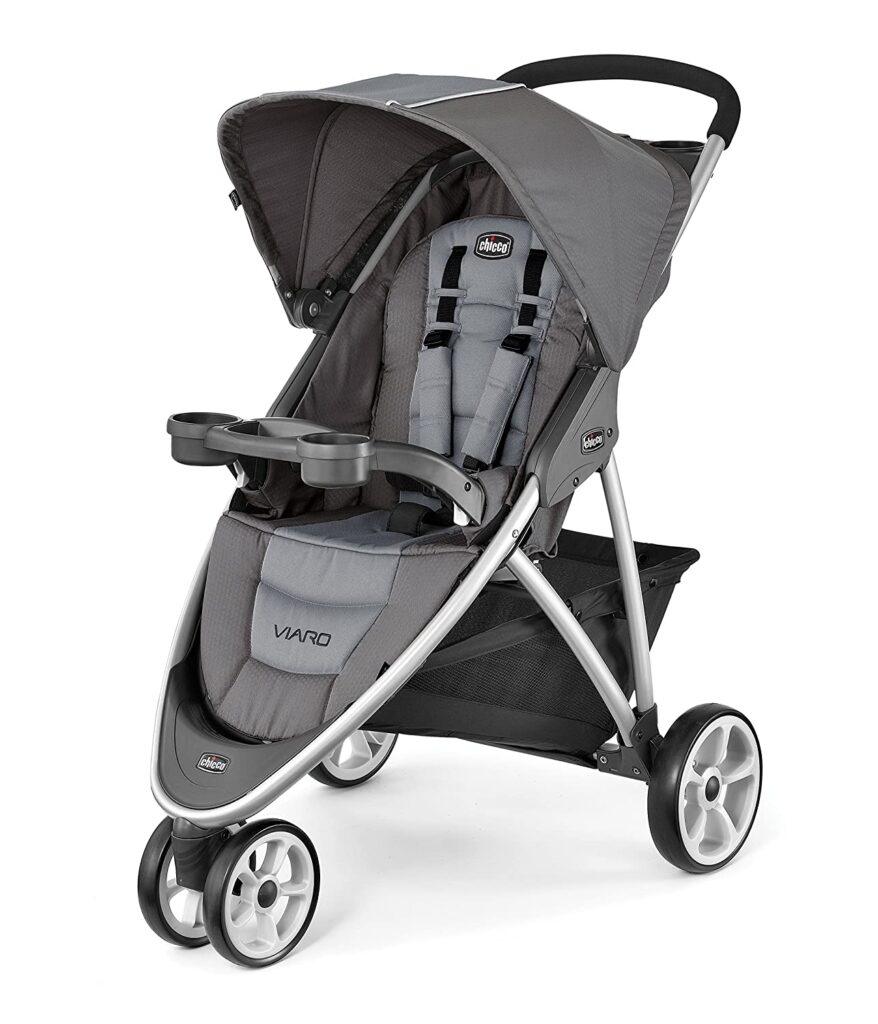 With a lightweight aluminum frame, the Chicco Viaro Quick-Fold Stroller is easy to travel with. The sleek 3-wheel design makes for smooth pushing and a comfortable ride for your child.
To be even more convenient, the stroller has a one-hand, free-standing fold, packing away so easily. It accepts all KeyFit Infant Car Seats, so it will be able to last your child for many years!
The multi-position reclining seat has a safety harness to keep your little one protected, and the adjustable canopy keeps them away from the elements!
The child tray has two cup holders, and the parent's tray has an additional two cup holders as well. It is convenient and portable, but still comes with the features you would want for on-the-go!
Benefits:
Lightweight aluminum frame
One-hand free-standing fold
Multi-position reclining seat
Child and parent trays
Check out these posts as well:
5 Best Stroller Fans For Disney To Fight Off The Heat
Co-Sleeper Vs Pack N Play: Which One Is Right For You?
Don't forget to like, pin, and share me!