Finding the Best Stroller Fan for Disney is no small feat! The heat in Disney is exhausting, you need an amazing fan to keep your baby comfortable
There is nothing quite as exciting as a trip to Disney! If you are going in the warmer months, you need to plan ahead to make sure that it is as fun an experience as possible.
(But let's be honest, Orlando in January isn't exactly a snowstorm!)
With a baby, you will need to keep them cool in their stroller, and the best way to do this would be with a stroller fan!
So, which is the best stroller fan for Disney?
The best stroller fan for Disney would be one that is portable and easy to pack, and which works well to keep your baby cool.
It needs to fit onto your stroller, and not get in the way of your little one viewing the great sights at Disney.
There are a few things to consider when choosing the best stroller fan for Disney, so we have listed what you should look for, as well as our top picks of the best fans!
How To Choose The Best Stroller Fan For Disney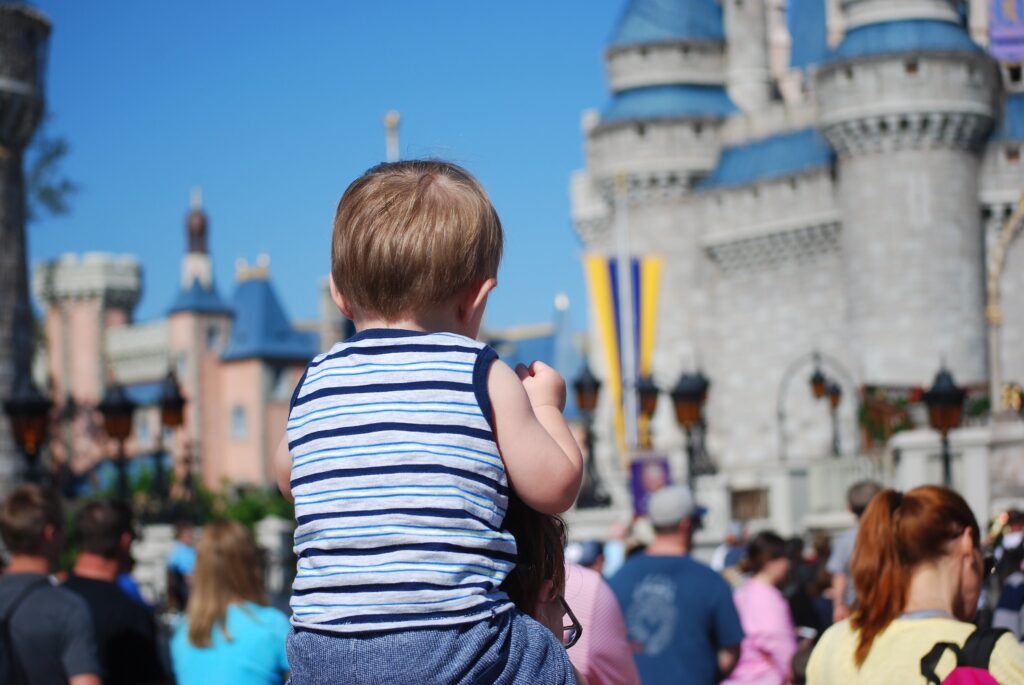 Here are some things to keep in mind when choosing a good stroller fan to use when visiting Disney, and for afterward too.
The stroller fan needs to be durable, and it needs to last for quite some time. There is no point in buying a flimsy fan that breaks after a few uses!
You need to make sure that the fan has a durable case that will protect your little one from the fan blades. Accidents happen with babies and toddlers, and the fan will probably fall a few times. Make sure that it can survive those falls.
A stroller fan should be noise-free, or it should at least be as quiet as possible. A small amount of noise might help your little one fall asleep, but you don't want the fan to be so loud that it stops them from falling asleep, or takes away from the fun noises at Disney.
You will find both battery-powered and rechargeable stroller fans. Which is best for you will depend on your travel circumstances. Battery-powered might be better if you cannot recharge the fan each night, but then keeping batteries with you all the time could become difficult.
It is a good idea to choose a fan that is able to clip onto the stroller easily. It should fit onto the stroller, and be secure when it is clipped on.
The fan should be lightweight as well, so it does not pull down the stroller canopy, or pose a risk if it falls into the stroller.
Many stroller fans have foam blades. This might not seem like the most effective choice, but foam blades can still keep your baby cool, and they pose less risk of injury if your baby manages to grab onto the fan.
You might not need the fan to be on full power all the time. A fan that has adjustable speed settings is always helpful, so you can change it to suit the weather and heat on the day.
Some stroller fans come with a misting function. This can be helpful on really hot days at Disney, but you might not want your baby to be misted. Look to see whether the stroller fan has this function or not. A misting fan might be a little larger than a normal fan.
The Best Stroller Fans For Disney
Now that you know what to look for, here are the best stroller fans to use at Disney. They will all work well to keep your little one cool while they explore!
WiHoo Mini Stroller Fan
WiHoo Mini Handheld Stroller Fan - Adjustable 3 Speeds for Camping/Traveling
【Flexible Tripod】The small fan with unique flexible tripod design. This tripod uses high quality metal and Silicone cover, you can bent any angle you want, grip it, wrap it, stand it, keep it durable, flexible and stable.
【Versatile and Portable】This Portable baby fan with flexible legs allow you to secure fan to baby stroller, car seat,crib, Keep you and your baby cool. It also can be used as a desktop air fan or handheld fan.
【USB or Battery Powered】2 in 1 powered style, support USB or Battery powered. 3~8 hours working time depends on speed, 1pc 2600mA rechargeable battery is included. 3.5 hours for full recharge. (Can also be charged by computer, laptop , power bank, car charger etc).
Buy Now
This baby blue stroller fan is perfect to keep your little one cool during the day. With a unique tripod design, you can bend the fan to any angle you want, whichever suits the design of your stroller.
The silicone cover not only allows the fan to grip well to any surface of the stroller, but it is soft to the touch and helps to protect your little one from the fan blades.
You never have to worry about running out of power, as the fan can be powered by batteries or recharged via USB.
With upgraded fan blades, the fan is powerful but quiet and can be set to three different speeds to suit what your baby needs.
Whether you use it on the stroller as you walk through Disney, or on the car seat on the drive home, this fan can be taken anywhere, and really works well to keep your baby cool and comfortable on warm days!
Amacool Battery Operated Stroller Fan
(AMACOOL) Battery Operated Stroller Fan With Flexible Tripod
360 Degree Angled and 3 Speeds: the stroller fan's head can adjust vertically and horizontally for any direction,to create the perfect cooling breeze; it comes with 3 speeds for different purpose, powerful wind yet whisper working
Rechargeable and Portable: comes with 2600mah battery, lasts 2.5-10 hours depending on winds, support USB charging via power bank laptop and any power source with USB output,a must have for you and your kids trip to Disneyland, zoo and park
Baby-Friendly: fan cover specifically designed to protect little inquisitive fingers; this fan with LED lights of 3 setting, light up the night, keep your baby feeling safe, convenient for Mom and the elder in the darkness
Buy Now
While small, this powerful mini fan will do a great job to fight off the heat while your baby relaxes in their stroller.
It is wonderfully versatile, with a 360 degreed angled head and 3 different speeds, it will suit you and your baby's needs when out and about. The fan's head can be placed vertically or horizontally, which creates an ideal breeze for your child.
It is a battery-operated fan, but the battery is rechargeable, so if you make sure to leave the fan to charge each night, you will never be left without battery.
The baby-friendly cover of the fan has been designed to protect little fingers from injury. The cover is durable and strong and will last for a long time while keeping your little one protected.
To make the fan more fun for babies, it has LED lights with three settings. If you are exploring Disney at night, your baby will love having the additional light entertainment on their stroller!
The fan can be attached to the stroller with the three tripod legs, which give you the option of attaching it any way you would like. From a stroller to a car seat, your baby will be kept cool all day long.
Clip-On Stroller Fan
Cambond Clip On Stroller Fan Battery Operated Fan Rechargeable
CLIP FAN AND USB DESK FAN IN ONE: Strong clip, great for home, office, laptop, table, chair, pole, baby stroller, gym workout, car backseat, outdoors, camping, travel, trip. The largest size of clip mouth is 1.78inch / 4.52cm
ADJUSTABLE FAN WITH 3 SPEEDS: It is super quiet fan when you adjust to low or medium speed, so it will not disturb you or your baby when working or sleeping
USB OR BATTERY OPERATED FAN: The rechargeable fan is powered by USB cable or rechargeable 2200mAh lithium battery (all included). Battery can work 2-6 hours after a full charge. The Mini personal fan is compatible with most computers, laptops, portable chargers and other devices with USB output
Buy Now
Strong and durable, this clip-on fan will stay firmly attached to the stroller while you and your family explore Disney.
The adjustable fan has three different speeds and remains as quiet as possible at any speed. It will not disturb your little one as they sleep.
The fan can be operated by batteries or by USB charging, so you should never run out of power. It can be charged by most sources, such as portable chargers, laptops, and computers.
With the ability to rotate 360 degrees, the fan will keep your baby cool at any angle. The grill of the fan is detachable too, so you can clean the blades to ensure it is hygienic for your baby to use.
This fan is powerful and very handy to keep, whether you need a stroller fan at Disney or a small fan to keep you cool at your desk while you work!
Nuby Clip-On Stroller Fan
Nuby Clip on Stroller Fan with Cage
Easily clamps to strollers, car seats, high chairs and more
One touch activation
Blade cover protects your child
Flexible neck adjusts for your child's comfort
Reliable quality with Nuby
Buy Now
Nuby is a trusted baby brand name, so it makes sense that they have a great stroller fan too!
The Nuby stroller fan easily clamps on to strollers, car seats, high chairs, and much more. The clamp is strong enough to stay attached, even when pushing the stroller over bumps and humps at Disney.
The fan can be activated with a one-touch button, so you don't have to fuss with different dials and knobs when out enjoying the day.
A blade cover cage protects your baby from the blades, but these are made from foam, which makes them much safer to be used on a stroller.
The flexible neck of the fan can be adjusted to suit your baby's needs and to give them the most comfort possible. The cute colors of the blades are also wonderfully soothing for babies as well.
Reliable good quality, you can trust that this will be a great stroller fan to keep your baby cool while at Disney.
Little Chicks Clip-On Fan With Soft Foam Blades
Little Chicks Portable Clip On Baby Stroller Fan - Flexible & Soft Harmless Blades
PORTABLE & CONVENIENT: Little Chicks Clip On Baby Stroller Fan can be clipped onto nearly anything including strollers, bassinets, play pens, picnic bench, lawn chairs, beach chairs, treadmills, ellipticals, and many more! Totally portable and perfect for beach, pool, picnics and parks.
SOFT BLADES: Soft fins are baby friendly and will not cause harm if touched by your little ones.
ADJUSTABLE NECK: The adjustable neck design helps to reach the right angles for the perfect breeze.
Buy Now
Made to be used on strollers, the Little Chicks Clip On Fan has very soft foam blades that keep your baby's fingers safe from harm, but still provide a cooling effect to keep them comfortable on hot days at Disney.
The easy clip-on design makes it useful for all situations, whether you need the fan to be attached to a stroller, a car seat, or a high chair.
Being battery-operated, you will need 2x AA batteries for the fan to run, and it lasts for quite a long time.
Safe for your baby, while still keeping them comfortable and cool, this is a great fan to use!
The Best Stroller Fan For Disney
Disney should be fun and exciting, not a time for your little one to be hot and bothered in their stroller!
To keep them cool, consider one of the above stroller fans. They are all safe to use on strollers, and all do well to provide them with some cool, fresh air, to help them enjoy their time at Disney.
Take a look at all the above options, and what to look for in a stroller fan, to choose one that is perfect for your family!
Looking for more? Check these out:
The Best Stroller For Toddlers Over 40 Lbs
Co-Sleeper Vs Pack N Play: Which One Is Right For You?
10 Easy Tips For Taking A Newborn Out All New Moms Need To Know