Whether you need to make some quick and easy Christmas decorations or want to have fun with some crafts while you're kids are on winter break, these amazing DIY Christmas crafts are perfect for the Holiday season!
I found a nice variety of popsicles, simple hand painting, ornaments. and everything in between! So you know you'll find something fun and creative to do with your kiddos this Holiday break
Christmas Crafts For Kids
Christmas Recycled Bottle Planters Craft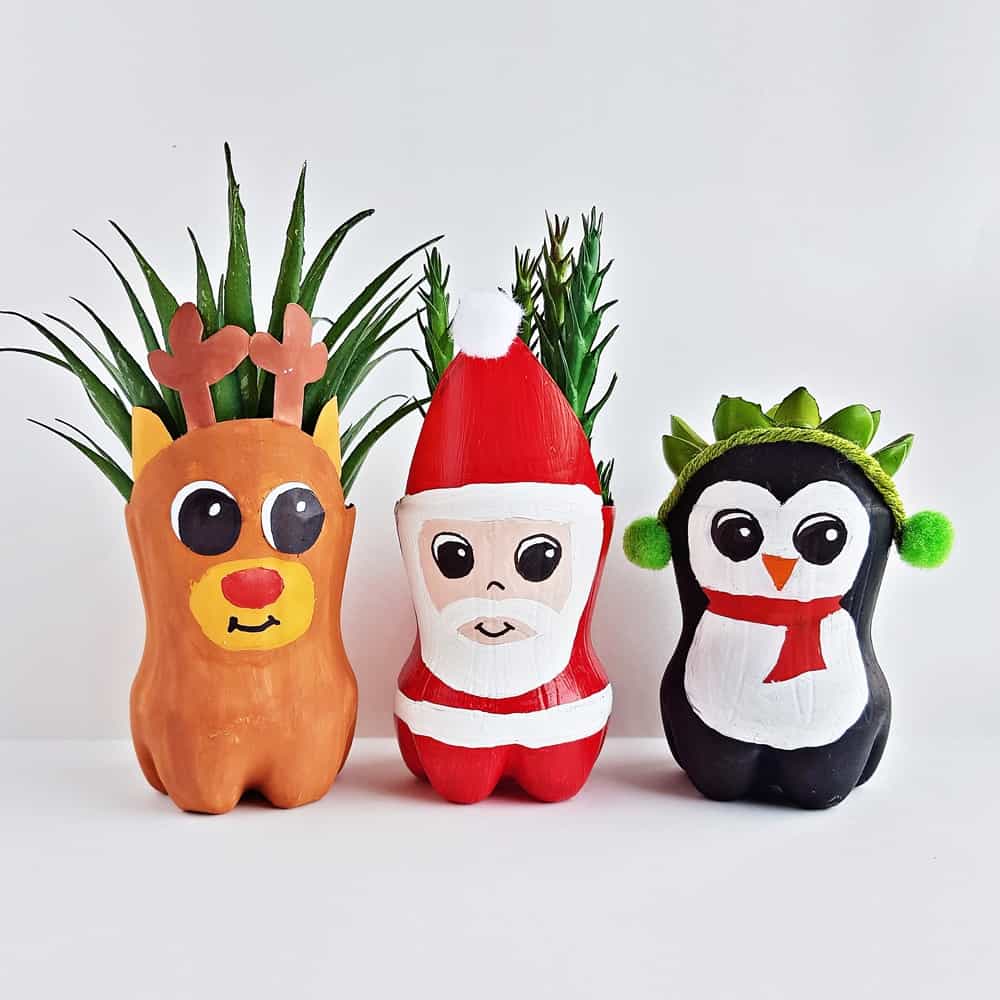 Source: Hello Wonderful
This is such a fun and creative way to repurpose plastic bottles. You can make a Rudolph reindeer, a penguin, or even Santa Clause!
Once done, these adorable Christmas crafts can be placed over the fireplace, under the Christmas tree, or wherever you want!
Cork Gingerbread Man Ornament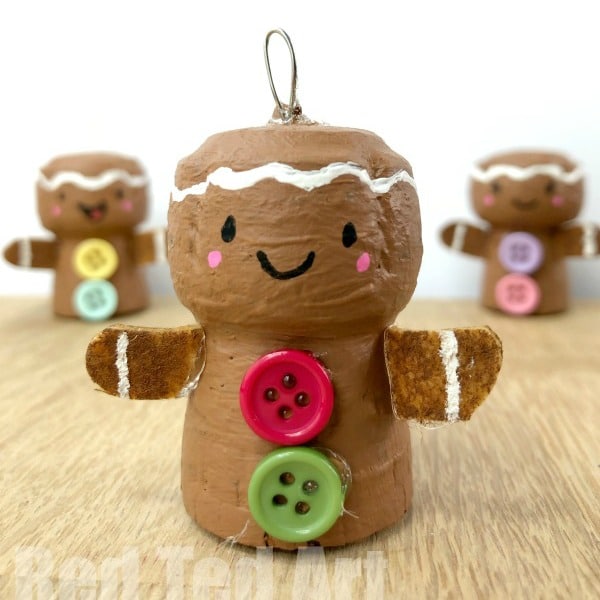 Source: Red Ted Art
These little cork ornaments are SO cute!
And they're really quite simple to make. You just need a cork (duh!), hot glue gun, paint, and buttons to make this adorable little Christmas decoration.
Craft Stick Christmas Tree Craft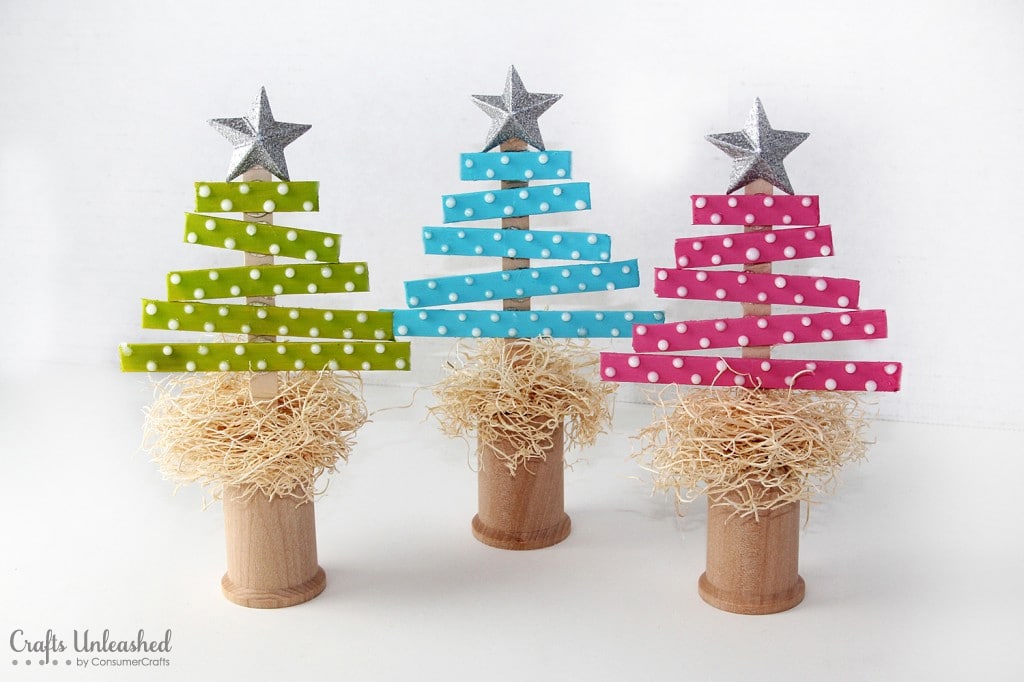 Source: Crafts Unleashed
How adorable is this?
The kids will have so much fun painting the 'Christmas tree' and creating the little ornaments from dabs of glue.
These make great little centerpieces to show off your children's creativity to guests!
Cupcake Liners Christmas Tree Craft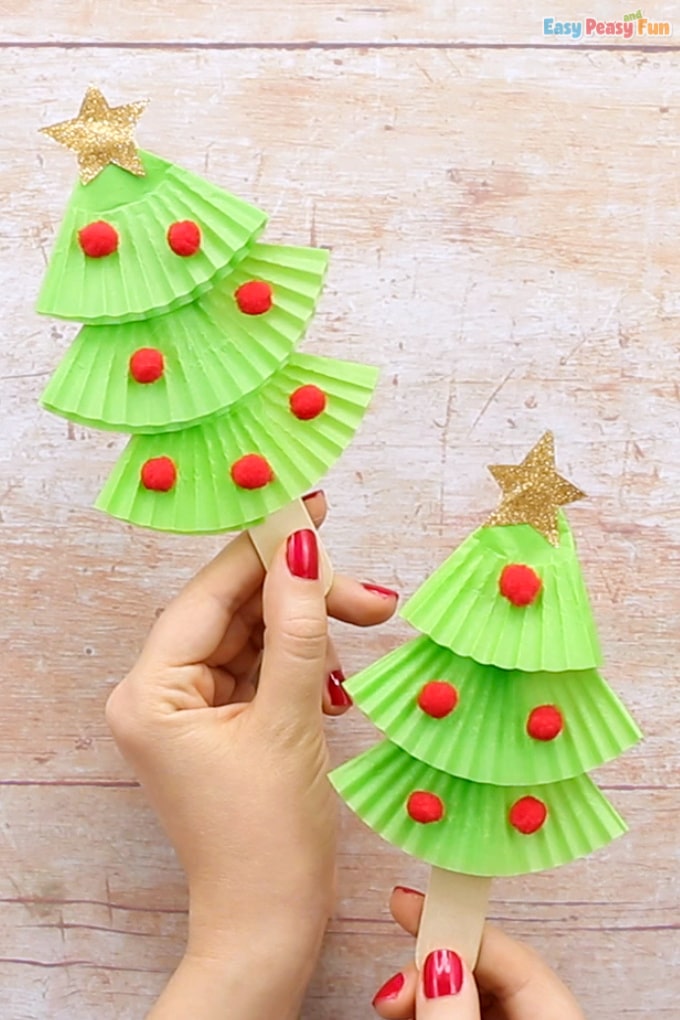 Source: Easy Peasy and Fun
Wondering what to do with all those popsicles sticks?! Or maybe you made delicious cupcakes and have a bunch of cupcake liners left?
Perfect craft for little kids, these are in fact easy peasy and fun!
DIY Paper Quilling Christmas Tree Ornament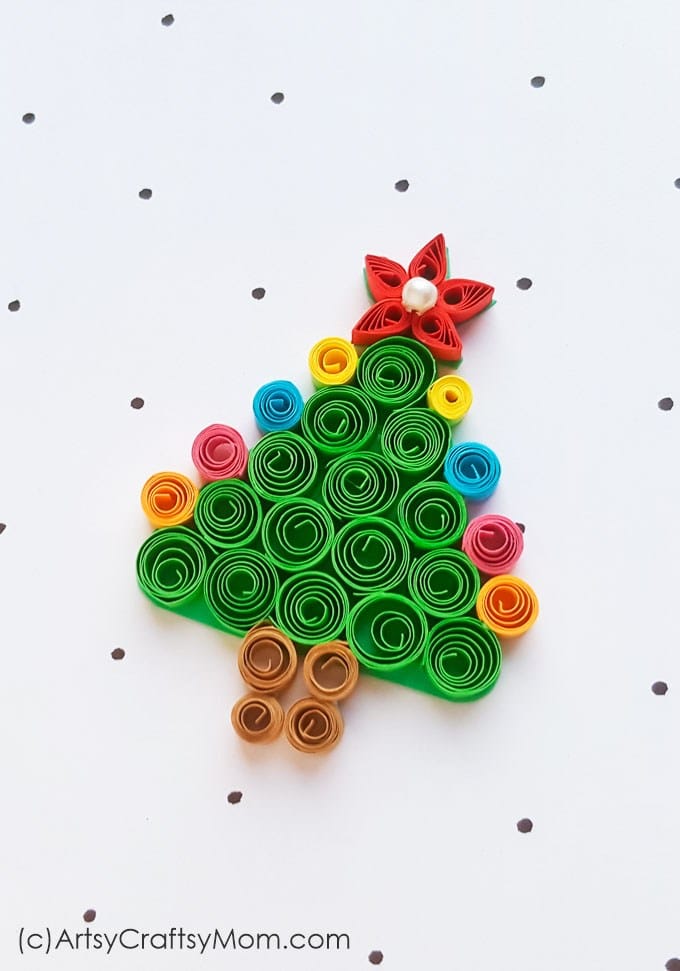 Source: Artsy Craftsy Mom
How CUTE is this Christmas tree?! This is such a fun activity for the holidays and all the kids will love it.
You can get some tape or putty tabs to stick these on refrigerators or walls as DIY decor!
Thumbprint Reindeer Ornaments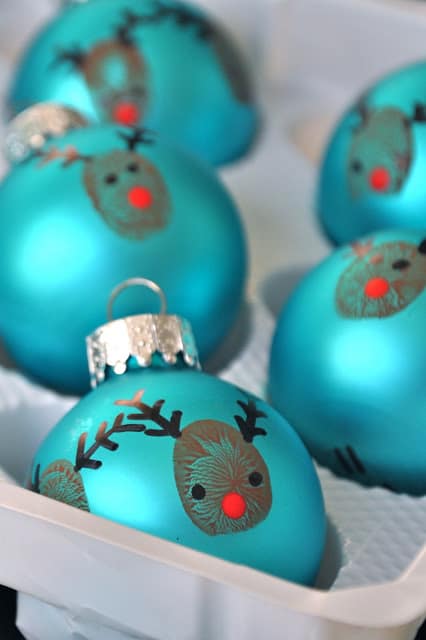 Source: Little Bit Funky
You're going to want to keep these adorable ornaments FOREVER! They're such a great idea and a unique way to decorate your tree but they also provide memories of how much your baby is growing.
Seeing the difference from year-to-year of how tiny their hands were will get you emotional (fair warning 😆 )
Frozen Yarn Wrapped Christmas Trees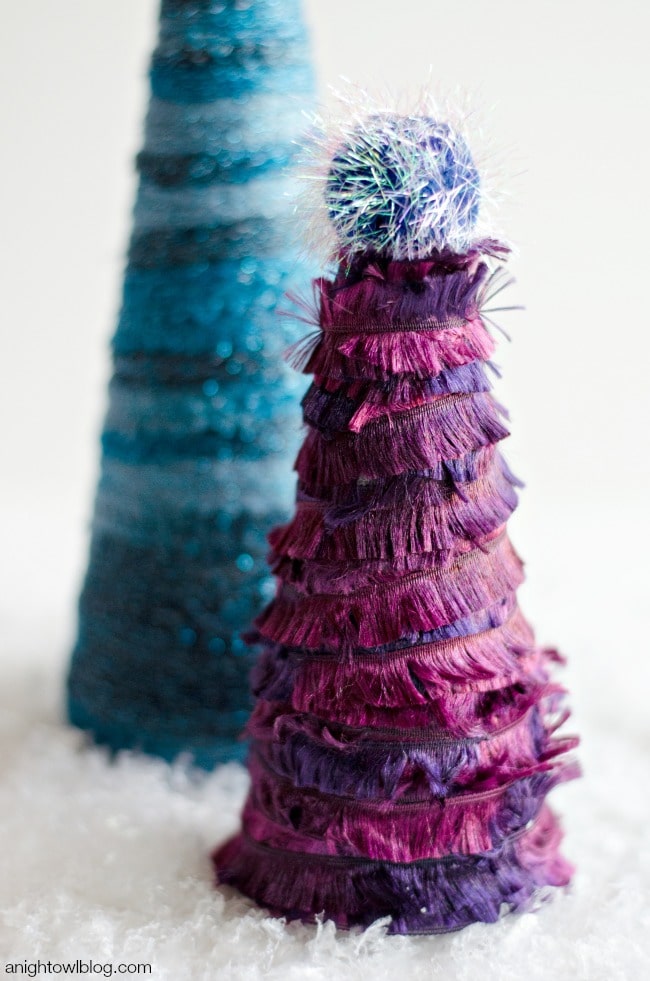 Source: A Night Owl Blog
Talking about unique Christmas trees, these definitely take the cake! So vibrant and colorful, children will love making them and your guests will love to see them as well!
Everyone will ask you where you bought these.
Hand and Footprint Reindeer Craft for Kids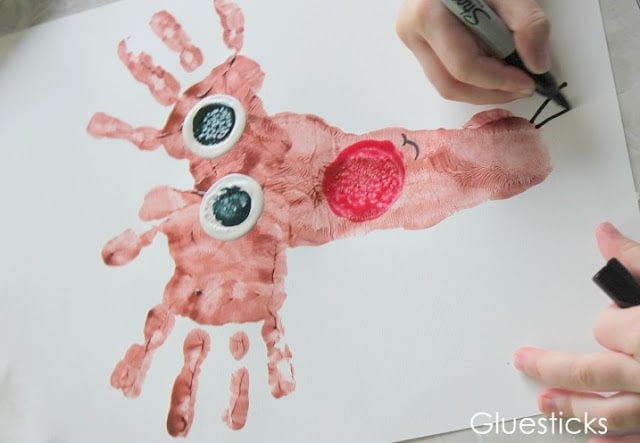 Source: Glue Sticks Blog
Everyone loves hand (and foot!) painting. This is a creative way for kids to draw Rudolph and get a little messy in the process. What's not to love?!
Holiday Button Wreath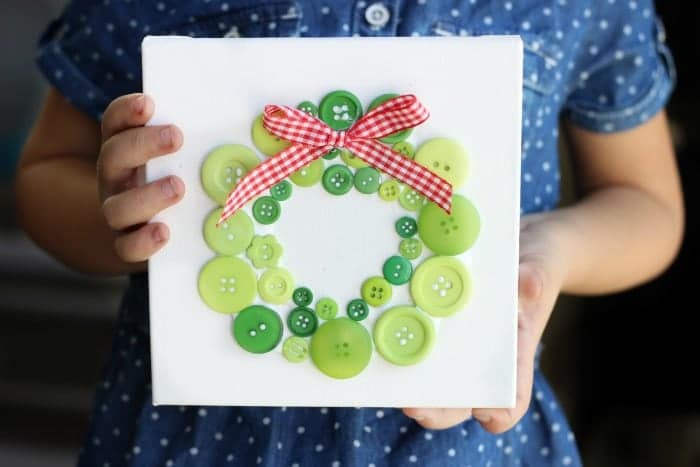 Source: Glue Sticks Blog
Have a box filled with buttons and don't know what to do with them?
Now you do! A Christmas button wreath is the perfect way for kids to spend an afternoon creating an adorable decoration thats sure to keep them captivated.
Irresistible Santa Claus Craft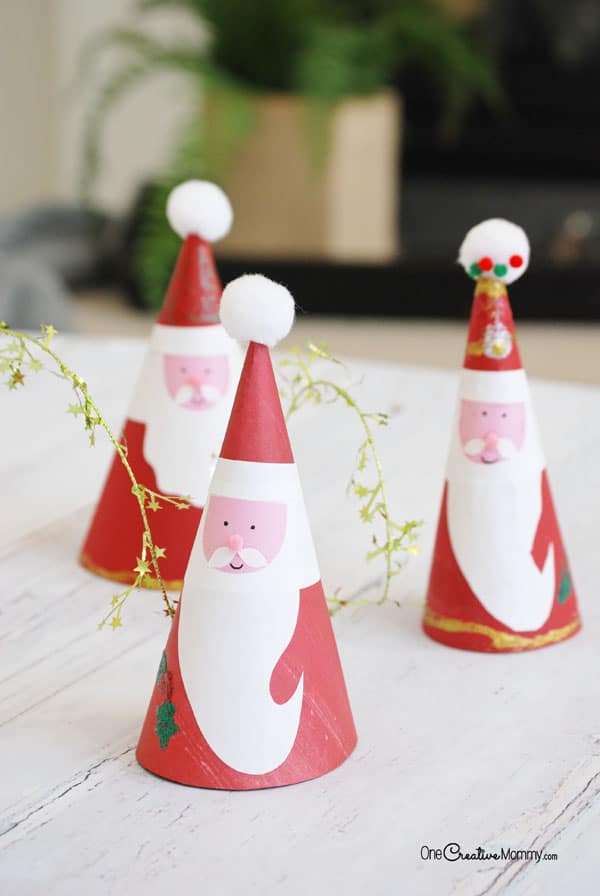 Source: One Creative Mommy
This Santa Cone gets me so excited because it's just such a quirky idea.
My daughters loved making this craft because everything (even making the cone) is so hands on! And not as difficult as I thought it would be.
Christmas Treat Jars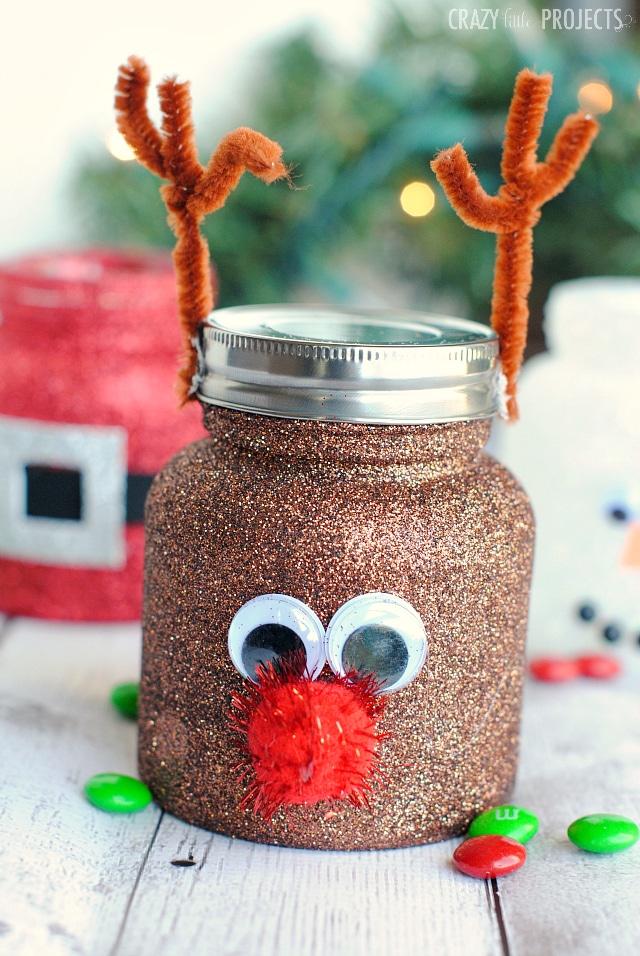 Source: Crazy Little Projects
Don't know where you'll store all those Christmas cookies? These DIY Christmas jars are the perfect gift idea for family and friends!
Have your little ones decorate the jar and then bake some delicious
Christmas Finger Puppets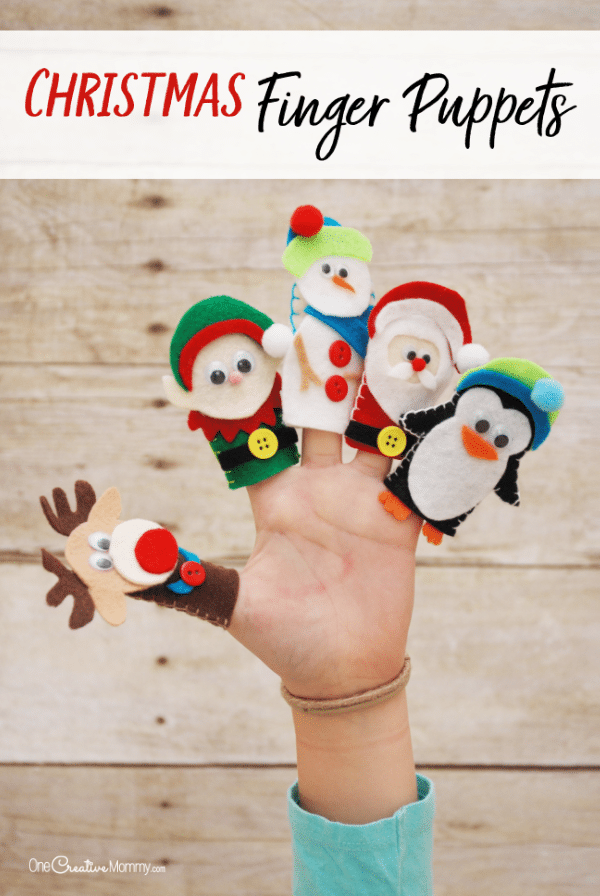 Source: One Creative Mommy
These little DIY Christmas puppets are on another level of adorableness! You can get so creative with the different characters available.
Create Santa, Rudolph, and even his little elves to spice up your Holidyas.
Paper Plate Christmas Wreath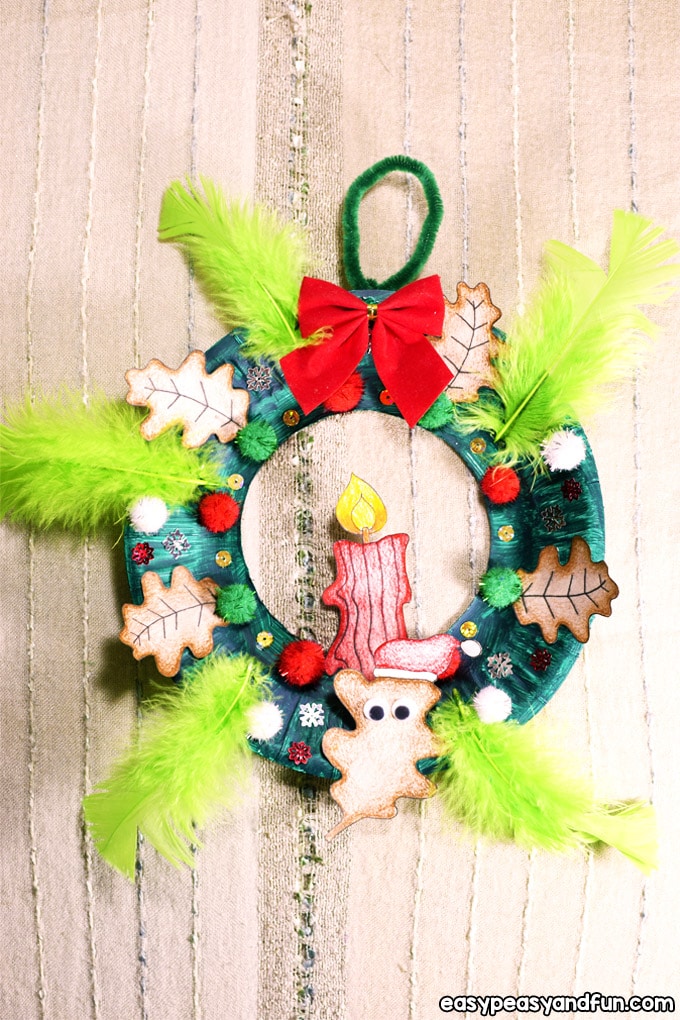 Source: Easy Peasy And Fun
There are NO RULES when it comes to wreaths. This creative twist on a classic wreath will show your kids it's okay to think outside the box!
There is no wrong or right way to get into the Holiday spirit.
Pine Cone Christmas Tree Craft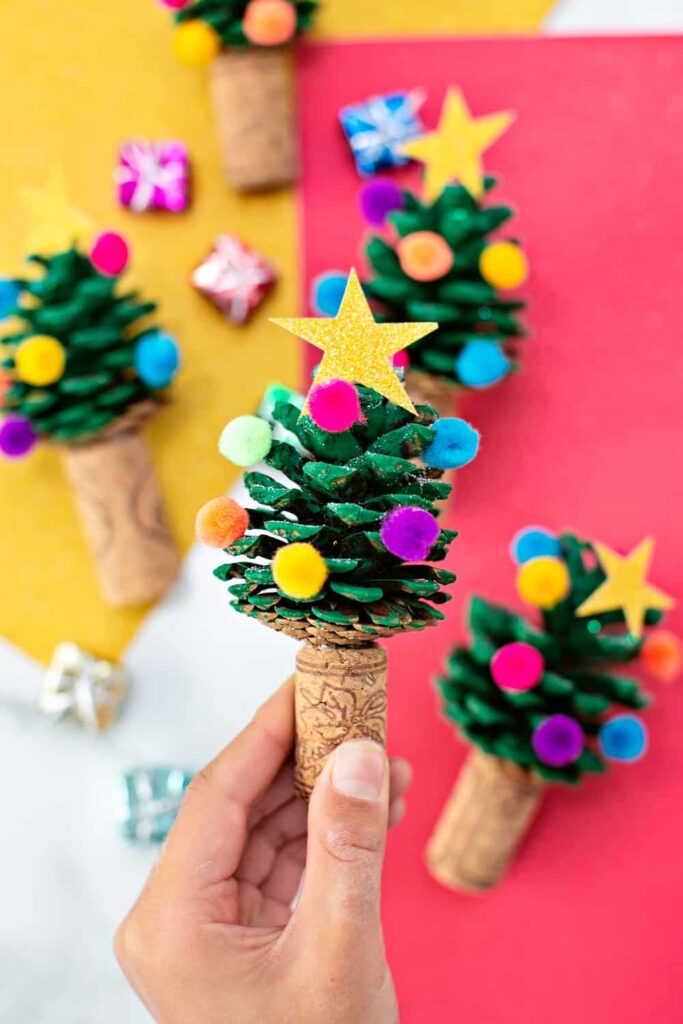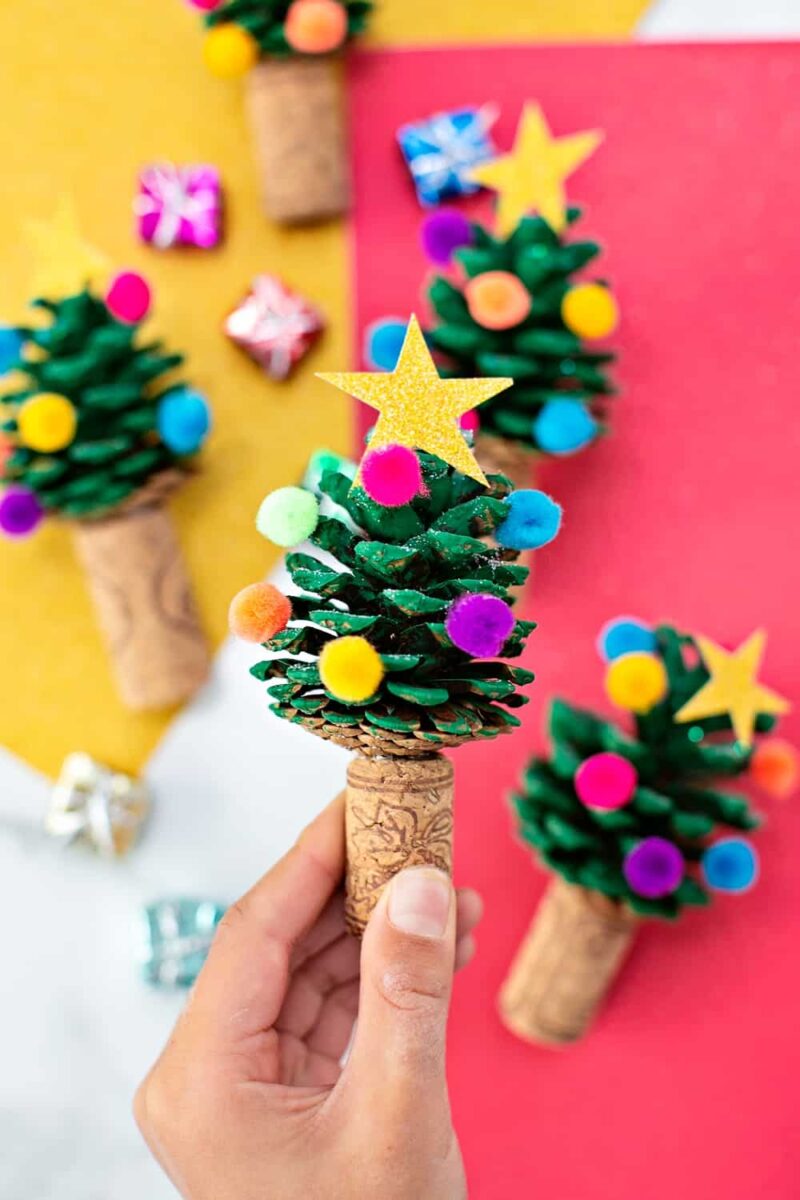 Source: Hello Wonderful
Still looking for the perfect, fun and creative craft?! This just may be it!
These charming little pine cone Christmas trees are a perfect way to slow down and enjoy the Holidays with family and friends doing crafts.
Popsicle Stick Elf Craft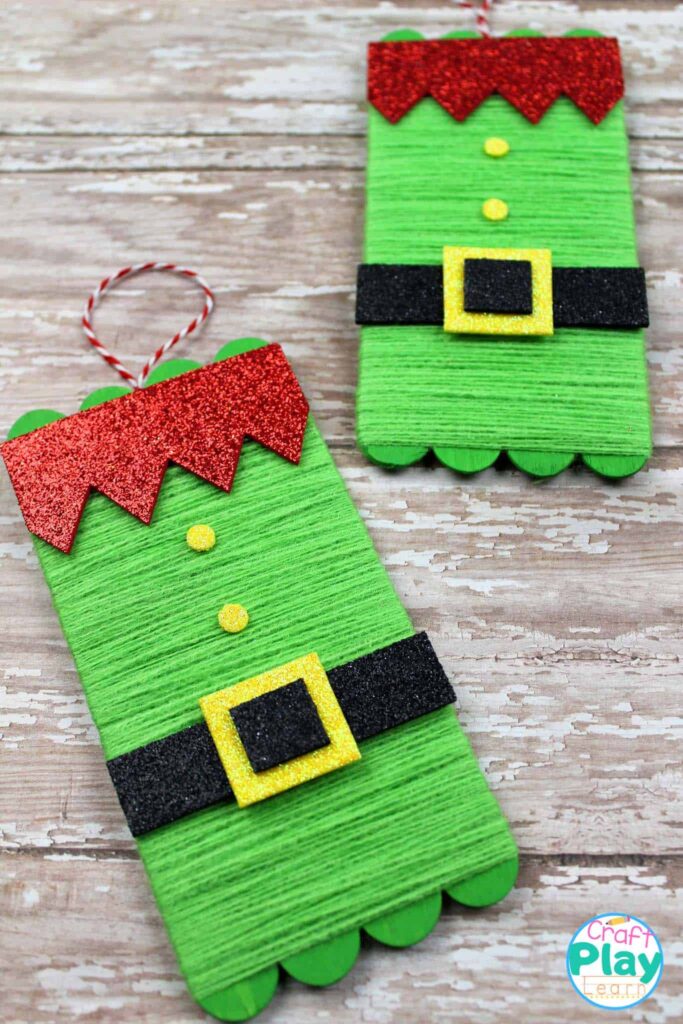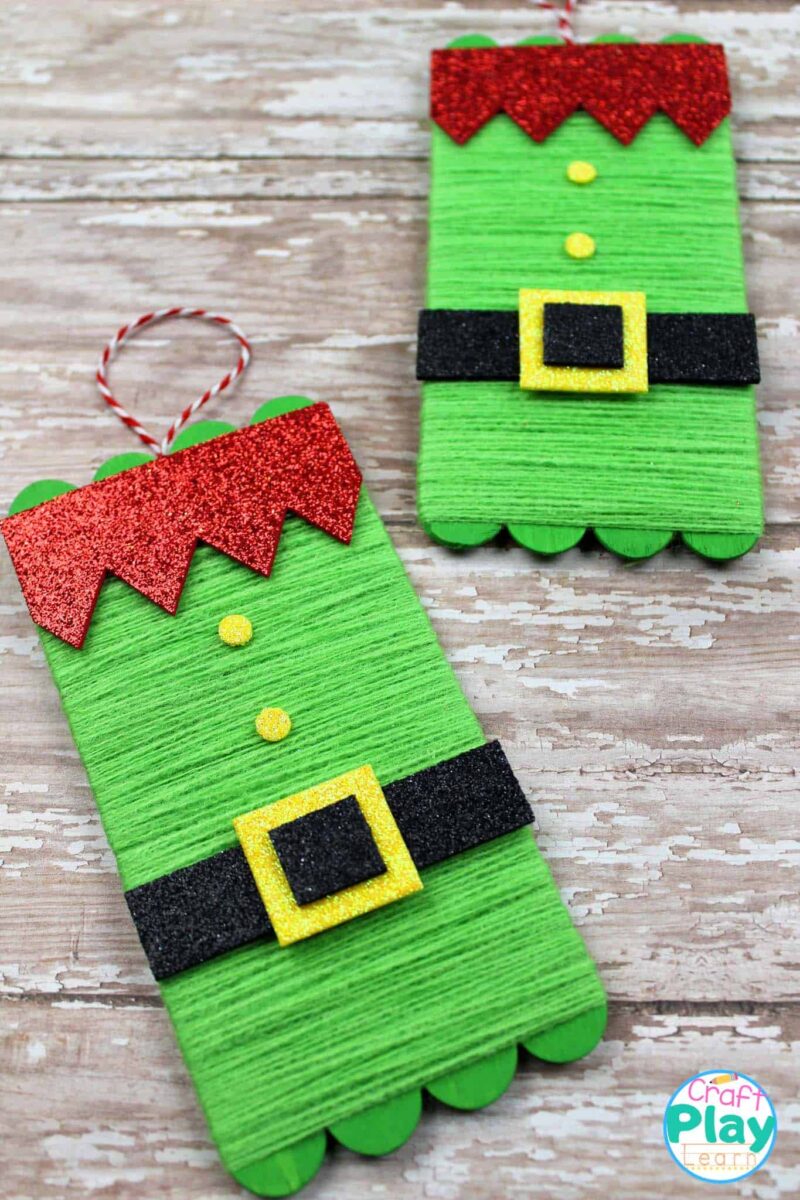 Source: Craft Play Learn
There's been a lot of Santa crafts, but what about elves?! Santa would not be as successful as he is if it wasn't for his little helpers, now would he?
Honor his little helpers with these adorable crafts that double as Christmas ornaments.
Santa Handprint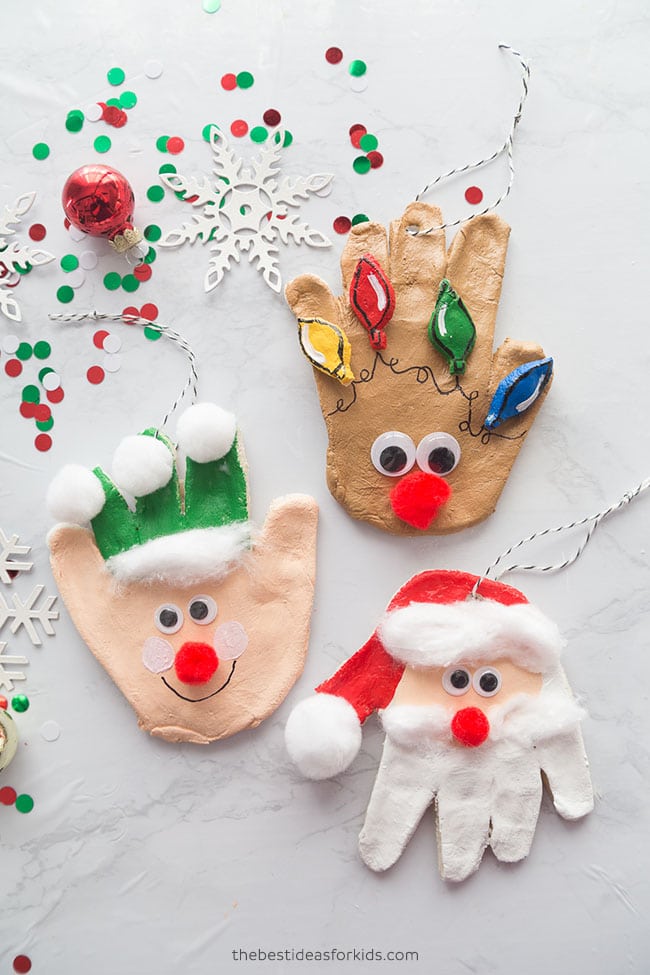 Source: The Best Ideas For Kids
Another Christmas craft that you should do every year! Put the year and age of your little one on the back of thee ornaments and keep them throughout the years.
This is another craft that will pull on your heart strings.
Santa Binocular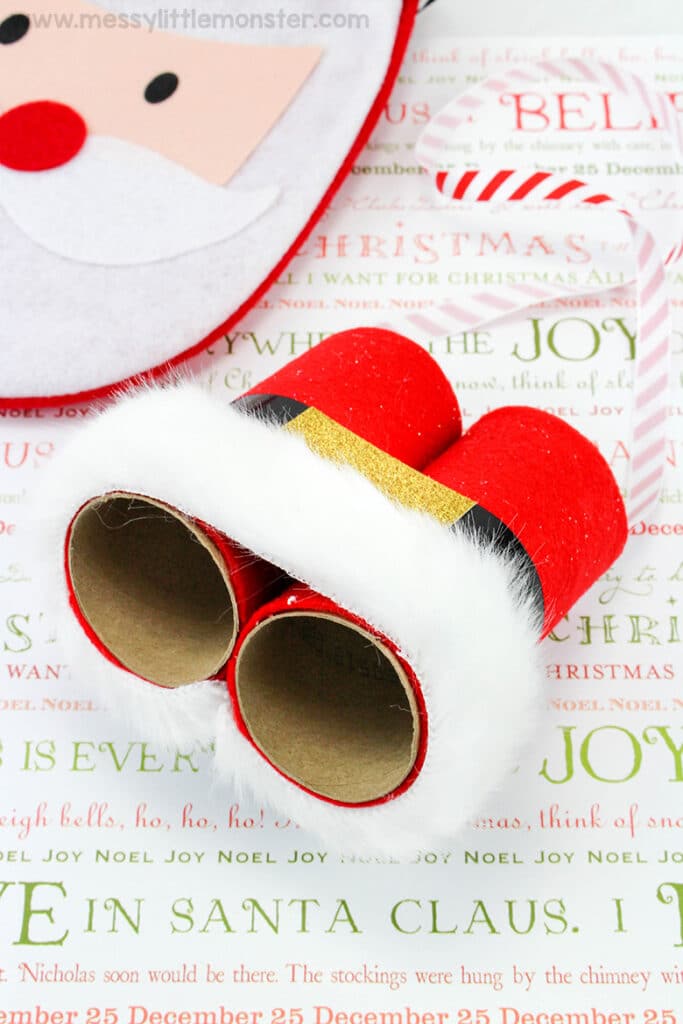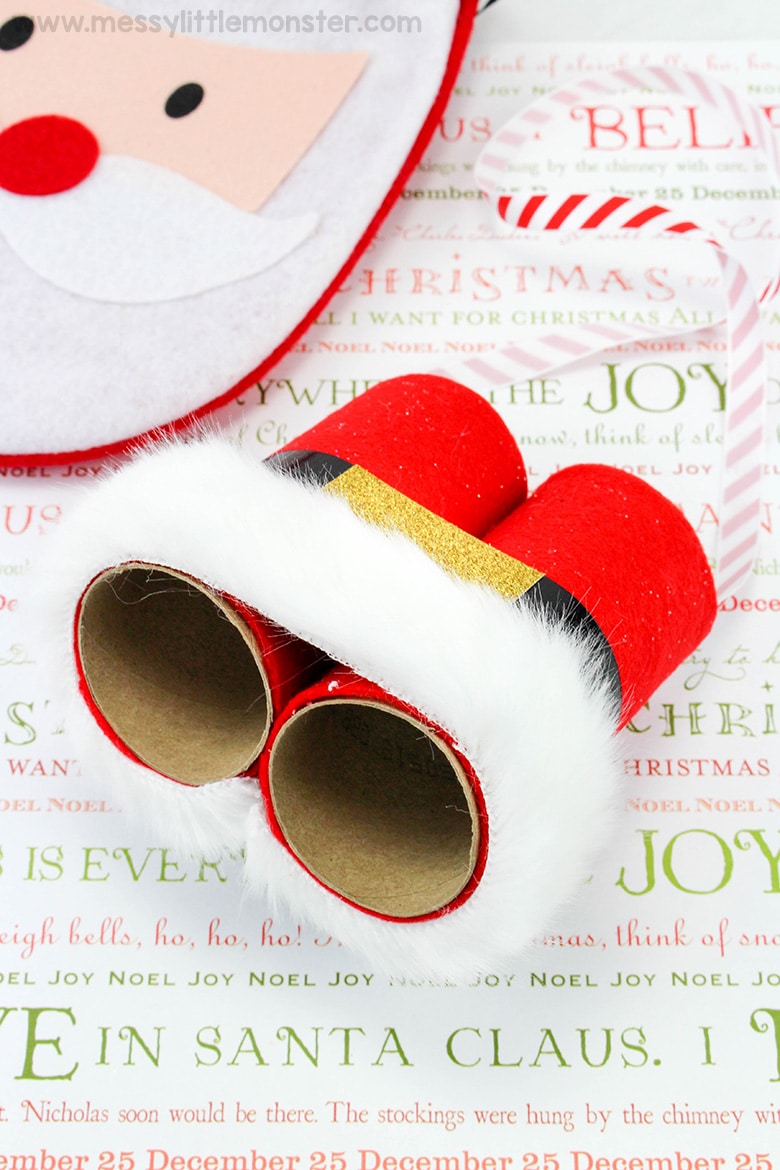 Source: Messy Little Monster
These magical Santa Binoculars will help your kids spot Santa on Christmas Eve! They will be so excited to make these as they will give them the 'special vision' to see when Mr. Claus is in town 😉
Terracotta Christmas Tree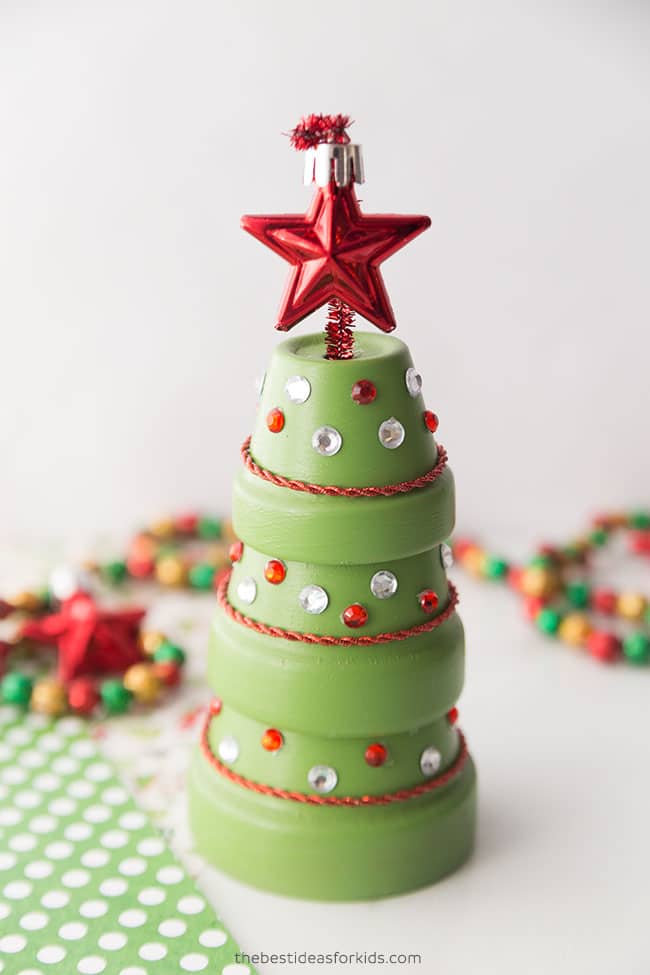 Source: The Best Ideas For Kids
A completely customizable craft! You can decorate this Terracotta Christmas Tree as much (or as little) as you want.
If you want to bedazzle it or cover your tree with glitter, there are NO rules.
Reindeer Painted Rocks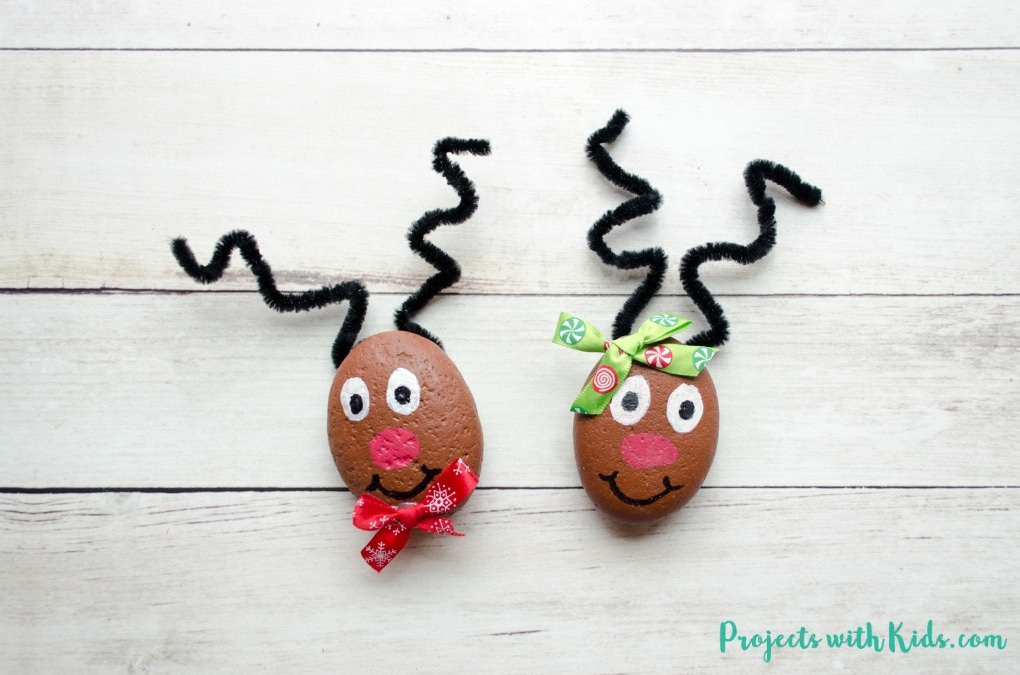 Source: Projects With Kids
Children LOVE painting rocks! Create a seasonal twist on a classic hobby and watch their creativity soar with Rudolph rocks.
Wine Cork Christmas Tree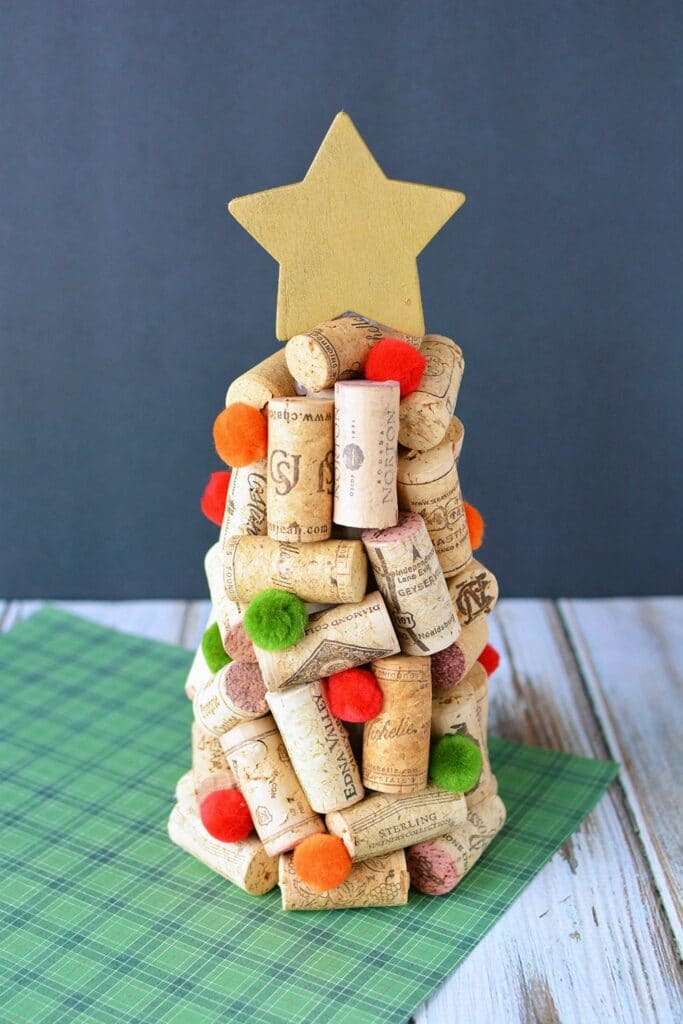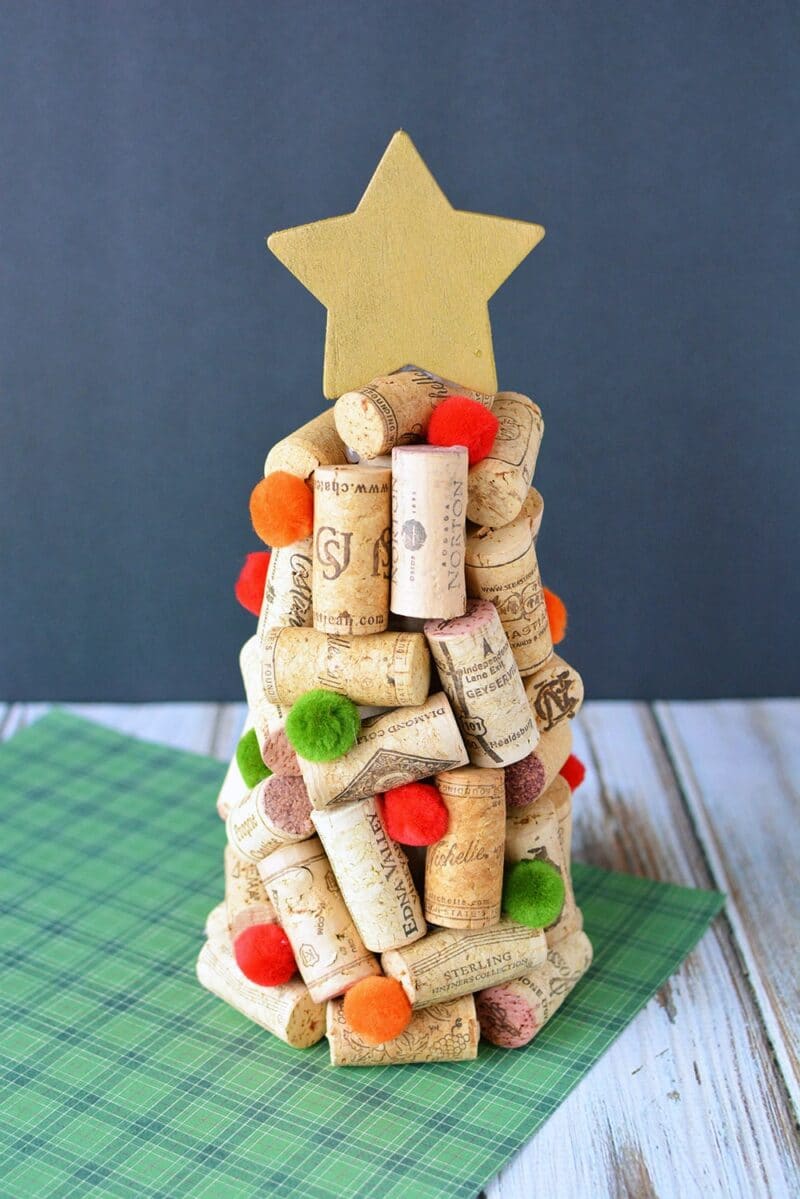 Source: A Magical Mess
More cork crafts! This one makes an amazing centerpiece or maybe even funny gift for someone who loves their wine.
If you don't drink too much (or throw away your corks like a normal human being), you can buy a pack of 100 for less than $15.
Don't forget to pin, like, and share me!