A diaper raffle is a really fun way for new parents to build up their diaper stock with the help of their friends and families, while still giving them a chance to win a prize at the same time!
Diapers are incredibly expensive and newborn babies go through them faster than green grass through a goose.
For new parents, a diaper raffle is a great way to give them what they need and what they will actually use! Plus, it is an amazing way to include everyone in the baby shower and add some excitement.
Below is all you need to know about diaper raffles at baby showers and whether or not you should host one! (Spoiler: We think you should!)
How Does A Diaper Raffle Work?
With a diaper raffle, new parents ask guests who are attending the baby shower to bring through a pack of diapers as their entry into the raffle. This pack of diapers enters the guest into the raffle draw, and more diaper packs mean more entries!
The guests bring the diapers to the baby shower and hand them to whoever is organizing the raffle. They get given a number, or a place on the raffle sheet, for each pack of diapers they bring.
At the end of the baby shower, a number is drawn from a hat and the winner is given the raffle prize.
It is really simple to organize, you just need a good prize (or a few if you are feeling generous) a raffle sheet, cut up numbers, and someone to pull the lucky number out.
There are obviously many ways you can personalize the diaper raffle to suit your baby shower, but this is the simple outline of how one should be done.
How Do You Announce A Diaper Raffle?
You do need to plan ahead to throw a diaper raffle, to ensure that you have the prizes and that your guests are aware of the raffle and have time to buy a pack of diapers (or two) to be able to participate if they want to.
The easiest way to announce a diaper raffle is to send out the notice with the baby shower invitations.
One fun way is to include a diaper raffle voucher with the invite, which the guest can fill out with their name and hand it in with the pack of diapers when they arrive at the baby shower.
You might have only come up with the idea to have a diaper raffle once the invites have already been sent out, and in this case, you could send an email or message to all guests to let them know the plan.
On the diaper raffle invite, do not make any notes on how many packs of diapers are needed to be included in the raffle, one pack is enough for one entry. Asking for too much might put people off entering the raffle.
You can also let guests know that they can bring any size diaper – you will end up using them at some point. Newborn to size 4 would be fine, but you also do not want to be stuck with too many newborn diapers.
Make sure to have extra diaper raffle tickets available at the baby shower, in case some people forget to bring the tickets you sent out with the baby shower invite, or want to enter more packs of diapers.
What's A Good Prize For A Diaper Raffle?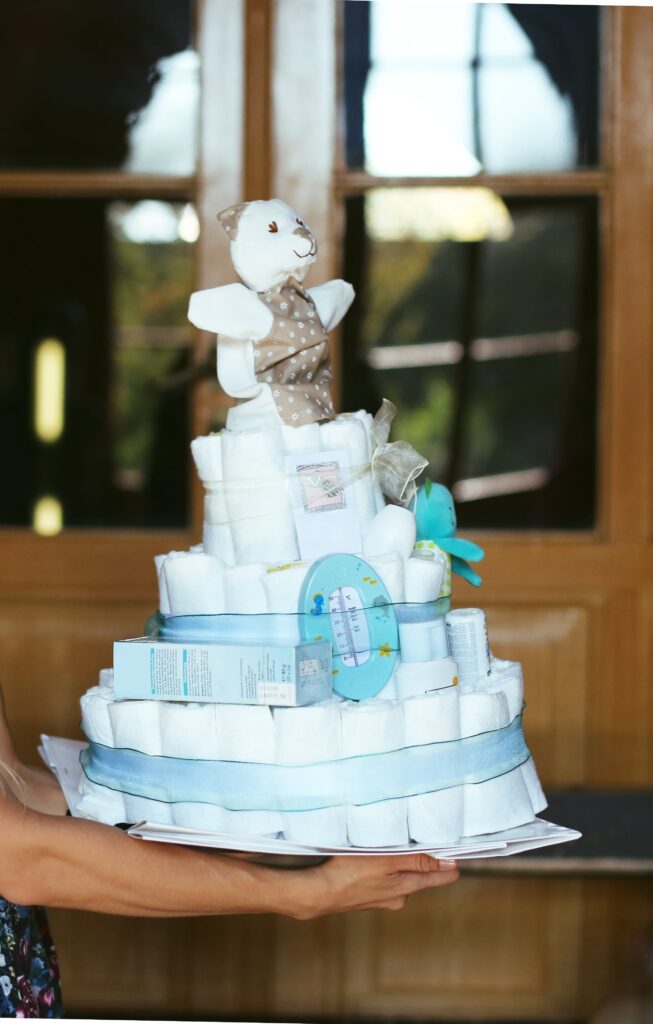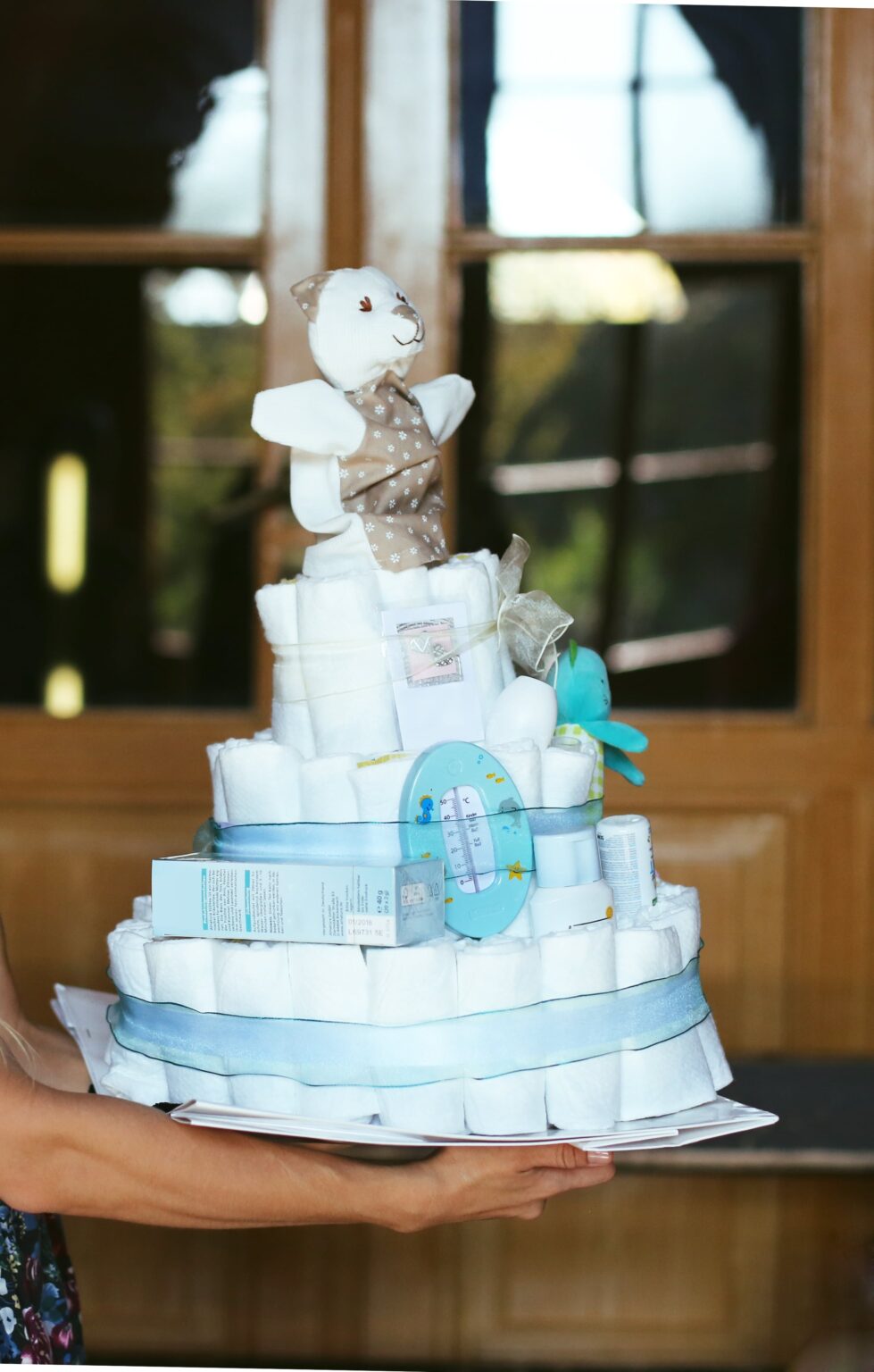 There really are endless options of what you could use as a prize for a diaper raffle, but sometimes a little guidance does help.
You want to make the prize something that everyone will enjoy, not just one for males or females. It should be a prize that everyone would want to win!
Here are some ideas of what you could offer as a prize for a diaper raffle:
Family Gift – Movie Tickets
If the baby shower is going to be attended by lots of families, it might be a good idea to have a family-orientated gift.
An experience as a gift is always great, so you could book a family movie ticket bundle for the winners. If you don't want to do movie tickets, you could book for a night of bowling or ice skating.
So many families would enjoy winning a gift like this, and getting the opportunity to spoil their family on a night out!
Gift Basket
Gift baskets, if done right, will be sought after by all the guests. You could include a range of items in the gift basket. Some ideas include:
Bottle of wine
Biscuits
Chocolate
Candy
Bath bombs
Wine glasses
The best thing about gift baskets is you can buy one or make it yourself! If you DIY a gift basket it isn't very expensive.
You can find picnic baskets for less than $15. Then head over to your local Dollar Tree and stock up on dan favorite goodies, like Sour Patch Kids and Peanut M&M's. You can also head to stores like Marshalls that offer amazing discount on goodies like candles or maybe an amazing blanket for over 60% off.
It takes a little bit of creativity and time to search through items for a DIY gift basket, but it can be a lot of fun!
You can be quite free with what you include in the gift basket, as long as the items are treats and goodies that most people would enjoy.
I have made some amazing gift baskets and haven't spent more than $30 in the process. I find making one more rewarding but if you'd rather buy one, there are endless options. The average price of a gift basket is between $40 and $70, depending on what it brings.
Vouchers/Gift Cards
You can never go wrong with a voucher, especially if it is a voucher that can be used by anyone. An Amazon gift card is always a good idea, but grocery shop vouchers, spa vouchers, or other online store vouchers are always good.
Decide on where you will purchase the voucher from once you know who will be entering the raffle. For example, if the guests are mainly women, they might not want a Home Depot gift card.
When in doubt, Amazon, Target, and a Grocery store voucher are always safe bets!
Service
Paying for services such as car washes, garden service, and house cleaning can add up – so why not look if a family member or friend who owns a business can offer you a voucher, or a reduced rate, on a service they offer?
This could be anything from pool cleans to acrylic nails.
If you have a good friend or family member who's willing to offer their services, this would be the most budget-friendly award.
Have any masseuse friends? A complimentary massage will get you SO many diaper entires, you won't know what to do with them.
How much should I spend on the prize?
Only spend what you can afford on the prize. You might have enough in your budget to buy a second and third place prize, but never spend more than what you can, as you do have a baby on the way!
As a rule of thumb, you should spend at least $50 on the main prize. A pack of diapers can cost between $10 and $40, so guests need to feel like they would at least be winning a prize that is worth more than the diapers they bought.
A $15 gift card for a $25 pack of diapers will most likely rub people the wrong way.
Is A Diaper Raffle Tacky?
Despite many parents feeling like a diaper raffle is asking for too much, a diaper raffle is not tacky. Everyone, especially those who are parents, understand how much is needed when you have a baby, and if they can, they would more than likely be happy to help out where possible.
Many guests, family, and friends would also prefer to spend money on something like diapers, instead of buying the baby something such as a fancy outfit that they will only wear once. Their money will be better spent this way!
It is also important to let people know that the diaper raffle is completely optional and that there is no pressure for guests to go out and buy a pack of diapers. They are still welcome to come to the baby shower even if they decide not to partake in the diaper raffle.
If you are still undecided on whether or not to host a diaper raffle, think of how you would feel if someone invited you to enter into one. Would you feel like they are asking too much, or would you happily buy a pack of diapers to bring by?
What Happens If You Receive Too Many Of The Same Size Diapers?
With everyone purchasing diapers individually and not together, you land up with too many diapers in the same size. You will not be able to use 20 packs of newborn diapers, so this could be a problem!
Luckily, most large superstores will accept unopened packs of diapers to exchange for a different size. You might have to try a few stores before they allow you to exchange, but it is worth the effort, and you won't be left with unopened packs of diapers that you won't use!
Can You Request A Brand Preference?
Yes, it is completely fine to request a brand preference if there is a certain brand of diapers that you would prefer for your baby.
The only issue with requesting a certain brand is if the brand is substantially more expensive than normal diapers, such as organic diapers.
If you land up with a brand that you do not want to use, you could try to exchange them at the local superstore for the brand that you would prefer. If it is your first baby, you might not have figured out what brand is best for you yet!
How Do I Work A Diaper Raffle For Cloth Diapers?
Many parents are deciding to move to cloth diapers for sustainability, and if this is something you are planning, a conventional diaper raffle might not work for you.
Instead of buying packs of diapers, guests can bring diaper inserts and covers. There are quite a few options of what they could purchase, and the more diaper inserts you have, the less washing you need to do!
If you are wanting to choose your own diaper covers, just ask for all the other accessories that you need for cloth diapers!