Baby name race is the perfect baby shower game! It is easy to set up, easy to play, and really quite fun! It will cost you next to nothing to prepare this game for the party, which is ideal if you are on a budget.
Below is how you can set the game up for the baby shower, and how to play this fun game!
Fun Baby Shower Game: Baby Name Race
This is such a fun baby shower activity, plus if you haven't decided on a name yet, you'll get a bunch of ideas you never thought of! Perhaps there's a beautiful free spirit name you never considered or a strong warrior name you'll discover here.
How To Set Up Baby Name Race
Setting the baby name race up is wonderfully easy. You just need to print out some sheets of paper for the guests to use and ensure that each player has a pen or pencil.
The paper needs to have each letter of the alphabet listed, with some space next to each letter for players to write in. The sheets can be blue, pink, or whatever color you are having as a theme for the baby shower. You can play around with the design to suit the theme of the baby shower.
You will also be able to find some ready-to-print templates online, which make it so much easier!
Other than the paper, make sure that you have pens or pencils for each player (you could even ask guests to bring their own and have some spare in case anyone forgets. You will also need something to time on, such as your phone.
How To Play Baby Name Race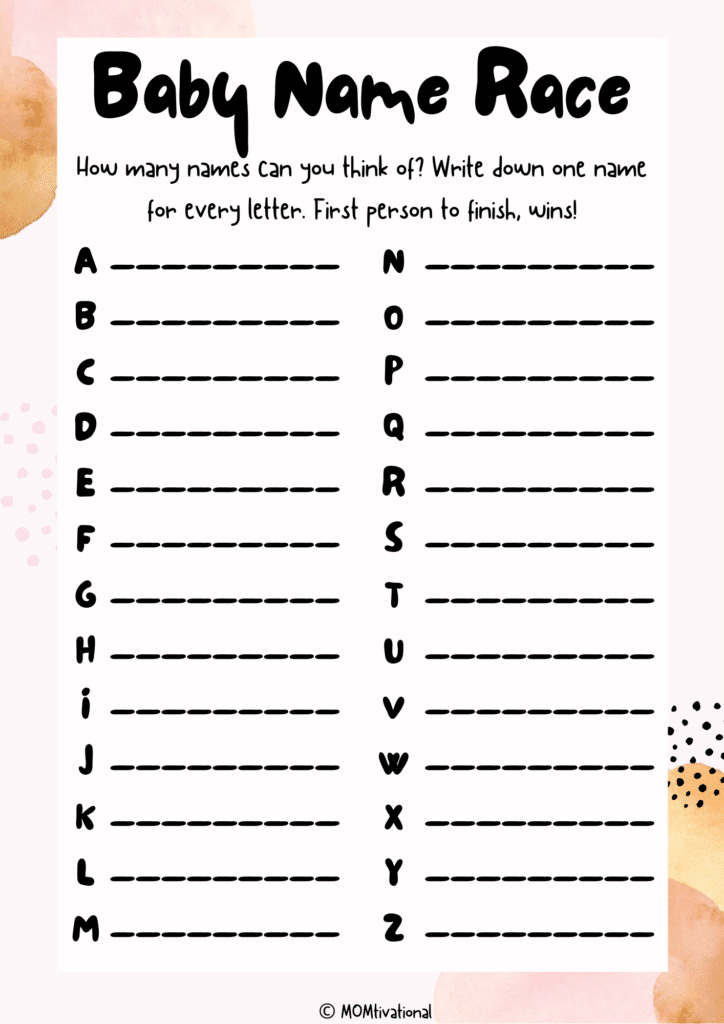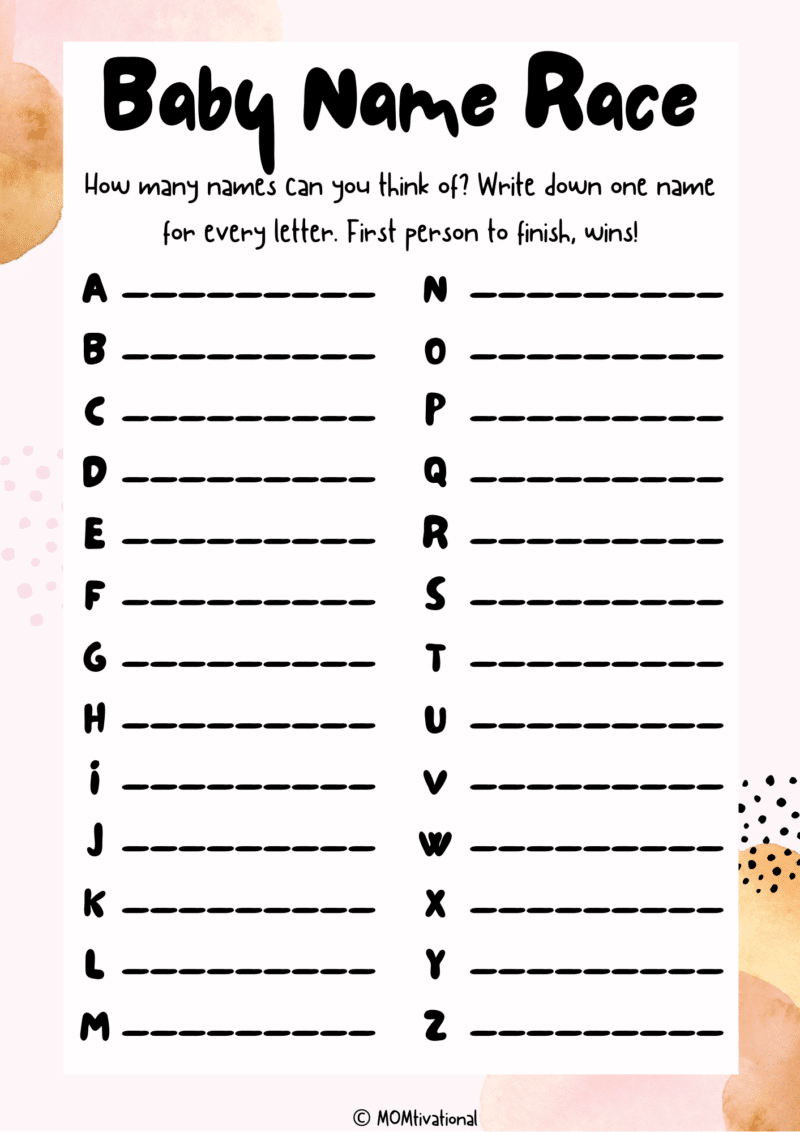 Download FREE Baby Name Race Printable Here
(I have two more options of Free Printables at the end of the post in blue and plane white! Scroll down to download those)
Here is a step-by-step on how to play baby name race. Explain the rules to the guests before you start playing, so it can go as smoothly as possible.
Hand a piece of paper with each letter of the alphabet to each player, along with a pen or pencil.
Explain the rules of the game to everyone so each player knows what to do.
Set your timer for 2 minutes, or for however long you wish the round to be.
When you start the timer, guests need to write down as many baby names as they can think of for each letter of the alphabet.
At the end of the 2 minutes, everyone needs to put their pens down and write their name on the top of the card.
Each player can either mark their own card or hand it to someone else to tally up.
Whoever wrote down the most baby names per letter is the winner of the game.
If you do not want to time the round, you could start the game by shouting "go!" and whoever is the first to write down a name for each letter of the alphabet is the winner.
Try to give everyone something to press on, such as a book or pad if they are not sitting at the table. You could also print the sheet onto hard card so it is easier to write on.
Don't forget to keep all the sheets once the game is done for the parents-to-be to look through, they might not have decided on a name yet and their baby's name could be on one of those pieces of paper!
Money tight? Check out how to to throw an amazing baby shower on a budget
P.S. don't forget to throw a diaper raffle!
As promised, this is the same printable as above but with blue instead of pink!
Download FREE Blue Baby Name Race Printable Here
And this is a completely blank/white background option for you to use as well.
Download FREE White Baby Name Race Printable Here
Don't forget to like and share us with friends!