A month or so before my daughters first birthday I started scouring the web trying to plan an amazing birthday party for her. I know a lot of people are divided on first birthday parties as your baby has no understanding of what is going on or why everyone's congratulating them.
But I now solemnly believe first birthday parties are important. And trust me, I was very anti-first birthday parties before I ever had kids.
It's such an incredible milestone that you get to celebrate with the people most important in your life. Your in-laws, cousins, aunts, and friends who have become family all come to celebrate the most precious human in your life.
And the fact that you survived the first year!
So, even if you argue that the 'party isn't for the baby, it's for the parents,' it doesn't take away from how magical that day is for everyone involved. (Plus, my babies have always have a BLAST at their birthday parties even if they don't understand any of it.)
But, I still wanted to prepare something special for my little one.
I know they won't remember their first birthday in the coming years. Honestly, they might not even remember it a week later!
I always wanted their first birthday to be special because it is, first and foremost, their day.
That's when I discovered the beauty that is a First Birthday Time Capsule!
What Is A First Birthday Time Capsule?
A 1st Birthday Time Capsule is a time capsule you make on your babies first birthday that will only be opened once they turn 18.
It is an incredible way of stepping back in time and showing your child how incredible and loved they have always been.
I absolutely loved the idea of a first birthday time capsule as it was a way of creating a memory for my baby that I knew she wouldn't remember.
A first birthday party is a huge milestone that a baby is completely unaware of, but with a time capsule, you can relive the memory seventeen years later.
It is one of the most unique first birthday gift ideas a parent can make for their child.
What Do You Put In A First Birthday Time Capsule?
There are no rules for what you want to include in your time capsule.
It is completely up to you!
I asked guests to write notes for the baby, like these, and also placed any cards guests brought in the capsule.
Some things you may want to include in your first birthday time capsule:
The newspaper of the day
The story of how you picked your baby's name
An empty container of your babies favorite food
A small toy
Sibling messages or drawings
Your extended family tree (at the time)
A special message from mom, dad, grandmas, and grandpas
A recording of the day
A recording of a special message from guests
Pictures of the birthday party
The bestselling book of the year
A few decorations from the party
The outfit the baby wore to the party
Cake Topper or candle
Guest list
A CD of top 10 songs during the time (if you can't make a CD, write it down in a list)
A popular collectible at the time
A floor plan and/or pictures of your current home
The baby's footprints
Stamps from that year
The bus/train/plane ticket of the baby's first trip
Your baby's first bib or blanket
The possibilities are endless! You can include anything you want that will take you back in time.
I promise you, when you open the time capsule seventeen years later, you would have forgotten half the things you placed in it.
It will take you back in time like nothing else!
What To Write In A Letter For A First Birthday Time Capsule
This is a very personal letter and you can write as much or as little as you want.
I wrote a long letter and got extremely emotional about my hopes and dreams for my daughter. I wrote about how every time I look at her, I am overwhelmed with love and appreciation.
How I know she will grow to become an amazing woman who is caring, empathetic, and kind.
I may or may not have cried a bit when writing this.
However, I also wrote less emotional things that I wanted her to know. Some things you can write in your letter for your baby's time capsule are:
Where your baby was made/created (they'll be 18, it's okay! LOL!)
Details about the birth, how long labor was, did they have hair?
What are mom and dad's best traits?
How did mom and dad meet?
How did my grandparents meet?
The best advise you can offer
If you're asking guests to write a little something as well, they can share stories about the parents. It can be anything funny or sweet.
Perhaps one of your guests was there when the parents met and can share their point of view.
It'll be hilarious to hear an impartial third-party who witnessed the corny pickup line at the bar!
If they don't have any stories they want to share, perhaps ask guests to write some words of wisdom.
What advice do they wish they knew when they were 18? I can write a book on what I wish I knew in my late teens and early twenties!
When sending out a first birthday invitation, say you will have a time capsule and to give some thoughts on a memorable story, quote, or anything they wish to add!
This way your guests are prepared and not put on the spot the day of the party.
Who Sells A Time Capsule For Baby's First Birthday
It's not everyday you find a time capsule for sale at your local target. Although they aren't on the shelves at most stores, you can easily find them online.
With a time capsule, you have a couple of options.
You can get a shovel and an actual stainless steel time capsule to bury in your backyard. This method feels more authentic and like a true genuine time capsule!
However, I opted for a custom wooden box time capsule that I keep locked and hidden in my garage.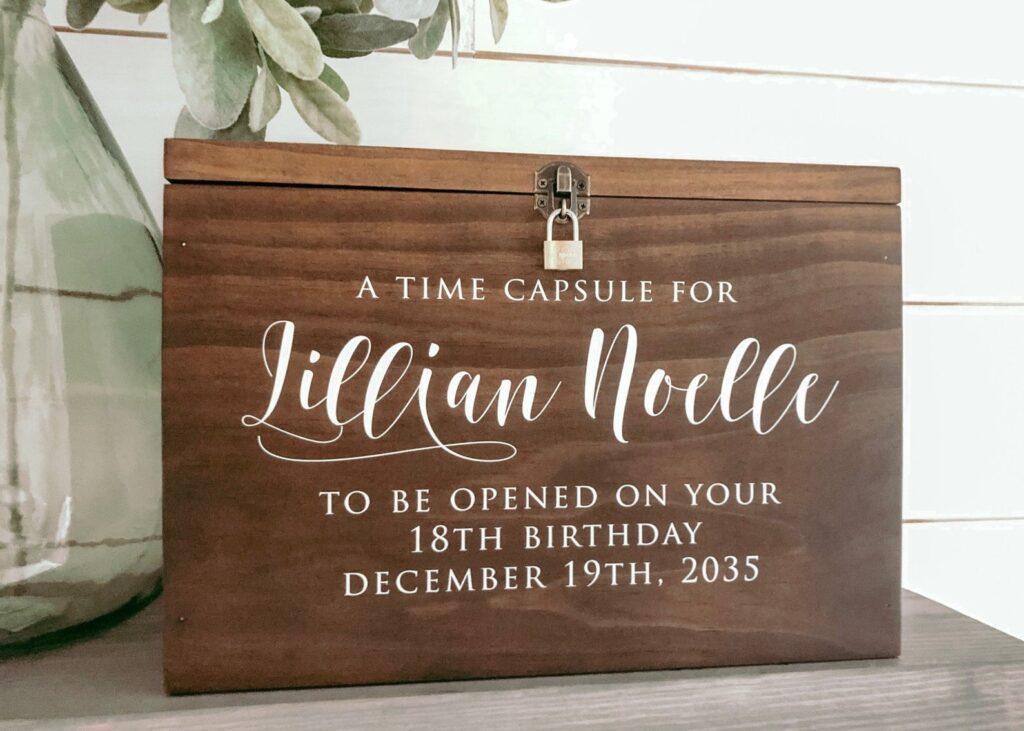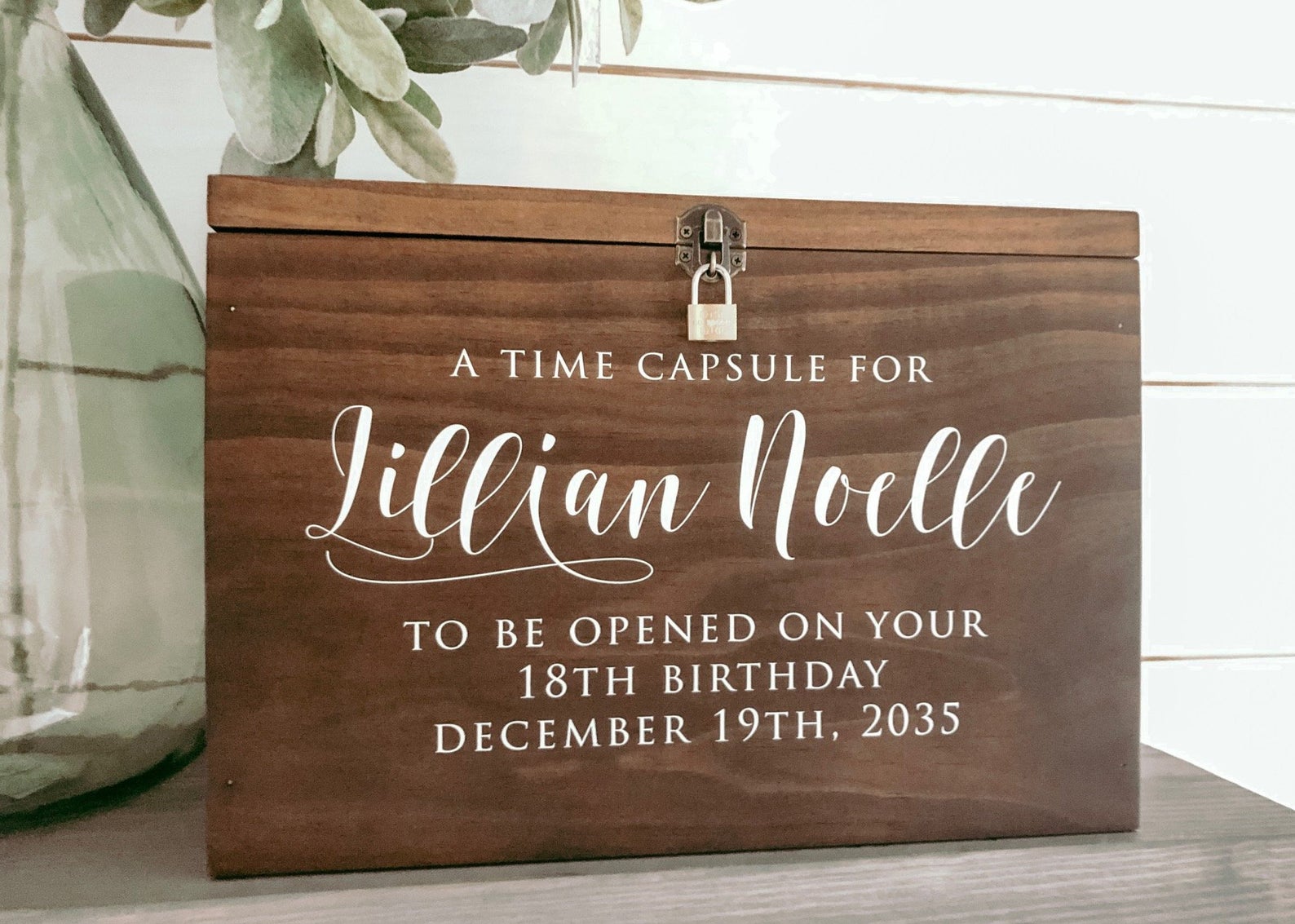 The one pictured is the one I purchased and loved! There are loads of personalized ones available though, check them all out here.
Although I love the idea of burying the time capsule in the yard, I know myself and I am very likely to completely forget about it.
Plus I have no idea if I'll be in the same home for the next seventeen years.
Putting the box in the garage guarantees I'll see it at least once a year when I'm spring cleaning and won't forget about it.
If you have a stellar memory and are confident you won't be moving, definitely consider the stainless steel time capsule as it'll be a great experience digging it up.
Plus there is no chance your baby will come across it as they grow up and the surprise will be immense!
Don't forget to pin, like, and share me!