I remember when I first found I was pregnant. It was an incredibly overwhelming time! I had no experience with babies and I didn't even know what type of bed to get for my baby Bassinets, cradles, cribs! Which had me wondering, what even is the difference between a bassinet and a cradle?!
Bassinets are smaller and are more suited to be used in the first few months of a baby's life. A cradle is bigger and can be used for a longer period. Bassinets are made from cane or wicker and have a very vintage look about them. Cradles are made from wood and are very solid.
You are able to move a bassinet around the home much easier than you are able to move a cradle, although both are portable.
Cradles most often have a rocking or gliding function, so you can soothe your baby and rock them while they are in the cradle. Bassinets are rigid and do not have this function.
Crib vs. Bassinet vs. Cradle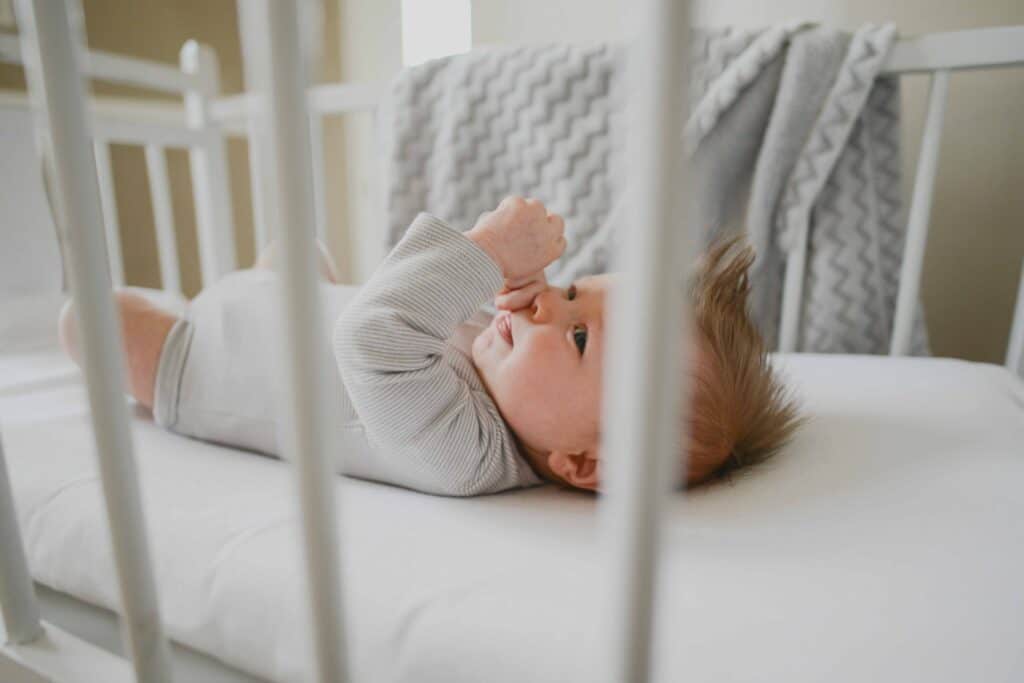 Ensuring your baby has a safe and comfortable sleep space is essential. Not only does it allow them to enjoy a good sleep, but this means that you do as well.
Your newborn will spend most of their time asleep in the first few weeks, and you will need to have a safe sleep space ready for them when they arrive home.
You would have heard of the different types of beds for babies, such as cribs, bassinets, and cradles. Most of us would not know what the difference between all of these is before having a baby, and it can be difficult to choose which one to buy!
Here is everything you need to know about cribs, bassinets, and cradles, and which you should choose.
What Is A Crib?
A crib is the largest baby bed that you could get for a newborn. They are stable and sturdy and have high walls to keep your baby safe. Cribs last longer than cradles and bassinets and keep your baby safe as they grow.
Pros of a crib
Long-lasting – Cribs last longer as they are big enough to last a few years for your baby.
Safe – Cribs are considered to be very safe, thanks to the sturdy bottom and the high walls which keep your baby from falling out.
Suited for nurseries – Cribs can be used in your room, and then can be moved to a nursery when your baby starts to sleep in their own room.
Playtime – Cribs are large enough to allow babies room to play during the day, and are safe enough for babies to play without climbing out.
Cons of a crib:
Price – As cribs are bigger and last longer, they can be more expensive than other baby beds. However, this does pay off by them being used for years.
Not portable – Due to their large size, cribs are not very portable and cannot be moved around the house.
Large size – The large size of a crib means that it might not fit into the same room as your bed, and your baby will not be able to stay in your room for the first few months.
Our Favorite Cribs
What Is A Bassinet?
Bassinets have a very classic, vintage look to them. They look very similar to baskets which most often have a hood and are made from wicker or cane. Bassinets are beautiful to use in your room or nursery and provide a cozy space for your baby.
Pros of a bassinet:
Small – Being small and lightweight, bassinets can be moved around the house easily and can fit into your room and even next to your bed to keep your baby close.
Cozy – The small space of a bassinet makes them cozy for your baby, and keeps them feeling snug and warm when asleep.
Natural materials – Most bassinets are made from organic materials such as wicker or cane, which are safe for babies.
Price – Bassinets are not usually very expensive unless you are buying an older antique bassinet.
Cons of a bassinet:
Not long-lasting- As bassinets are small, they do not last your baby for very long, and they will need a bigger bed in a short while.
Treated materials – Made from natural materials such as cane or wicker, you might have to treat the bassinet to keep it in good condition.
Our Favorite Bassinets
Graco My View - Baby Bassinet with 4 Stages Including Raised Bassinet at Eye Level
Stage 1: Raised bassinet for newborn positions baby at your eye level for check-ins throughout the night without having to get out of bed
Stage 2: Crib-level bassinet for infant offers a cozy, elevated spot for baby to sleep, making it easy to get baby in and out
Stage 3 : Infant travel bassinet is removable so you can keep baby by your side at home or away
Stage 4: Spacious bassinet for toddler provides the appropriate space for your little one to sleep
Buy Now
All Mesh 2-in-1 Stationary & Rock Bassinet
Bassinet can be STATIONARY! Rock modeis only used to soothe baby.
One-second open&fold system makes bassinet easy to transport or store. Please have a "QUICK PULL UP" to fold it!
Surrounded by breathable mesh and easy for parents to communicate with your baby.
Buy Now
What Is A Cradle?
A cradle is considered to be between cribs and bassinets in size, being smaller than a crib and slightly larger than a bassinet. They have a very sturdy base and are most commonly made from wood.
Most cradles are able to rock or glide, which helps to soothe babies when it is time to sleep. Once again, cradles are very traditional and make for a beautiful addition to a nursery.
Pros of a cradle:
Size – Being small in size, cradles can be moved around the house. They will most likely fit into your room, and then can be easily moved to the nursery when it is time for your baby to sleep in their own room.
Rocking – Having the ability to rock or glide, you can easily soothe your baby to sleep when they are upset or crying. This allows you to put your baby to sleep without having to pick them up out of the cradle.
Long-lasting- While cradles will not last as long as cribs, they will last longer than bassinets, so you will not have to replace them too soon.
Cons of a cradle:
Weight – Made from wood, cradles can be quite heavy, which could put you off moving them around the house too often.
Rocking – While rocking your baby to sleep helps to soothe them, you do not want to get your baby used to being rocked to sleep, as you will not be able to do this with a crib when they outgrow their cradle.
Our Favorite Cradles
BABYBJORN Cradle - White
Lulls your baby to sleep with relaxing, gentle rocking movement
JPMA Certified Product with low height and transparent mesh fabrics allowing for secure supervision of your baby
Easy to move around the house so you can always have your child close to you day and night
Soft, breathable and airy sides and simple design with no bars or loose parts to trap tiny hands or feet
From newborn (8 lbs) to approximately six months (17 lbs);Legs: wood and steel
Buy Now
Dream on Me Rocking Cradle, Natural
The product is supposed to rock smoothly and unlike swing, it rocks to a steady pace
Arched head and footboards, comes complete with slumber pad
Non-toxic finish
The cradle can also be made stationary using the simple support pin on one side of the cradle
Recommended for use with newborns to 20 pounds or until baby can roll from side to side or push up
Buy Now
Overall….
Cribs, cradles, and bassinets are all quite different from each other. The one you choose will depend on how long you want to use the bed for, and the type of sleep space you want to give your baby.
Think about where you will use the bed, how long you want it to last, and if you will need to move it around the house often.
If you enjoyed this post, check out these:
Baby Sprinkle vs. Baby Shower: What Is It & Which Is Right For You?
Adorable Pregnancy Announcement To Husband Ideas That Will Shock Him