Shopping for babies is a fun moment that most soon-to-be parents enjoy. From dresses to diapers and car seat, the list is endless. But most parents are overwhelmed with shopping plans as they do not know when and how to start.
You should ideally start buying baby stuff once you have completed 12 weeks. The first three months of pregnancy is crucial as there is the risk of miscarriage. Once you are past this stage, the risk factor decreases. This makes the 3-month mark the ideal time for baby shopping.
But this does not mean that you buy all the baby stuff right after you complete three months. You can buy different products at different times depending on your convenience and other factors.
When Should I Start Buying Baby Stuff While Pregnant?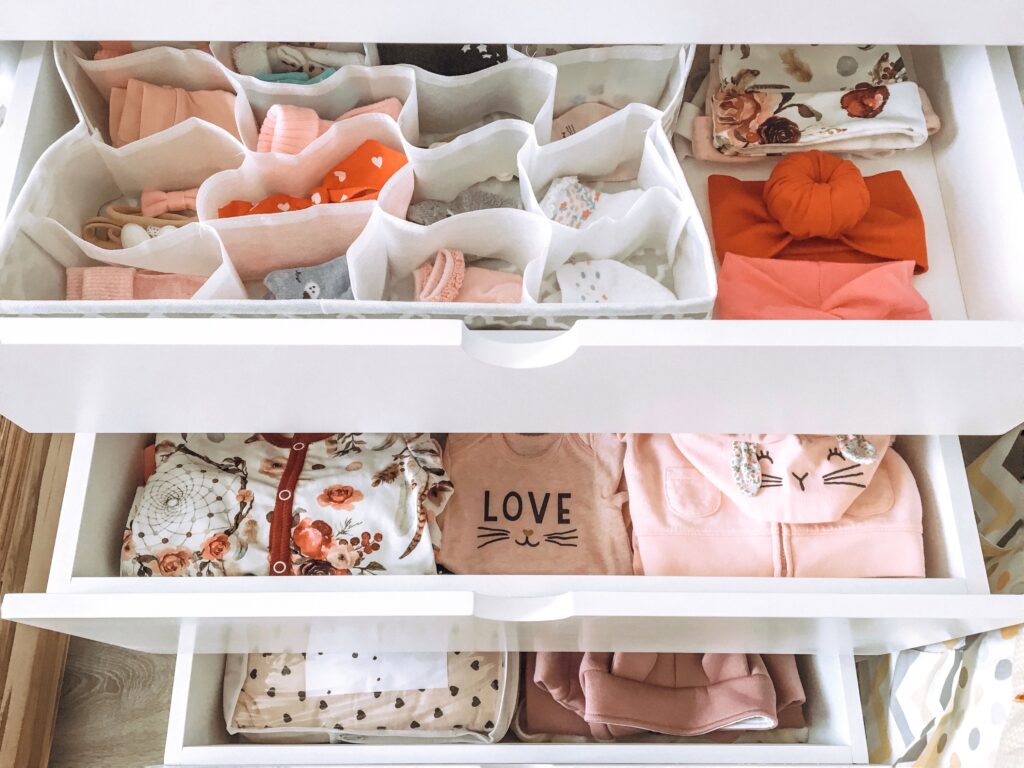 Here is a general guide for purchasing baby stuff while you are pregnant.
Clothing
If you plan to purchase gender-specific clothes for your baby, you should wait until the anomaly scan is over.
This happens typically around twenty weeks. Otherwise, you can purchase items in a neutral shade like white or beige.
Always keep in mind that the baby would get gifts from your friends and family and a hand-me-down from siblings or cousins.
Hence, you need to get only a few clothes of each size. Later on, you can purchase more clothes as the need arises.
Diaper
You can start buying diapers between 20 and 32 weeks. If a baby shower is planned, you can stock up on diaper after that.
This is because you are likely to get diapers as a gift for the baby shower. Maybe even consider a diaper raffle!
You might also get gift cards that you can use to purchase diapers.
Ideally, you should purchase one large pack of newborn diapers and one large pack of size one diapers along with baby wipes.
Since a newborn grows very fast, they may not fit into the newborn size beyond one month.
Baby gear
Baby gears like furniture and car seat are generally expensive. You should purchase these when you come across a good deal. (There's always specials of some sort!)
If you plan to buy second-hand stuff, you should check Craigslist and similar marketplaces for a good deal.
What Are The First Things To Buy When Expecting A Baby?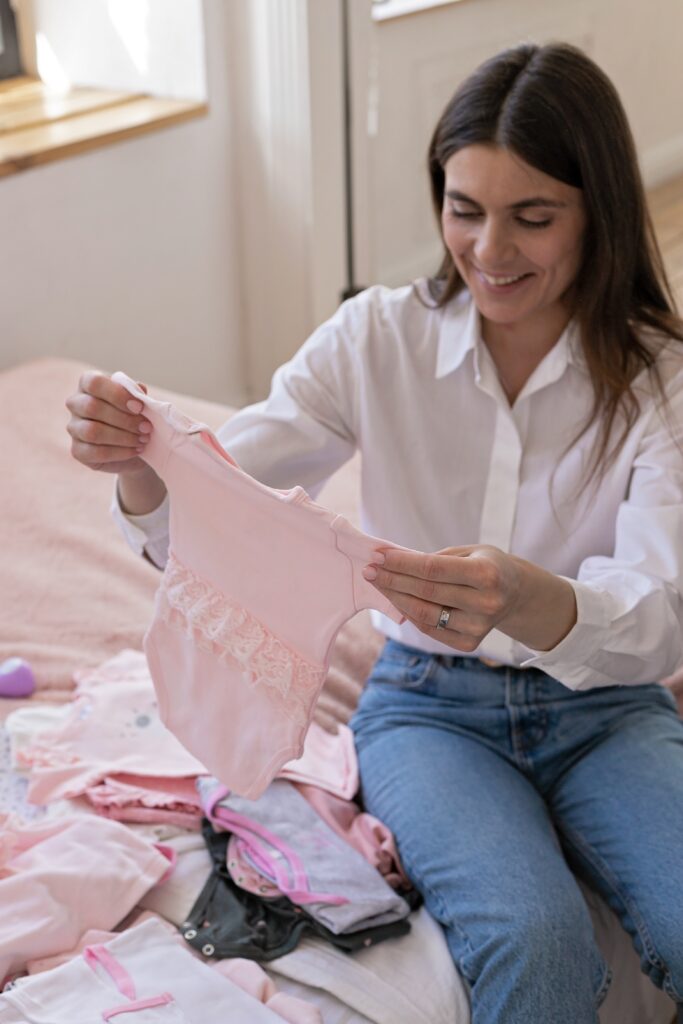 Clothes
Onesies are the best choice for newborns.
You need to have only a few dresses in newborn size as the baby will outgrow this stage very fast.
Also, the baby will get clothes as gifts from your friends and family.
So, it is best to purchase one or two items for each of the months. If after the baby shower you feel you don't have enough, you can purchase the clothes later on.
Nappy/Diapers
You can opt to go for easy to use disposable diapers or skin-friendly and natural cotton nappies.
Whatever you choose, keep in mind that you need lots of nappies during the first few months as the baby needs a change after every feed.
Crib
The baby needs a crib (or perhaps a SNOO!) as soon as you are back home from the hospital. If you plan to have the baby in your room during the initial days, a moses basket will suffice for the early days.
Or else, you can go for a cot which the baby can use until three years.
Besides the crib, you also need a baby-friendly mattress and bed linen. You don't need to go for a pillow or comforter as there is chance of suffocation.
Baby Bath Products
Though a daily bath is not required, most new moms bathe their baby every other day. A bath tub comes handy for bathing a newborn.
Besides, you also require bathing products like bathing soap, shampoo, towel and brush.
You can also apply baby lotion to prevent drying out of the skin. A baby nail clipper comes in handy for trimming those delicate nails.
Car Seat
You need a car seat for taking the baby back home from the hospital. There are different brands and styles of car seats available in the market.
You should go for a rear facing one meant for newborns. It is best to purchase one that can be snapped on to a stroller so that you can use the same seat while moving around with the baby.
While purchasing baby essentials, you can buy the expensive ones like car seat and crib closer to your due date, preferably after the baby shower.
This is because you are more likely to get these products as gift for baby shower and you do not want to have multiple products of the same category.
Is Buying Baby Stuff Early Bad Luck?
Traditions and superstitions are part of every culture.
Some believe that purchasing baby products too early in pregnancy can bring bad luck.
The new parents will be so excited and joyful in their new found status, that they might suffer a loss in future.
When and where these superstitions arose is not clear. But there is a certain amount of logical explanation behind it.
During early times, when medical science was not so developed, the chances of miscarriage was very high.
Thus, if a woman purchase lot of baby products and later suffer a miscarriage it can be devastating for her.
Another reason could be that the chances of miscarriage is high during the first trimerster due to chromosomal abnormalities and other reasons.
Thus, if the parents start purchasing baby products during this stage and the mother suffer a miscarriage they might feel sad and depressed.
But on a practical note, you should have the basic baby products in hand before the arrival of the baby.
A few clothes, napkin and a car seat are a must have.
If you have friends and family to help you out after delivery, you can purchase rest of the products after the arrival of the baby.
In General…
When should you start purchasing baby stuff is purely a personal choice. It depends on the time available and whether you really feel like purchasing the products early on.
If you are planning for a baby shower, you can wait till it is over to purchase the baby products.
If you feel that you might become too lethargic towards the end of the term, you can make the purchase during the second trimester.
Those who are tight on budget can make the purchase when there is a good deal.
Thus, it is purely left to you when you want to start the shopping for baby products.
Enjoyed this post? Make sure to check these next:
Where To Put Baby Monitor Camera? (4 WAYS!)
What Does It Mean When A Baby Shudders? (8 POSSIBLE REASONS!)