If you are looking to include this game at the party, here is how to play baby shower charades, and some fun words and statements to use in the game for guests to act out and try to guess!
Charades is a great game to play at baby showers. Everyone can get involved, and it usually involves lots of laughs for all ages and guests.
How To Set Up Baby Shower Charades
Setting up baby shower charades is fairly simple, but you will need to do some prep beforehand. The easiest way to set the game up is to print out little cards before the party. Have around 20 or so cards, depending on how many people will be at the party and how many people will play.
You can print the words or phrases that the guests will need to act out onto the little cards, which could be plain or decorated in the baby shower theme.
Write one word or phrase onto each card. At the party, each new person who is to act out a phrase or word picks a card and then has to try and let everyone know what it is without saying anything, by acting it out.
You will need to set a timer for each round. Using a 1-minute timer gives enough time for players to act out the words or phrases, and even move on to pick up and act out another card if they guess the first one. For every correct phrase or word, the team gets one point.
You can have two or more teams, depending on how many people there are who are wanting to play. At the end of the game, the team with the most points wins!
Baby Shower Charades Word List + Free Printable!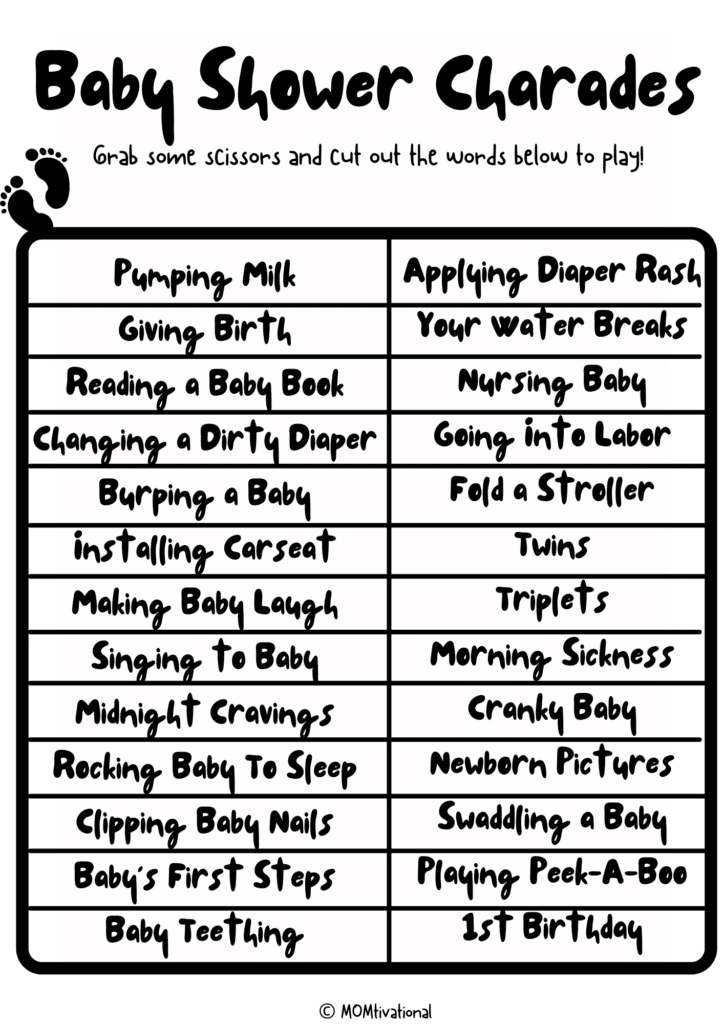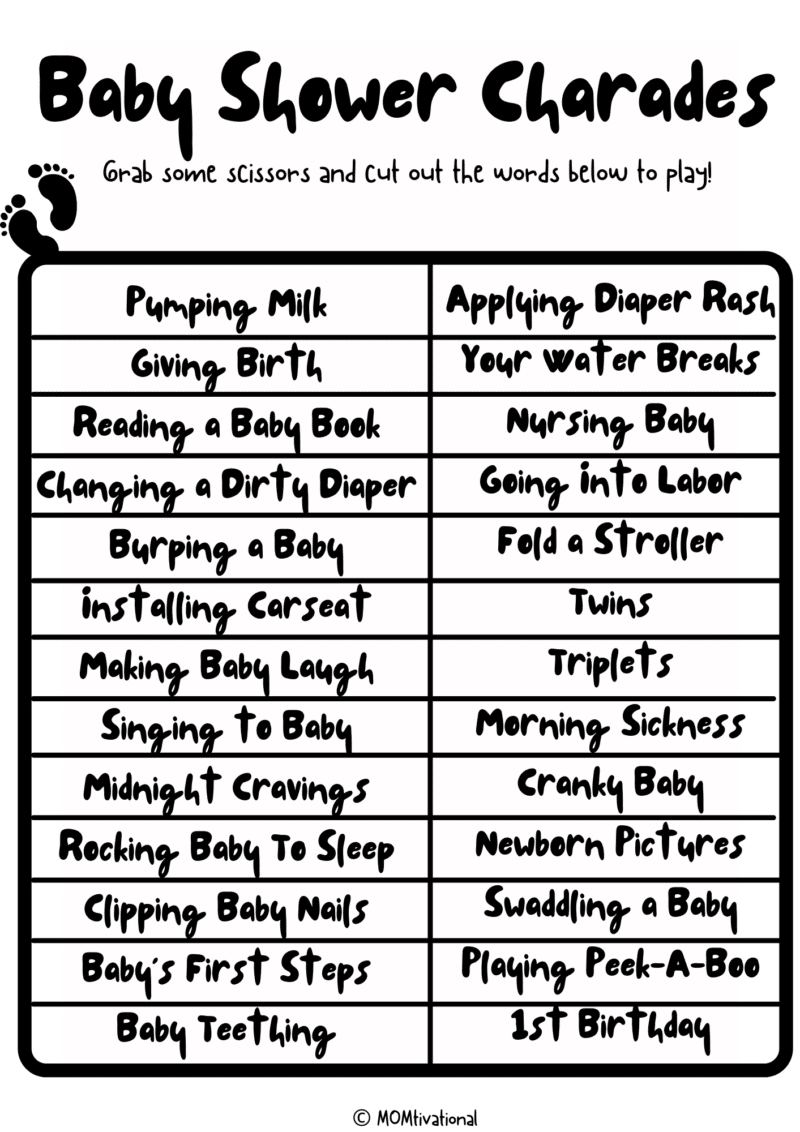 Download FREE Baby Shower Charades Printable Here
Here are some more ideas of words and phrases to write up onto the charades cards and act out. They are all baby-themed and will ensure some great laughs and funs!
It's a girl
It's a boy
Potty training
Twins
Teddy bear
Breastfeeding
Baby shower
C-section
Water breaking
Going into labor
Baptism
Obstetrician
Baby wipes
Bum rash
Changing a nappy
Morning sickness
Sleepless nights
Rocking chair
Naptime
Feeding time
Walking ring
Crawling
Reading a story
Dirty Diaper
Crying
Burping a Baby
Should There Be Prizes?
Whether or not you have prizes for baby shower charades is completely up to you and your budget.
There really is no need to have prizes, but if you feel like treating your guests, here are some affordable prizes to give out:
Bars of chocolate
Small bottles of wine or mini liquor
Small Amazon gift vouchers
Creams and lotions
As charades is a team game, you will need to have a few small prizes to give to the winning team. You could also look at having fun prizes for the funniest show, the worst acting, or the quickest guess. These are sometimes better than prizes for the winning team, as just adds to the fun overall!
The game is fun enough without prizes, so don't feel pressured to buy!
Overall, charades is a lot of fun and a great addition to any event, not just a baby shower! If you have a lot of introverted guests, you can make participating optional.
Personally, I think having more than two teams in charades makes it all that more fun. You have more chances of seeing the hilarious attempts at miming 'dirty diaper!'
Looking for another fun baby shower game? Play the Baby Name Race Game (+ FREE Printable)